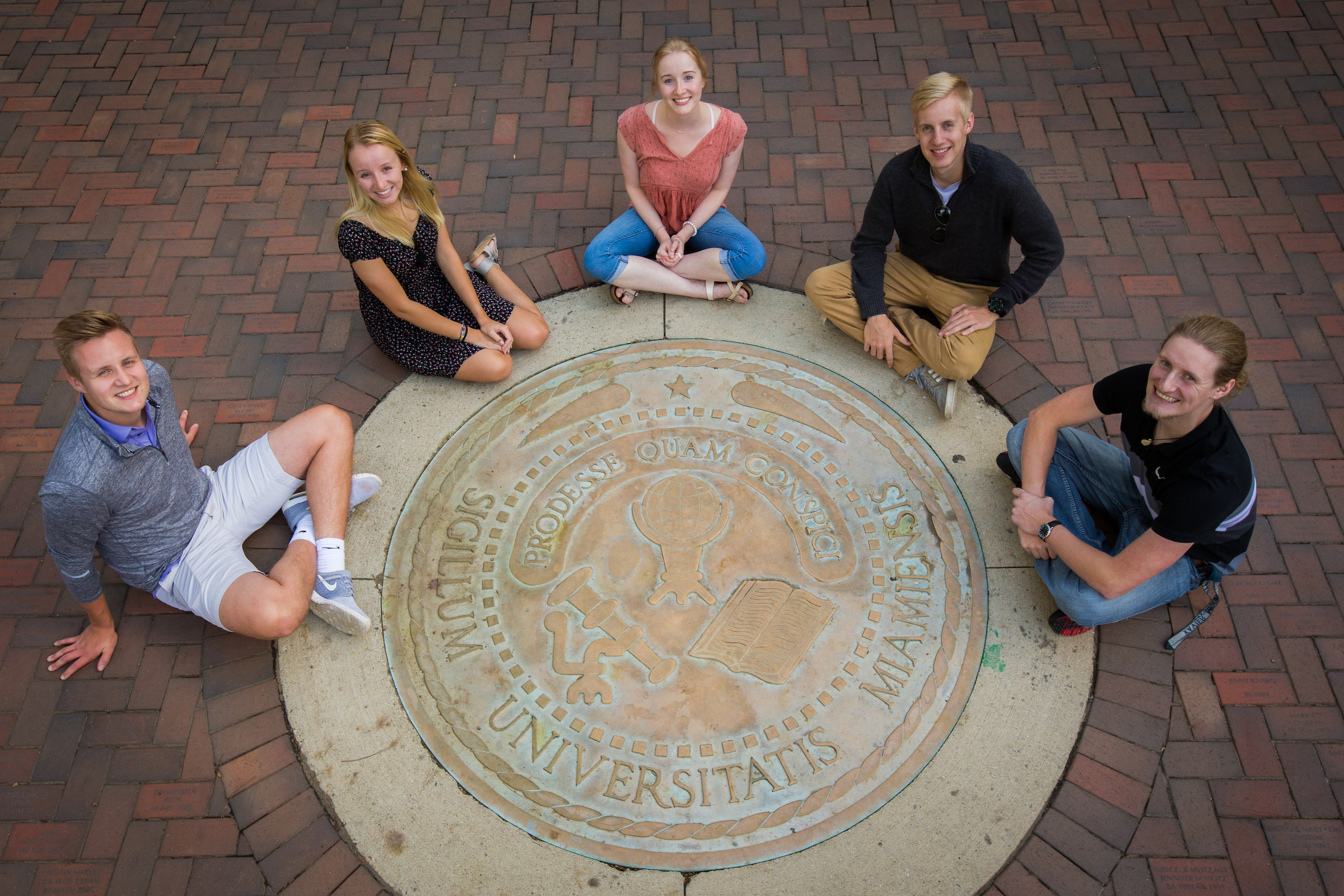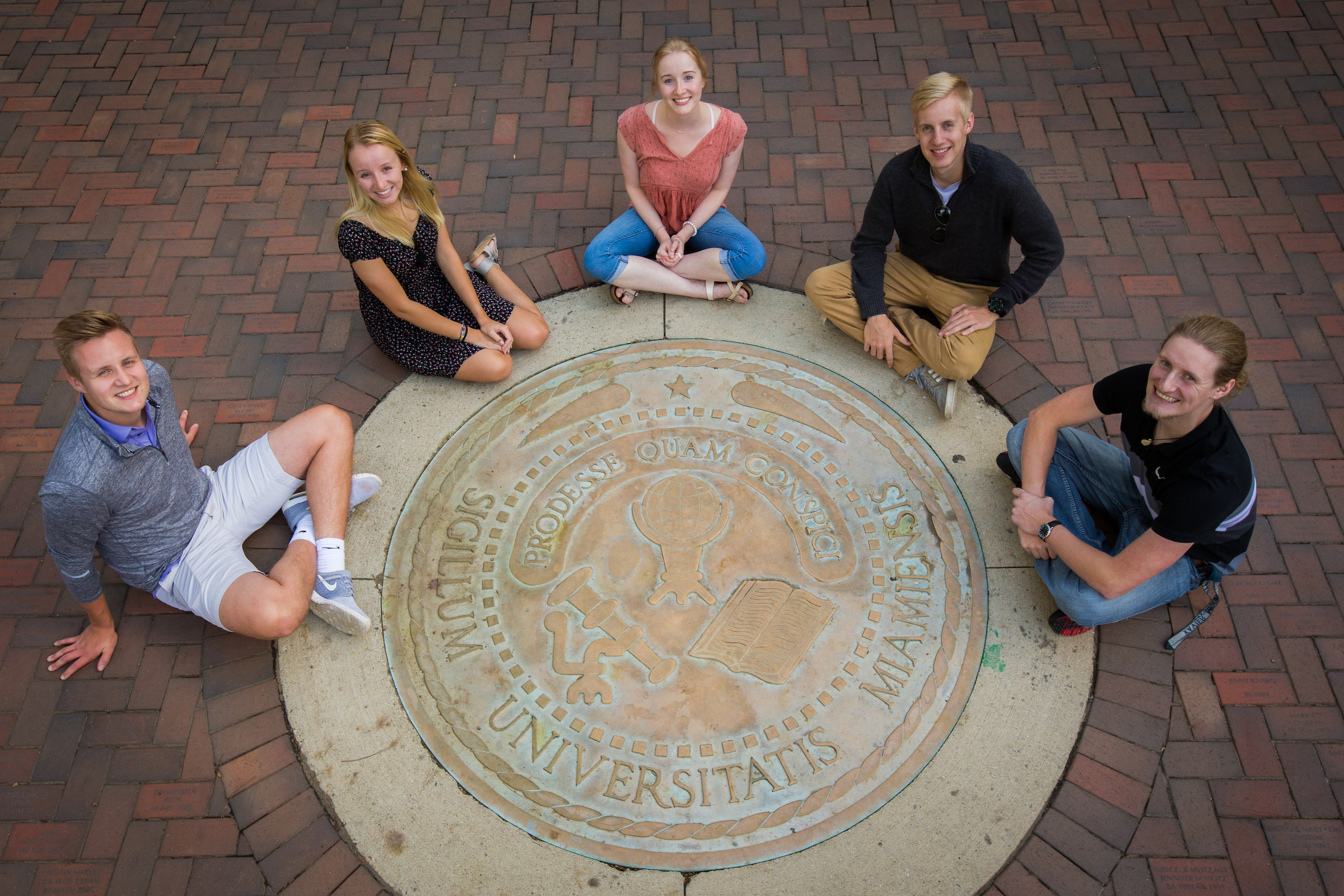 The Ridges — Christian, Olivia, Hannah, Cameron and Connor — sit at the seal at the heart of Miami University's Oxford campus.
Photo: Scott Kissell
Sep 14, 2017
Five siblings, one school — Miami — and, yes, all at the same time
By Margo Kissell, university news and communications
Imagine having five children attending Miami University at the same time.
John and Jennifer Ridge don't need to imagine it — they're living it.
"It's close, it's convenient, it's a great school, especially for business," said Jennifer Ridge, a dermatologist who practices in Middletown and in Oxford once a month. "It's worked out well for our family."
She and her husband, an entrepreneur in Middletown where the family resides, met when they were students at Ohio State University.
"Neither of us went to Miami, but we recognized it was a good school and, heck, it's in our backyard," she said.
"They have 'gone off' to college, but we still have many opportunities for family time," John Ridge said. "I think the fact that all five have chosen to attend Miami indicates the quality and appeal of the school's programs."
Hannah said it wasn't planned, "it just fell into place."
Connor, 24, the oldest who transferred to Miami, is now studying architecture and design on the Oxford campus.
Twins Christian and Hannah, 22, both earned bachelor's degrees from Miami and are pursuing master's degrees here. He double majored in accountancy and finance, finishing in May, and is now seeking a master's of accountancy.
After earning a degree in English education in 2016, Hannah is pursuing her master's in experience design. She graduated in three years after participating in Miami's Post-Secondary Enrollment Option Program (PSEOP) her junior and senior years of high school.
"I came in with 49 credits with the PSEO, so I had a lot of the gen-ed (general education) stuff over with. That shaved a year off," she said. "It was great, and free tuition essentially during the PSEO."
Cameron, 21, will graduate from the Regionals in December with an associate's degree in business. He plans to work for a company in Miamisburg where he's interning.
And Olivia, 17, a senior at Fenwick High School, is in College Credit Plus (CCP), which allows her to take college-level classes. She takes a CCP chemistry class at her school and two others at Miami's Middletown campus, where Cameron took all of his classes. He enjoyed having campus just five minutes away from the family's home.
How do people react?
Many of Dr. Ridge's longtime patients ask her what the kids are up to. When she tells them, "They just grin and say, 'well, you better find something else on me to treat because you need the money,'" she said, laughing.
Scholarships, as well as the PSEO and CCP programs, have definitely helped.
And this semester, Christian has a graduate assistantship. He is helping collect data for a research paper that William Moser, assistant professor of accountancy, will be writing. Christian's position covers most tuition and fees and provides a stipend.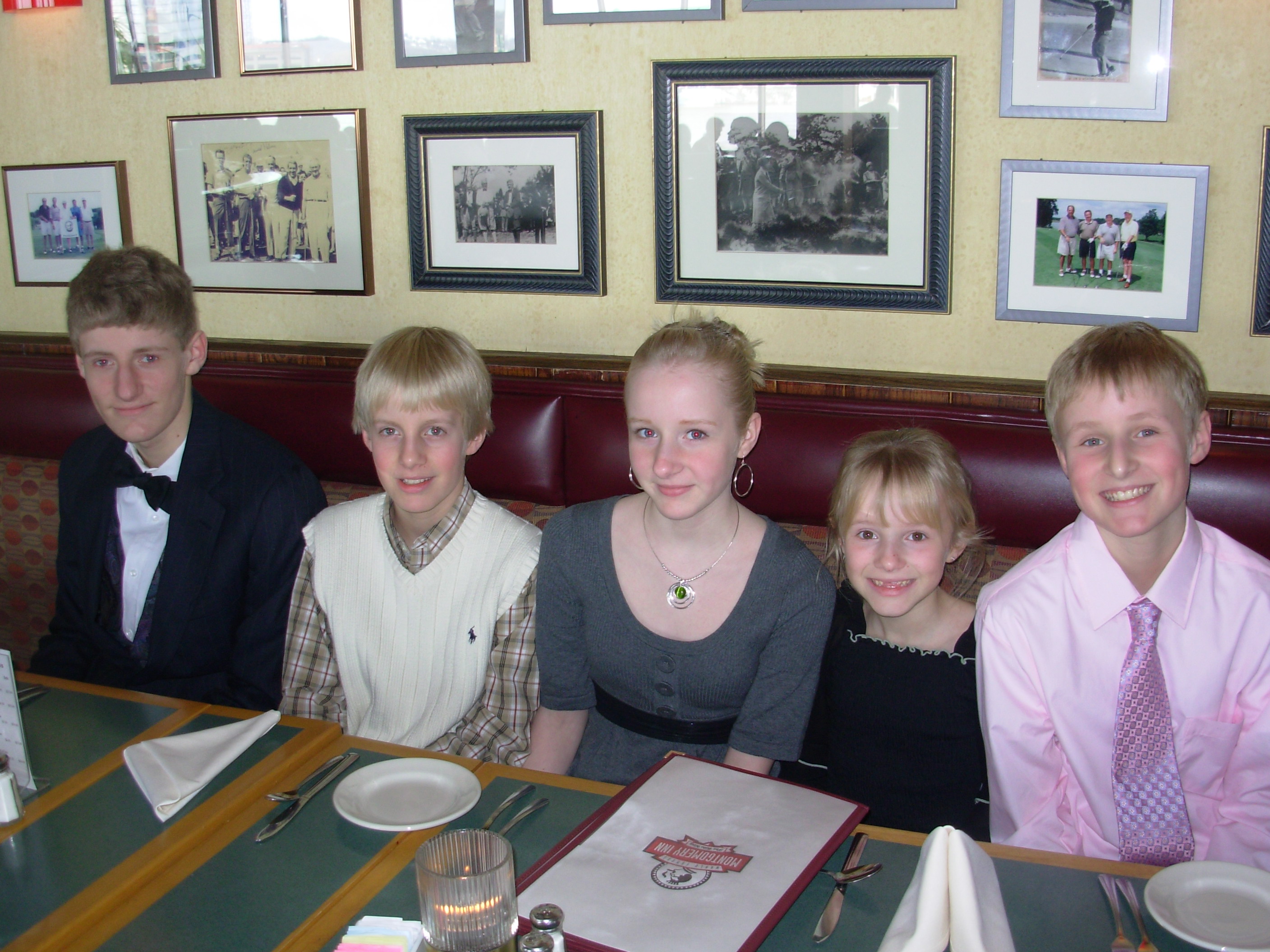 All five Ridges attended the same school together when they were young. In this photo, Connor was in eighth grade and Olivia in second grade (photo provided by the Ridge family.)
Connor said this isn't the first time they've all attended the same school at the same time. It happened when they all walked the hallways of St. John XXIII Catholic School when they were kids.
The siblings still enjoy playing board games together (The Settlers of Catan is their favorite), but only Hannah and Olivia tend to study together. 
Connor, still new to campus, said it's been helpful having Christian on campus to ask questions about how to find something because he usually knows the answer.
And if you're wondering how they act toward each other when their paths cross, well, that depends.
"When I used to run into Christian we'd have a hug and a couple of words," Hannah said.
"She would force the hug," he said. "Yeah, our twins hug," she said in agreement, smiling.
Connor, teasing his younger siblings, said his reaction would depend on whom he might see.
"If I'd come across Cam, I'd probably give him a nod," he said.
But with Olivia, Hannah or Christian, "I'd probably give them a hug — Christian just to make him feel uncomfortable."
Sounds about right for brothers.