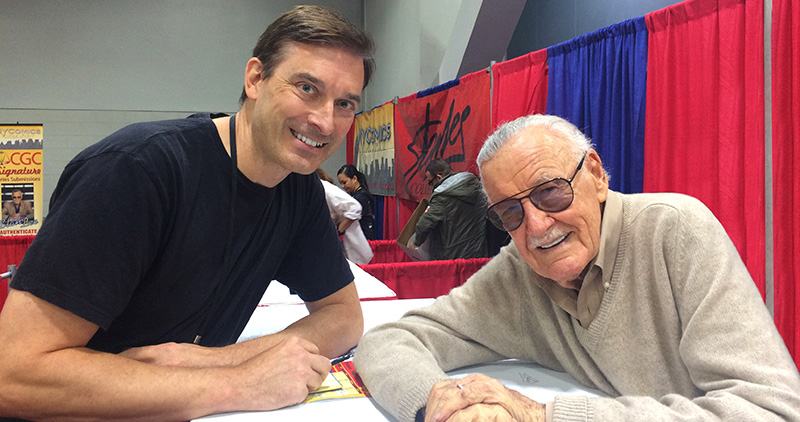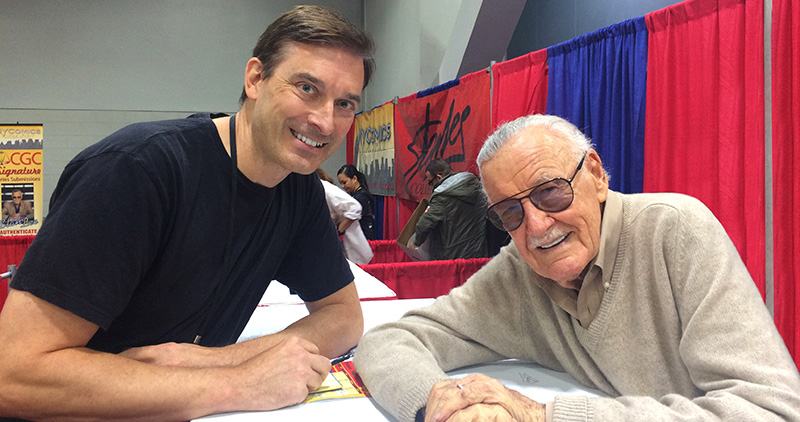 Bob Batchelor met comic book icon Stan Lee.
Photo: Bob Batchelor
Sep 14, 2017
Human element key to Marvel Comics' success, Miami professor says
New book fills in the gaps of Stan Lee's life and career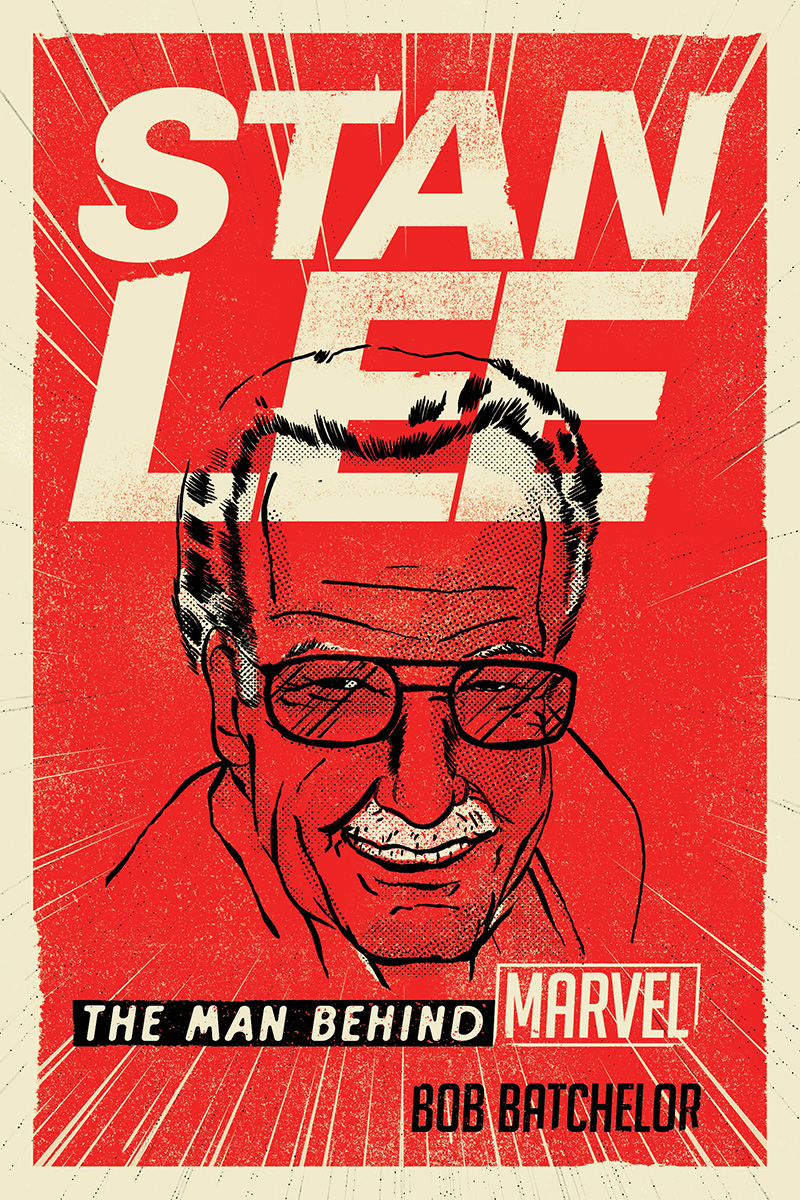 By Carole Johnson, university news and communications
A lifelong Stan Lee fan, Bob Batchelor taught himself to read through the pages of borrowed Spider-Man comic books.
 
"The stories spoke to me. It didn't matter that I was from a small town in Pennsylvania. I could relate to the characters whose antics took place in New York City. They were human," said Batchelor.
 
In fact, it's that human element found in Marvel Comics' characters Batchelor finds endearing. He lights up at just the mention of Lee, the iconic co-creator of many of Marvel's famous superheroes, who he argues changed the course of the industry into a respected art form.

It's also why Batchelor, who is a visiting professor of strategic communication in the department of media, journalism and film, got goose bumps when his editor suggested he write a biography about Lee.
 
Stan Lee: The Man Behind Marvel, is out Friday, Sept. 15, available where books are sold.
 
"Not many people have touched more lives than Lee through the characters and the universe he created and co-created," Batchelor said.
Marvel vs. DC comics rivalry: Do you have a side?
Many comic book fans fall into two rivalry camps: Marvel or DC, originally known as National Periodical Publications, which created Superman, Batman and Wonder Woman. Passionate about their favorites, fans rally around the two main comic book publishers. For Batchelor, it's Lee's Marvel.

Lee introduces human themes into his characters, unlike Superman and Batman who are more like "gods," Batchelor said.
 
Characters like Superman use language with a cadence that resembles actors in a Shakespearean play. Lee was the first to take a gawky teenager like Peter Parker, give him the language of a teenager, and turn him into an accidental superhero.
 
"When looking at character development through Lee's hands, Spider-Man is a great case study. He's the most imperfect hero," Batchelor said.
 
In his book, Batchelor tells Lee's life story, which started when he joined the comic book publisher as a teenager, and then worked his way into the industry as artistic director, writer and business strategist — always with the intent to create an industry for all ages and respected as a genre. To expand sales, he created the Fantastic Four and Spider-Man to reach older readers.

"Everybody knows someone like Peter Parker. He's an accidental hero, and he looks and talks like a real person," Batchelor said. "This everyman persona appealed to teenage and college readers in the 1960s and carries through to today."
Superheroes with flaws?  
Spider-Man joined a lineup of not-perfect do-gooders, including the Fantastic Four, the first of the Marvel superheroes created by Lee and artist Jack Kirby in the early 1960s. While loaded with special talents, they are not without flaws. Mirroring life, they bicker, fight and even dislike each other at times. But they always pull together to get the bad guy.
 
That's what intrigued Batchelor as a child. It's why the characters still resonate today. Batchelor said his book is written for comic book fans—many already self-professed Stan Lee experts—who want factual gaps of Lee's life filled.
 
Writing this book out of love for the art form and respect for Lee, but tackling the project as an academic, Batchelor said he used all his research tools: literary analysis, in-person interviews, deep multi-archival research and careful investigation of original artifacts.
 
Stan Lee: The Man Behind Marvel is also written for the general public. The book tells the story about a man, who growing up in the Depression, managed to keep his beliefs that he would someday be someone important. It's about a man who wanted to tell a good story with real and believable characters for people of all ages.

"Lee always hoped to someday write the fabled 'Great American Novel," Batchelor explained. "With Spider-Man, the Avengers, Thor, and the other superheroes, however, he did so much more. He created the narrative that would soon dominate American and global culture."