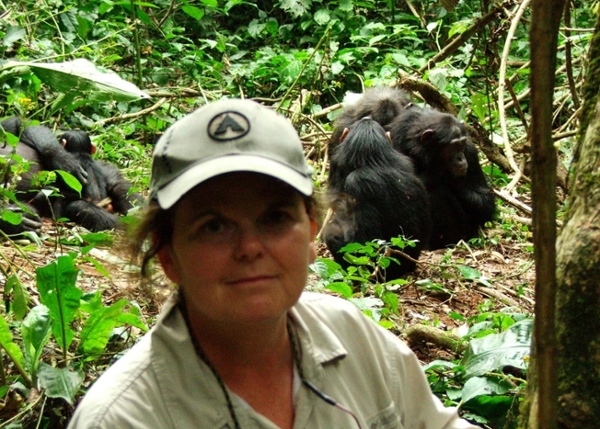 Nov 15, 2017
Primatologist Linda Marchant lauded nationally for her research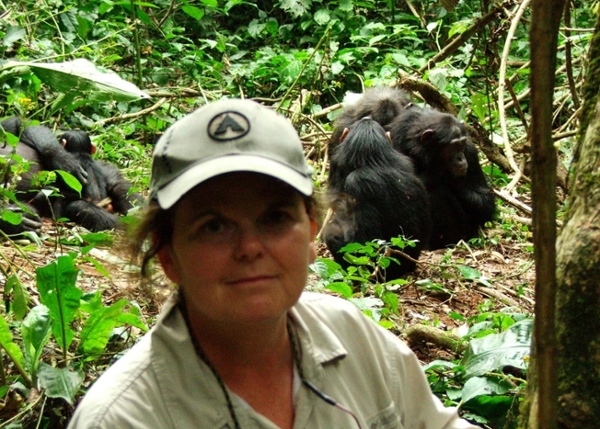 Linda Marchant with chimpanzees, Kibale National Park, Uganda.
Linda Marchant, professor of anthropology at Miami University, received two national awards for her research.
She received the award for Outstanding Research into Human Origins from the Center for Research into the Anthropological Foundations of Technology (CRAFT) and the Stone Age Institute (SAI).
The award recognizes individuals and organizations that have made outstanding contributions to human evolutionary studies. Previous recipients have included Mary Leakey, Jane Goodall and J. Desmond Clark.
Marchant was honored "for her scientific contributions to primatology, handedness studies and human origins" and was presented the award Nov. 2 at the Stone Age Institute at Indiana University, where she gave the annual Leighton A. Wilkie Memorial Lecture.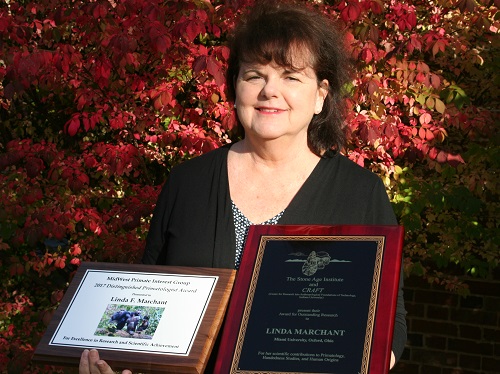 Linda Marchant honored for her research.
Marchant also received the Distinguished Primatologist Award from The Midwest Primate Interest Group (MPIG). She was presented the award Oct. 20 at the organization's annual meeting, where she gave the keynote address.
 
"Almost anyone who has studied biological anthropology has read at least one of her works," said Julie Rutherford (Miami '96), president of MPIG and associate professor in the University of Illinois-Chicago's department of women, children and family health science.
 
Recalling her undergraduate days studying with Marchant, Rutherford said, "Linda taught me, as she has countless students and colleagues, that serious science can also be full of joy and laughter, that you don't have to sell your soul to become a great scholar, ... ."
Marchant is known worldwide for her research and has been cited by international media.  Her research has been supported by eight external grants and has resulted in more than 60 journal articles and book chapters.

Her excellence as a teacher was recognized with her selection as Outstanding Professor by the Associated Student Government in 2004 and being named one of the top 100 faculty at Miami in 2013.
Miami alumnus Rob O'Malley (Miami '99), senior program assistant at the American Association for the Advancement of Science, also recalled his studies under Marchant.
 
"As a mentor she instilled in me a great passion for primatology that took me to Thailand, Costa Rica and eventually to Tanzania," O'Malley said. "She remains a valuable collaborator and friend today and a model for everything that academia can and should be."
 
The MPIG was founded in 2004 to foster relationships among a large number of outstanding research institutions, biological anthropology and primatology programs located in the Midwestern U.S., although current membership includes scholars from around the world. The Distinguished Primatologist Award was inaugurated in 2008.
 
CRAFT is a program of Indiana University. The SAI is an independent, nonprofit research facility with strong ties to CRAFT and Indiana University.