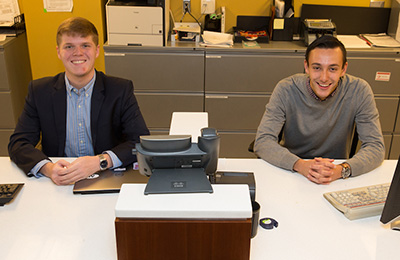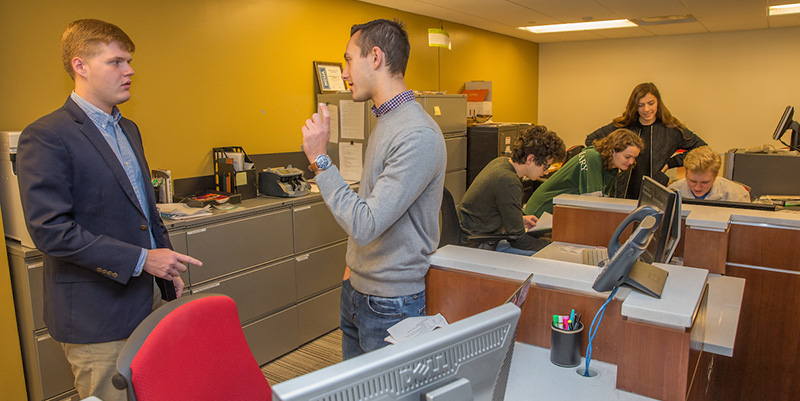 First Miami Student Credit Union is run by students for students.
Photo: Scott Kissell
Dec 14, 2017
First Miami provides work experience and financial literacy for students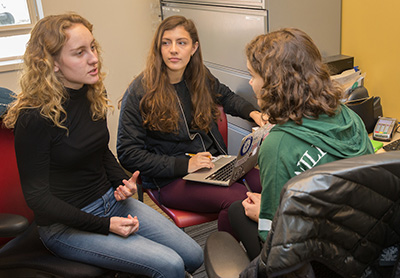 Students discuss the business of the day. (Photos by Scott Kissell)
By Allison Pierce, news and communications intern
Work experience and financial literacy are both important factors in preparing students for life after college. First Miami Student Credit Union does both.  

Associated Student Government members founded First Miami almost 30 years ago to provide a financial institution on campus for students. Now located in Armstrong Student Center, First Miami has about 900 active members and 80 interns. It oversees $690,000 in assets and has a net worth ratio of 49.54 percent. It is one of three student-run credit unions in the country; the only two others are at Georgetown University and University of Pennsylvania.

First Miami offers internships in many areas, including finance, data analytics, marketing and compliance/legal teams. Students often start out as depository interns and move into higher executive positions.

Sophomores Scott Dlugos and Anthony Massa have already gained vast work experience at First Miami. Dlugos is currently the senior director of collections, while Massa works in stakeholder relations and office efficiency.

"The real-world work experience is invaluable," Dlugos said. "I am learning how to manage money, how to talk to people effectively and how to solve problems."

Not only do the internships provide valuable banking experience, but students learn skills applicable to any job.

"My day-to-day tasks don't always involve financial roles, but managing an organization is really transferable to anything you want to do," Massa said.
Experience pays off
Businesses seek out First Miami interns because their experience backs up their qualifications. Many of First Miami's interns work for companies like J.P. Morgan, KeyBank, the Federal Reserve and Deloitte after graduation.   

"When you look for a job, you often have to prove to an employer what you know," Dlugos said. "Our interns have a chance to back up their qualifications because of the experience we provide."

No intern receives credit or payment, but that doesn't change the hard work and passion students put into First Miami. Many executives will work as long as they need to accomplish a task they are working on — simply because they want to.

"The passion for what people do is inspiring," Massa said. "The office environment is a really positive one, and everyone has been so welcoming."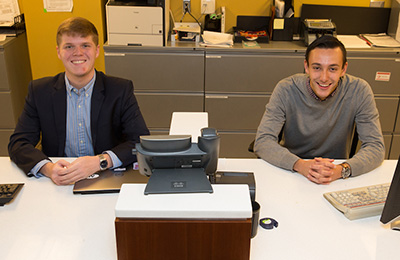 Scott Dlugos and Anthony Massa
First Miami is equally valuable for its student members, who can build credit while learning financial literacy skills.

The credit union offers a unique service called Build Your Credit Loans. Students are given a $1,000 loan but are not allowed to access it. Students pay the loan's interest up front, and First Miami makes the monthly payments for them for an automatic credit boost.

"We broke the system," Dlugos said. "Build Your Credit Loans is a way for students to build credit when they often do not have any yet."

First Miami also offers personal finance training. Interns present financial literacy seminars to large student organizations, but they also take basic questions as members and other Miami University students drop in.

"Teaching financial literacy is very important to us," Massa said. "There's a large knowledge gap for college students building credit at a young age and financial literacy. Some students do not even know the difference between a debit and credit card."

Dlugos came in as a supply chain and management major because the creative side of business appealed to him. Now, he wants to add a second major in accounting or finance because of how much he enjoys the banking environment.

"First Miami shapes what kind of business person our interns want to be," Dlugos said. "It's an opportunity for students to dip their toes in the water before entering the real world."

Massa — a leadership and management major — did basic administrative tasks at his dad's financial firm last summer, but he always thought his true passion was politics. After working at First Miami he found a new interest in finance.

"I was always pursuing political things even though I was a business major," Massa explained. "Now, I want to come back to my dad's job and do real financial work."