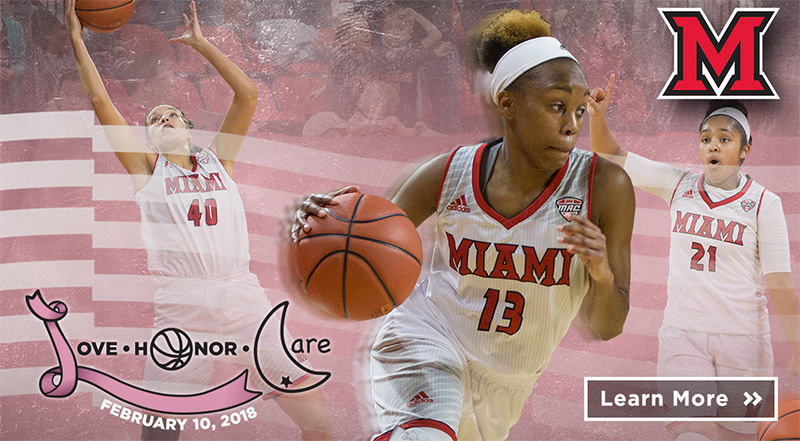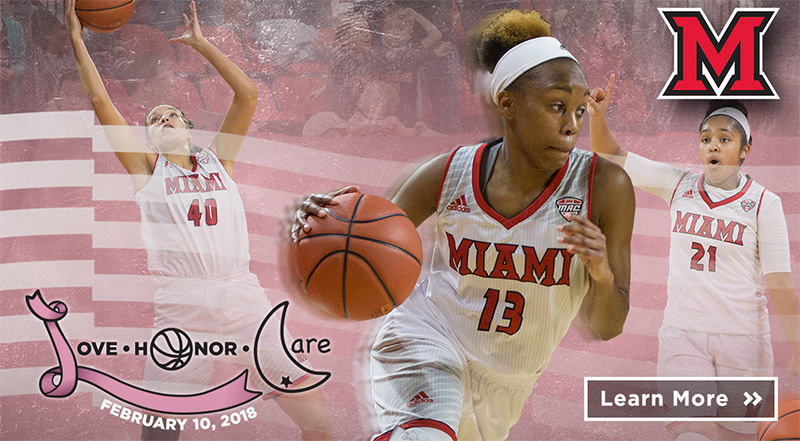 Complimentary tickets available to the women's Feb. 10 basketball game.
Feb 01, 2018
Join Miami Feb. 9-10 for the fifth annual Love.Honor.Care Weekend
Love.Honor.Care is an initiative of Miami athletics spearheaded by Miami women's basketball to raise funds for Luna Cares, which benefits local cancer patients. In the past four years, Miami has raised more than $50,000 through this initiative. This year's goal is $21,000.
Miami women's basketball hosts the University at Buffalo at 1 p.m. Saturday, Feb. 10, for the Love.Honor.Care game, and 100 percent of the money raised through T-shirt sales, donations and game day events go to Luna Cares. There is complimentary admission to the game courtesy of President Greg and Dr. Renate Crawford for faculty, staff and their families and for Oxford community members. To reserve complimentary tickets for the game:
Love.Honor.Care T-shirts ($10), sweatshirts ($30) and spirit jerseys ($40) are available for purchase by clicking online, through the Miami athletic ticket office, or on game days at Millett Hall at the marketing table. There are a variety of donation support levels (click online for more information), or donations of any amount can be made through the ticket office at (513) 529-4295.

There also will be several silent auction items available for bid at the game. A few items also have been made available for bid in a Facebook auction on the Miami University Women's Basketball page (@MiamiOHWBB). Go online for more information on the Love.Honor.Care game.

The Love.Honor.Care Weekend tips off with Miami men's basketball hosting University of Toledo at 6 p.m. Friday, Feb. 9. RedHawk legend Wally Szczerbiak will be back to call the game for CBS Sports Network, and it will be Wally Szczerbiak Night at Millett Hall with several giveaways. Love.Honor.Care silent auction items will be available for bid beginning on Friday evening.

Note: This is a day and time change from the originally published date due to television. Men's basketball tickets for the original date will be valid for the Feb. 9 game.

Miami hockey also will be in action Feb. 9-10 with a weekend series against St. Cloud State University. Friday's game is at 8 p.m. and also will be broadcast on CBS Sports Network. Saturday's game is set for 7:05 p.m.

Complimentary tickets apply only to the women's basketball game. To purchase tickets to the men's basketball and hockey games, call (513) 529-4295 or go online.