Apr 12, 2018
Miami University researchers uncover "nature's secrets" in fungi, flies and frogs
Miami on Science Friday April 20
Tune in to Science Friday, Friday, April 20, to hear more Miami "science superstars"!
When: 2:20-2:40 p.m. (Science Friday program begins at 2 p.m.)
Where: WVXU—91.7 FM on your radio dial
Who: Miami University seismologist Mike Brudzinski, professor, and structural geologist Brian Currie, associate professor of geology environmental earth sciences. 
Read about their research on induced earthquakes in Ohio, recently published in Proceedings of the National Academy of Sciences.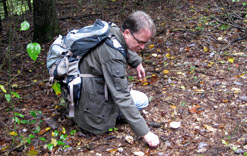 In the field: Nicholas Money (above), Rick Lee and Clara do Amaral.
Miami University scientists share their expertise two weeks in a row as guests on the national radio program "Science Friday."
Friday, April 20, Miami geologists Mike Brudzinski and Brian Currie will be interviewed on air beginning at 2 p.m. to discuss induced earthquakes in Ohio.
Friday, April 27, Richard Lee and Nicholas Money will be heard nationwide on "Science Friday." Their broadcast will be taken from a recording of "Science Friday Live" that a sold-out audience will see at 7:30 p.m. Saturday, April 21, at Hall Auditorium, featuring public radio host Ira Flatow.
Although the show is sold out, the excitement continues on Twitter - #SciFri and #SciFriMiamiOH.
Money and Lee will discuss their research in uncovering some of "nature's secrets."
Guest lineup:
Mushrooms and fungi and their amazing adaptations/life strategies, with Nicholas P. Money, professor of botany, Miami.
Ancient humans and the paleoenvironments they lived in, with Denise Su (Cleveland Museum of Natural History).
Extreme cold-adapted creatures: flies and frogs, with Clara do Amaral (Miami Ph.D. '14), Mount St. Joseph, and Rick Lee, University Distinguished Professor of Biology, Miami.
 The Miami Men's Glee Club will provide musical breaks during the live performance. The show will air in a future regular broadcast time of "Science Friday."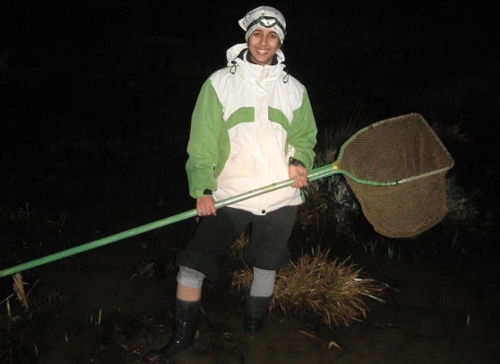 "Science Friday" ("Sci Fri" to online fans) has 1.8 million public radio listeners each week and #scifri has 777,000 followers on Twitter, offering what it calls "brain fun for curious people."
The award-winning 90-minute live program typically features conversations with scientists, live music, props, video screenings and demonstrations. 
The program is co-sponsored by the president's office and the Performing Arts Series.