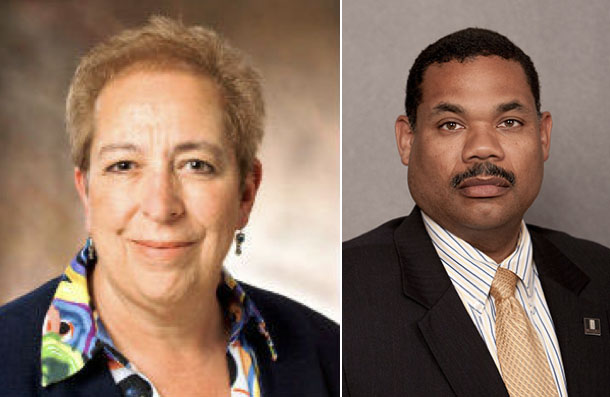 Apr 16, 2018
Randi Thomas and Diane Delisio receive Miami University's Distinguished Service Award
By Susan Meikle, university news and communications
Randi Thomas and Diane Delisio have each received Miami University's 2018 Distinguished Service Award.
The award is the most significant recognition that Miami has to offer for employees who have made an impact on the life and mission of the university.
They will be recognized at a special University Awards Reception to be held 5-6:30 p.m., Wednesday, April 18, in Marcum Conference Center.
The award is given to at most two recipients every other year, alternating years with the Distinguished Professor Award. Current member of Miami's faculty, classified/unclassified staff, or administration; or retirees of no longer than three years are eligible for the award.
Diane Delisio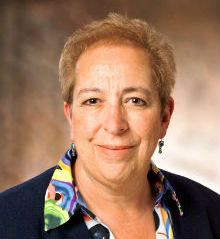 Delisio, senior associate dean of the College of Engineering and Computing, is directly responsible for building a department, leading the design of an associate degree and a bachelor's degree and playing a major role in initiatives that transform Miami, say her nominators.
"Her impact has been deep and broad. Diane has given her time, energy and passion to serving Miami University, and she has done so for over 30 years. She has had a major impact on the computer and information technology department, the Regionals campuses, College of Engineering and Computing and the university," nominators said.
Delisio joined Miami in 1984 and taught programming in what was then known as the systems analysis program. She was founding chair of the new department of computer and information technology (CIT) housed at the Regionals campuses. She spearheaded the first associate's degree from the CIT department and one of the first bachelor's degrees on the Regionals campuses — the Health Information Technology degree.
She was also one of the leaders in the development of the Bachelor of Integrative Studies degree. Based upon the success of this offering, she helped spearhead the initiative to develop the Bachelor of Science in IT degree and the major in Health IT.
In her present role on the Oxford campus, she has continued to keep positive connections between the CIT department and the College of Engineering and Computing (CEC), and between campuses.
She served as associate dean of the School of Engineering and Applied Science (now CEC) from 2010-2015 and has been senior associate dean of CEC since 2015.

Since 2010 she has overseen all curricular initiatives coming from CEC departments. "Her role in streamlining and modernizing our curriculum and making it more student friendly cannot be overestimated," said Marek Dollar, dean of CEC.
Her contributions to the newly developed Socially Engaged Engineering and Computing Initiative have been invaluable, Dollar said.
She has been a lifelong advocate for women in STEM. In her role as a member of the CEC's Women's Advisory Committee she has worked to increase and retain the number the women in the college. Her work mentoring women in the Society of Women in Engineering and the Association of Computing Machinery-Women is exemplary, a nominator said.
Delisio helped lead the establishment of a minor in Humanitarian Engineering and Computing. The new minor is already having the expected result – 70 percent of the students enrolled in the minor are female.
Her distinguished service has made a significant impact on the life and mission of Miami University, local high schools, and surrounding communities, a nominator said.
"She was a driving force not only on Miami campuses, but also at local high schools where she provided curricular suggestions, and in our local and alumni communities, where she provided connections to our programs. Her service is the model of effectively connecting Miami to our community," a nominator said.
Delisio "has devoted herself to sustained and selfless service, touched and enriched the lives of countless students and many faculty and staff, encouraged and exemplified the virtue of good citizenship and earned the respect of so many members of our community," her nominators said.
Randi Thomas (Miami '88, MA '90)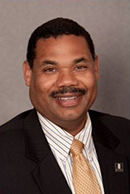 Thomas, director of institutional relations, has devoted his time at Miami "to paying it forward to the next generation of students and paying it back to the mentors who had such a large impact on his life," nominators said. He received his Juris Doctorate from Vanderbilt University in 1993 and joined a law firm in Columbus until returning to Miami in 1999.
According to his nominators, some of the greatest impacts that Thomas has made at Miami include his work with the First Miami Student and Alumni Federal Credit Union — which he co-founded as a student and chaired.
He founded the Government Relations Network (GRN) based on his commitment to the importance of civic engagement in the community. It now includes a cohort of hundreds of students and alumni interested in public service.
He founded and leads the GRN Alternative Spring Break trip, organized to showcase Miami undergraduate students involved in political science and students conducting independent research projects. Up to 50 students are selected and trained intensively on how to present their ideas to legislators and their staff. In addition to the amazing advocacy and relationship-building the students accomplish, they also have a direct and positive legislative impact, nominators said.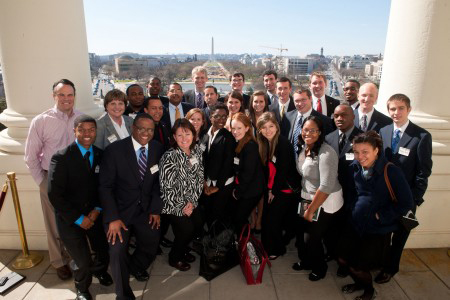 Thomas with GRN students on Alternative Spring Break at the U.S. Capitol.
In the past year alone, Thomas' student advocacy teams helped lead the effort to educate legislators on college affordability, textbook purchase options, student loan debt, reauthorization of the Higher Education Act and the importance of "indirect costs" on federal grants.
Thomas provides an "excellent real world experience for these students, but he is also creating a generation of alums with close and lasting ties to the institution," a nominator said. Many of his mentees now hold staff or elected positions at the local, state and national levels.
As a government liaison, Thomas helps prepare faculty and staff to present to legislators. "In my role as director of the Urban Cohort, I have had the privilege of meeting with members of the U.S. Senate, House of Representatives and legislators at the Ohio State House to share the impact of our program on Miami students, K-12 students in urban schools and members of urban communities. I could not have done this without Randi," a nominator said.
"Randi's passion for Miami is clear. His untiring commitment to spreading the good work found throughout Miami and making sure that Miami shapes the political dialogue and public policy for greater good is unending," she said.
Thomas works closely with Miami's Scripps Gerontology Center on the Ohio Long-Term Care Research Project. The almost 30-year project has received more than $8.5 million in state funding to provide members of the General Assembly and other state policymakers with objective information about long-term care.  "His assistance in keeping our work in front of the legislature has been an important element of Miami's success in receiving this ongoing support for long-term care research," a nominator said.
Thomas was fundamental in bringing Buckeye Boys State (BBS) to Miami for a five-year contract beginning last summer. A 1982 BBS alumnus, his efforts brought the attention of thousands of prospective students from across Ohio to Miami, his nominators said.
Thomas is a hidden gem at Miami, a nominator said. "Sit outside Randi's office in Roudebush for an hour, and you will see just how much he means to our students. Dozens of students visit him to discuss their involvement on campus, academic and career aspirations, and personal issues."
"He is a special and invaluable member of the university who works toward advancing the mission of Miami University every day," his nominators said.