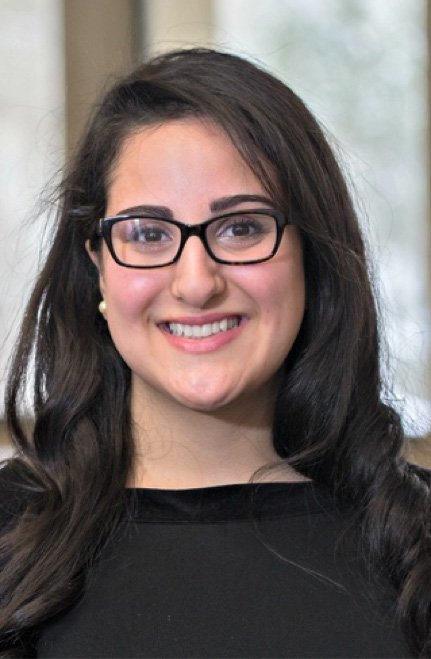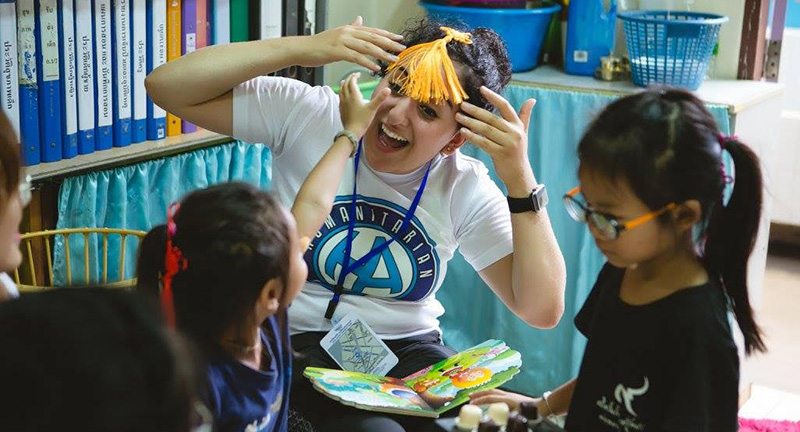 Miami student Sara Al-Zubi spent time working with young children in Bangkok while participating in the 2017 Humanitarian Affairs University Scholars Leadership Symposium.
Photo: Sara Al-Zubi
Apr 12, 2018
A news photo ignited Miami's Truman Scholarship recipient Sara Al-Zubi's passion for the health and well-being of refugees
Sara Al-Zubi
• Founder and President of the Refugee Advisory Council at Miami
• Executive Director, 3Sisters Foundation
• Founder and Director of Peace of Mail
• Country Ambassador of the United Nations Humanitarian Affairs
• Member of the Ohio Refugee Advisory Council
• Member of the Refugee Empowerment Initiative, organized by the Junior League of Cincinnati, and the New Cincinnatians Committee, which is a Cincinnati City Council initiative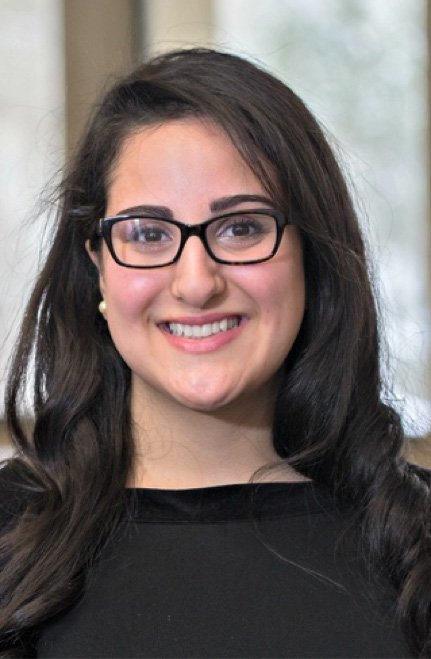 Sara Al-Zubi
By Carole Johnson, university news and communications
The Harry S. Truman Scholarship honors the nation's future public servants and change agents, but Miami University's Sara Al-Zubi, a 2018 recipient, decided the future was too far away. She's making an impact now.
In fact, her full-speed-ahead activism began as she was entering her freshman year at Miami with a news report and a photo of a Syrian boy. Three-year-old Alan Kurdi drowned in the Mediterranean Sea, a victim of the Syrian conflict in 2015.
His haunting image struck a personal chord with her. Al-Zubi spent some of her early childhood years in Jordan, near the border of Syria — before the war and before her family immigrated to the United States. She recalled later visits back to the region, sitting with family drinking tea and hearing the neighboring bombs. The sound terrified her.
That memory stayed in the back of her mind as she and her family struggled to fit into their new American home. Then college came, and the Syrian boy's photo, and she just could not simply scroll through the news anymore.
"I have a four-year-old brother, and if my luck didn't turn out this way, this could have easily been my brother," she said.
She began a letter-writing campaign to the children of Syria that grew into her first nonprofit venture, Peace of Mail, in which she encouraged people around the world to write letters of support and hope to children who had fled the Syrian civil war into refugee camps in Jordan, as a reminder that they were not alone.

Fast forward to April 2018, now a junior majoring in human capital management and leadership who is also pre-med, she recently traveled to Washington, D.C. to meet with a panel from the Truman Foundation. Armed with a backpack of recommendation letters and three years of public service work, she personally didn't believe she had a chance at being selected as one of the 59 national scholarship recipients.
However, Zeb Baker knew she did. Baker is the chair of Miami's national fellowships committee, who has worked with Al-Zubi since her freshman year.
"She's a whirlwind of energy and activity, whose focus and motivation is always, 'I've got to get all this done on behalf of the people I serve.'"
Baker thinks about the right word to describe her. "Irrepressible, that's the word. When she sets her mind to do it, she will do it, and there is no doubt she will accomplish it."
During her three years at Miami, the honors student worked on refining her passion for helping refugees. "I was constantly challenged to expand my borders and widen my perspective," she said.
She has worked with refugee populations in Cincinnati as a refugee transition coach for RefugeeConnect Ohio to improve their adjustment process into the American culture. As a Muslim Jordanian American and a native Arabic speaker, she was someone whose credibility they trusted.
Al-Zubi co-founded ProjectEquip, designing mental health training modules for 80-100 community workers and leaders to better prepare them for their work with refugee clients and patients.
Currently, she is working to start a mental health hotline for refugee families in America through her new foundation, 3Sisters Foundation, a nonprofit that seeks to address the mental health challenges that refugees confront.
"You don't recognize what you are dealing with until you are at the pool and a plane flies over and the kids are running to hide," she said of her time spent with families. "The trauma is beyond what words can explain. And the mental health issues are a complex conversation that we need to be having. The current setup of refugee resettlement doesn't necessarily prioritize mental health as an objective to fix."
Jump to today, April 12, the official announcement of the award. She is the first recipient since 2003 and first finalist at Miami since 2015. She is also the only winner from Ohio this year.
"My backpack just got heavier," she said. The responsibility of the award is setting in. I'm way more excited, as much as I am nervous with this huge responsibility."
Baker is not concerned about the added weight. "She is the most self-directed person I've ever met. There is a deep determination in her to impact the world around her."
The $30,000 scholarship will help toward her goal of attending medical school as well as her desire to also earn a master's in public health. She will be recognized with the other Truman Scholars from around the country at an awards ceremony at the Harry S. Truman Presidential Library in Independence, Missouri, on May 27.
In the meantime, as a Truman Scholar, she now can apply for the Washington Summer Institute. She would like to intern for the Office of Refugee Resettlement in the Department of Health and Human Services.
"I'm excited to continue my education to give back to the people with whom I have worked because they have given me more than I could have imagined. I want to make sure that the second chance they get here, in their new home, is the best second chance we can give them."