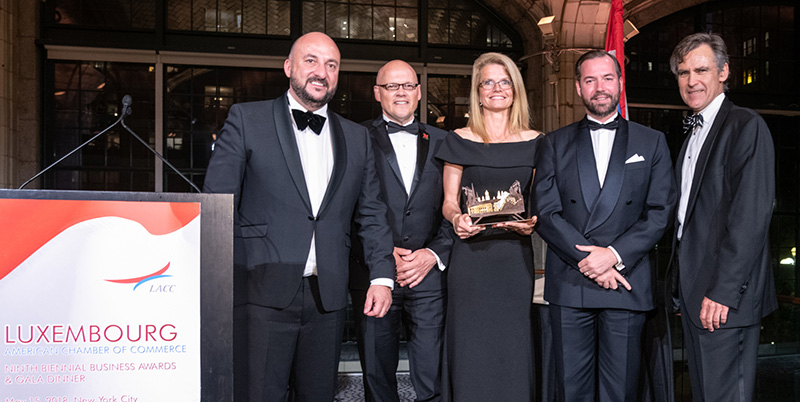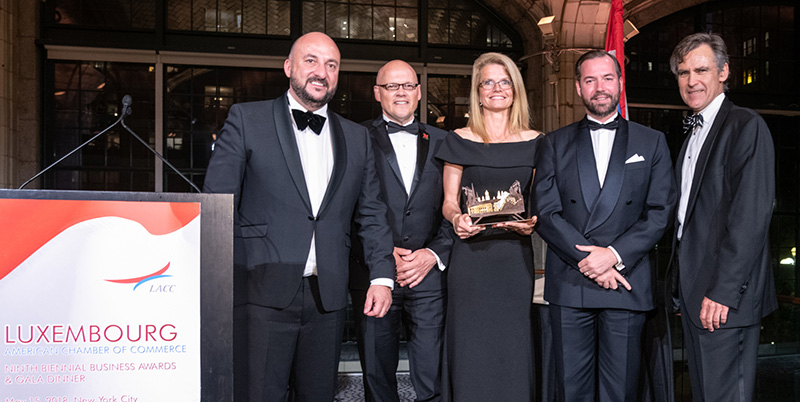 Honoring Miami's Luxembourg connection: Etienne Schneider, Deputy Prime Minister of Luxembourg, President Greg Crawford, Dr. Renate Crawford, Prince Guillaume of Luxembourg, and Michel Franck, president of the Luxembourg-American Chamber of Commerce.
May 17, 2018
Miami receives first-ever Honorary Business Award from Luxembourg-American Chamber of Commerce
To celebrate Miami University's 50th anniversary of its presence in Luxembourg and its engagement with the country, the Luxembourg-American Chamber of Commerce has presented Miami with an Honorary Business Award.
The award recognizes Miami's "proven excellence in creating ties between the U.S. and the Grand Duchy in academia as well as in the economic sphere." It is the first time the award has been presented.
Students have learned at the Miami University John E. Dolibois European Center (MUDEC) in Luxembourg since 1968. The center, in a 15th century castle of Differdange since 1997, offers students the opportunity to enroll in Miami classes taught by Europe- and Ohio-based Miami faculty and thus foster academic, economic and institutional collaborations between the U.S. and Luxembourg.
The award was presented in New York City May 15 at an event attended by Their Royal Highnesses Crown Prince Guillaume and Crown Princess Stephanie and the Deputy Prime Minister, Minister of the Economy of Luxembourg, Etienne Schneider.
Sylvie Lucas, ambassador of the Grand Duchy of Luxembourg, congratulated Miami on its 50th anniversary. She said in a statement, "Miami University's John E. Dolibois European Center, one of the oldest and well-established study abroad programs in the United States, has undoubtedly contributed, and continues to contribute enormously to forging lasting ties between the United States and Luxembourg, in academia as well as in the economic and cultural spheres."
The chamber awarded Amazon its Luxembourg-American Business Award. Amazon's European headquarters in Luxembourg employs more than 1,500 people. Amazon is the first service provider and non-manufacturer to receive the honor since the award's inception in 1999.
Miami President Greg Crawford reflected on the half century of collaboration. "That visionary spirit – the willingness to look into the future and reach out for opportunities to expand the world view of Miami students. That spirit lives and thrives today. A half-century after the Dolibois Center opened, we have steadily expanded in Luxembourg – including cooperative agreements with the Luxembourg University Center and the University of Luxembourg. Our Farmer School of Business operates a summer program in Luxembourg, and Miami students teach at the area's international schools."
More than 11,000 Miami students have earned credit at MUDEC for more than 50 years, including summer and semester-long programs.
Luxembourg is a small country noted for its multilingual and multicultural society. It is home to major international banking, financial and communication companies and is also the location of several European Union institutions, including the European Court of Justice.