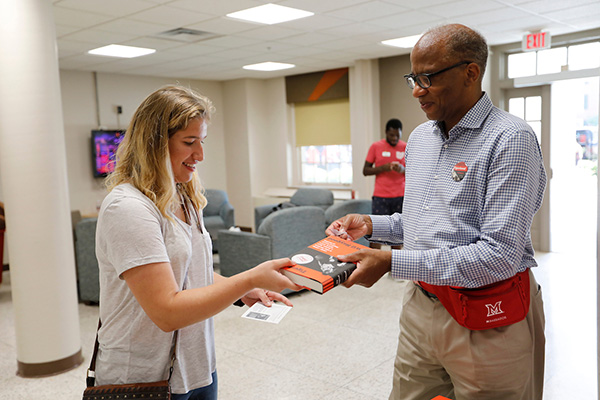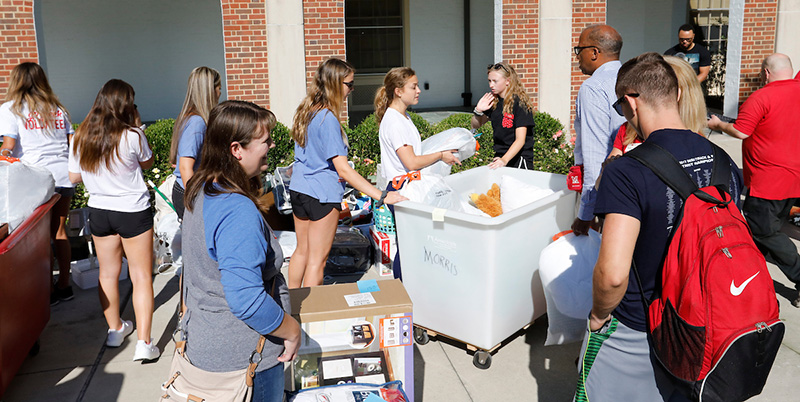 Incoming first-year students are the inspiration for #MoveInMiami.
Aug 23, 2018
Incoming Class of 2022 sets university records
3,954 Oxford first-year students to hear best-selling author
The largest and most diverse class in Miami University's 209-year history arrived this week on the Oxford campus.
The 3,954 students come from 41 states and 22 countries and boast an average GPA of 3.76 and average ACT score of 28.
This year's cohort has the largest percentage (17.4) and number (689) of domestic students of color in Miami's history. In addition, 15.9 percent of the incoming class are first-generation college students and 7.2 percent are international students.

Miami is part of the national #YouAreWelcomeHere campaign, which aims to send a welcoming message to international students around the world.
"We could not be more impressed with the Class of 2022. Those arriving on our campus this fall are among the brightest and best," said Susan Schaurer, associate vice president for strategic enrollment management and marketing.
Schaurer said that Miami's ability to attract students of this caliber from Ohio, across the U.S. and around the globe illustrates the demand for a Miami degree is at an all-time high.
"Miami continues to be recognized by students and families as an institution with an unparalleled commitment to undergraduate education and whose alumni are consistently recruited by the nation's top employers and graduate and professional school programs," she said.
More than 97 percent of 2016-2017 graduates were employed or furthering their education by fall 2017.

Wil Haygood hands his new book to an incoming first-year student.
Convocation focuses on civil rights yesterday and today
In what will be their first lesson at the collegiate level, members of the Class of 2022 will learn about civil rights yesterday and today during Miami's academic celebration, Convocation 2018.
Wil Haygood, best-selling author of The Butler: A Witness to History, will speak to students at 9 a.m. Friday, Aug. 24, at the university's Oxford campus.

For the #MiamiUDebut, Haygood's publisher, Alfred A. Knopf, agreed to a special early delivery of Tigerland: 1968-1969, A City Divided, a Nation Torn Apart, and a Magical Season of Healing to Miami. 

Haygood personally signed each book, more than 5,000 of them. All new incoming students in Oxford and at Miami's Regionals will receive the books.

Tigerland is part of Miami's Summer Reading Program. When they arrive on campus, students will have consumed a variety of media from the 1960s and today. After convocation, they will meet with faculty, staff or graduate students for discussions on their summer reading/listening.

"We are delighted to host the worldwide debut of Tigerland at Miami University," Miami President Gregory Crawford said. "We are proud to call Wil Haygood one of our own. Miami's Class of 2022 can read Tigerland before readers across the country, completing the Summer Reading Program's civil rights focus including music, poetry and other writings," he said.

"Wil tells the story of the struggles and triumphs of students at East High School in Columbus, Ohio, in 1968-1969 in a way that appeals directly to today's young people," Crawford added. "East High School students overcame barriers to win championships, and I know our students will draw inspiration from the stories that Wil tells in Tigerland."