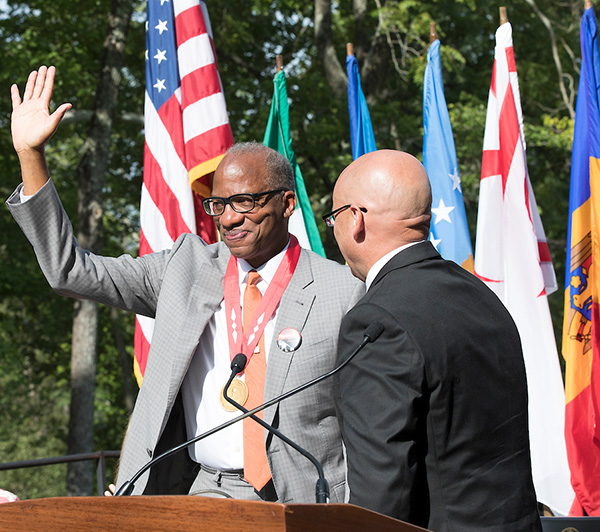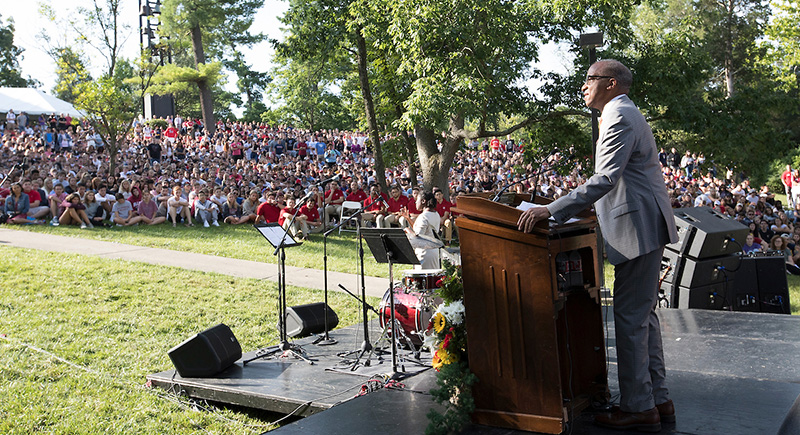 Wil Haygood addresses the Class of 2022.
Aug 24, 2018
Wil Haygood provides message of hope and respect to Class of 2022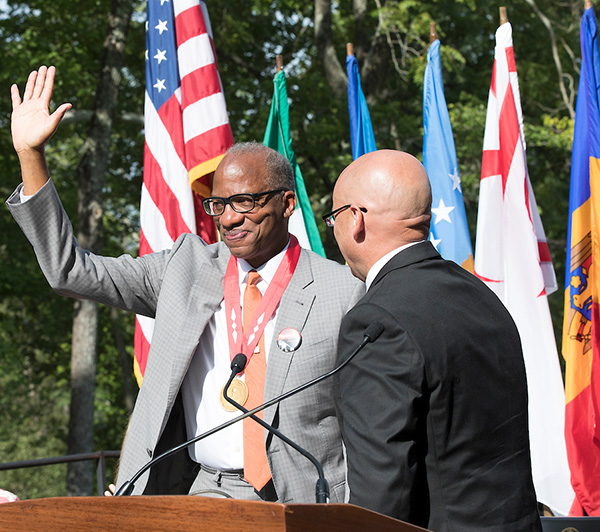 Wil Haygood receives The Miami University President's Medal.
Miami University's Class of 2022 was asked to "exude civility" and to respect each other by keynote speaker Wil Haygood during Convocation 2018.
Haygood (Miami '76) also addressed incoming students on themes of racial justice, history and the uniting of a community behind its sports teams. Those are topics of his new book, Tigerland: 1968-1969, A City Divided, a Nation Torn Apart, and a Magical Season of Healing.

In a special arrangement dubbed the #MiamiUDebut, Haygood's publisher, Alfred A. Knopf, agreed to a special early delivery of Tigerland to Miami so that incoming first-year students in Oxford and at The Regionals were the first to receive copies from the best-selling author.

Haygood calls his book "one of the great untold stories" of 1968, when civil rights leaders were killed and social tensions spiked, but a segregated high school in Columbus set its goals above the fray. The book isn't available for sale to the public until Sept. 18.

Haygood spoke about the people of Tigerland, emphasizing their stalwart characters and deep values that persevered even during the turmoil of the times.

He also recalled his time as a Miami student and the people who gave him the foundation to succeed. "When I was an undergraduate student at Miami, skating on thin ice at the end of grading periods, I couldn't even dream that I could dream that I would be here today in RedHawk land … introducing you to Tigerland on such a day like this."
Award-winning journalist
A former writer for The Boston Globe and The Washington Post, Haygood penned the story "A Butler Well Served by this Election" for The Post. The article became the basis for the award-winning 2013 film "The Butler" and for Haygood's New York Times' best-selling book of the same name. The Butler was translated into a dozen foreign languages.

Haygood is also an award-winning biographer of Thurgood Marshall, Sammy Davis Jr., Adam Clayton Powell and others.
He is a Visiting Distinguished Professor in Miami's department of media, journalism and film.
Honoring contributions to Miami and society
For his contributions to Miami and society, President Gregory Crawford presented Haygood with the Miami University President's Medal.

In a formal proclamation, the city of Oxford declared Aug. 24 as Wil Haygood Day.

Mayor Kate Rousmaniere said, "We urge all citizens to use the day to reflect on our mutual commitment to confront inequality, promote efforts for justice, inclusion, civil rights and wide awake activism."

Convocation was held at the Freedom Summer Memorial, located on Western Drive. The lane connecting Western Drive and the memorial has been named Wil Haygood Lane in honor of his contributions to Miami and society.
Relive the celebration
Photos and videos can be found online at www.MiamiOH.edu/tigerland.  Watch Convocation 2018 on Facebook.