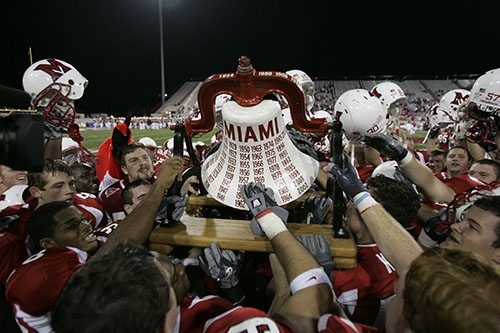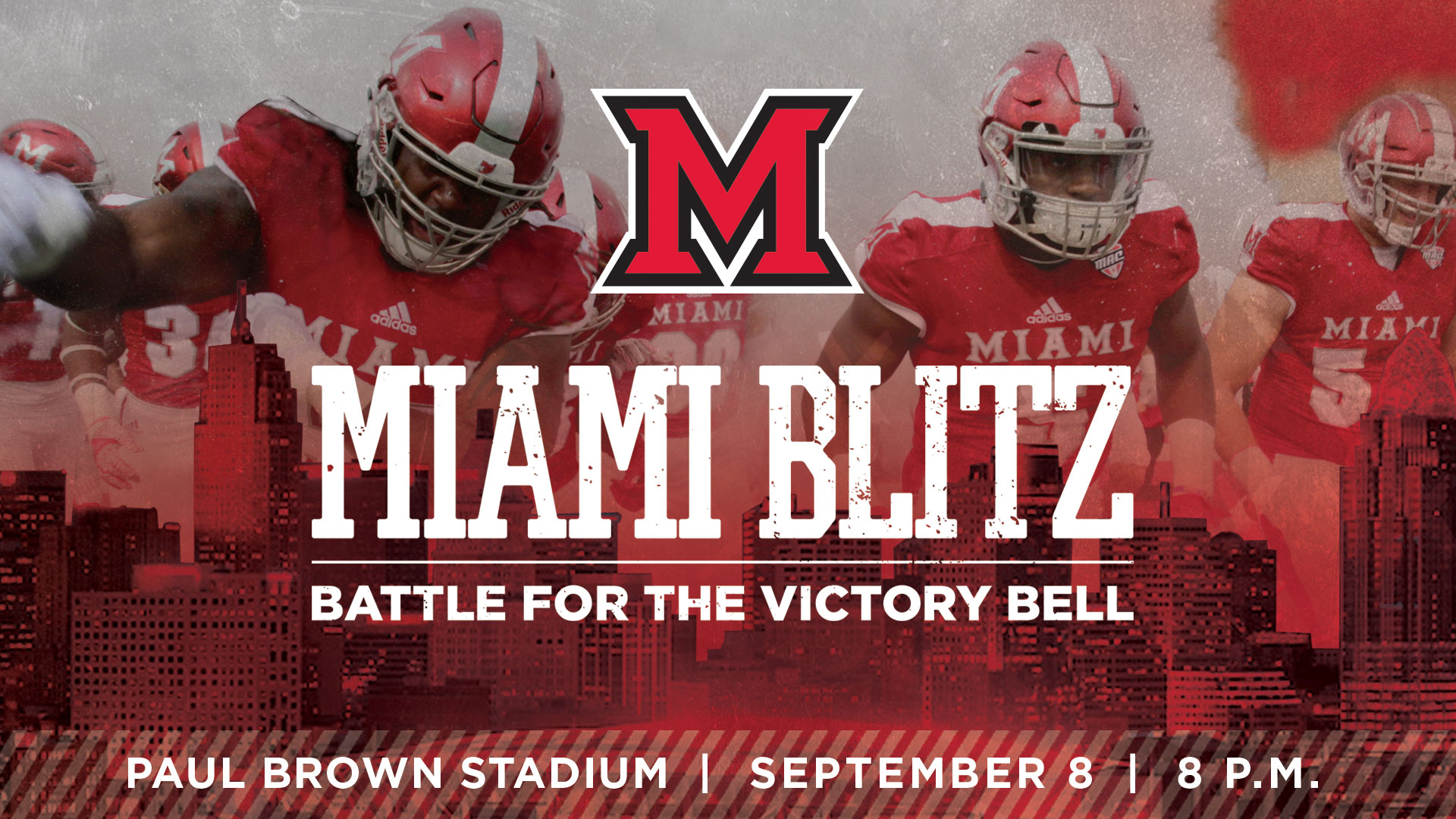 Aug 30, 2018
Archrivals Miami and UC to meet Sept. 8 at Paul Brown Stadium
By Margo Kissell, university news and communications
They've played each other 122 times, first meeting in 1888 when Grover Cleveland was U.S. president.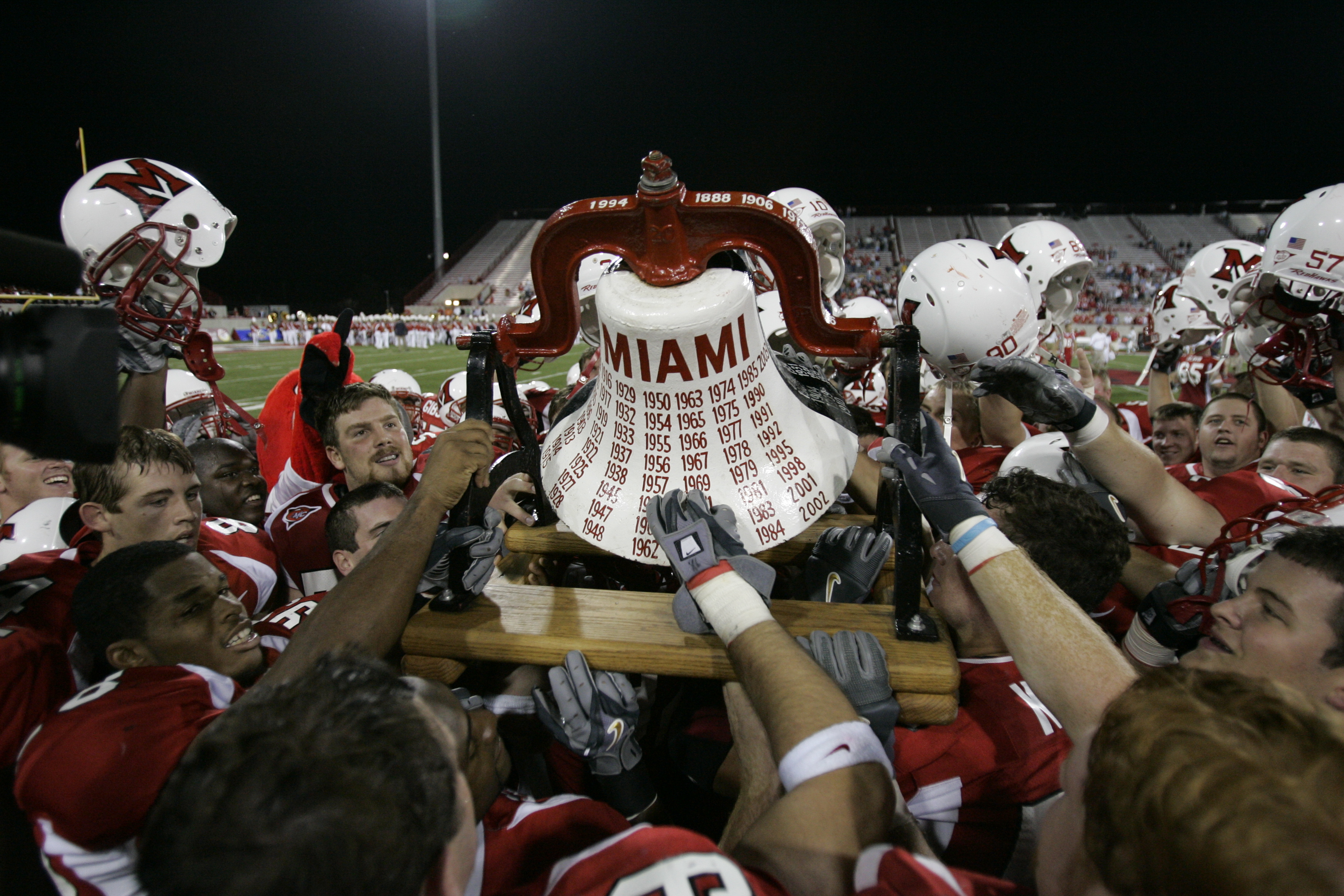 Miami RedHawks celebrate with the Victory Bell (photo by Brett Hansbauer). Cincinnati's mayor has proclaimed Sept. 8 "Battle for the Victory Bell Day" in the city.
Miami University and University of Cincinnati will face off in Paul Brown Stadium Sept. 8 (8 p.m., ESPN3) for the "Battle for the Victory Bell" in the oldest, non-conference college football rivalry in the nation.
That initial game in Oxford, which played to a scoreless tie, was the first college football game played in the state of Ohio.
Miami alumnus Jared Murphy, a wide receiver called up to try out for the Cincinnati Bengals at training camp this summer, said playing under the lights at Paul Brown in 2014 — the last time Miami and UC played each other there — was a highlight of his college career.
"Looking back at all the games we played, that was probably the coolest atmosphere," said Murphy, who graduated in December with a degree in sport leadership and management.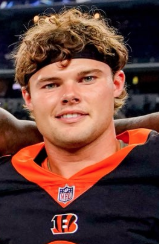 Jared Murphy '17
He said "having a ton of fans there from Cincy and Miami" added to the game experience.
Miami controls the all-time series 59-56-7, but UC has the most current winning streak.
The universities last year extended their series through 2029, including three games at Paul Brown Stadium in downtown Cincinnati. Miami will serve as the host institution at the home of the Bengals for the 2018 and 2022 games. UC will host in 2026.
For Saturday's game, Elm Street near the stadium will temporarily be named RedHawk Way and Mehring Way will become Bearcat Blvd.
"Rivalries that date back into the 1800s are uniquely valued and are deserving of being treasured by our collective fan bases, students and alumni," UC Director of Athletics Mike Bohn said, adding that both institutions are committed to building upon the rich history of the rivalry.
Miami Director of Athletics David Sayler said, "One of the best aspects of college athletics is community in that it brings people together, and rivalry games with history play a large role in that."
Ticket information, events and more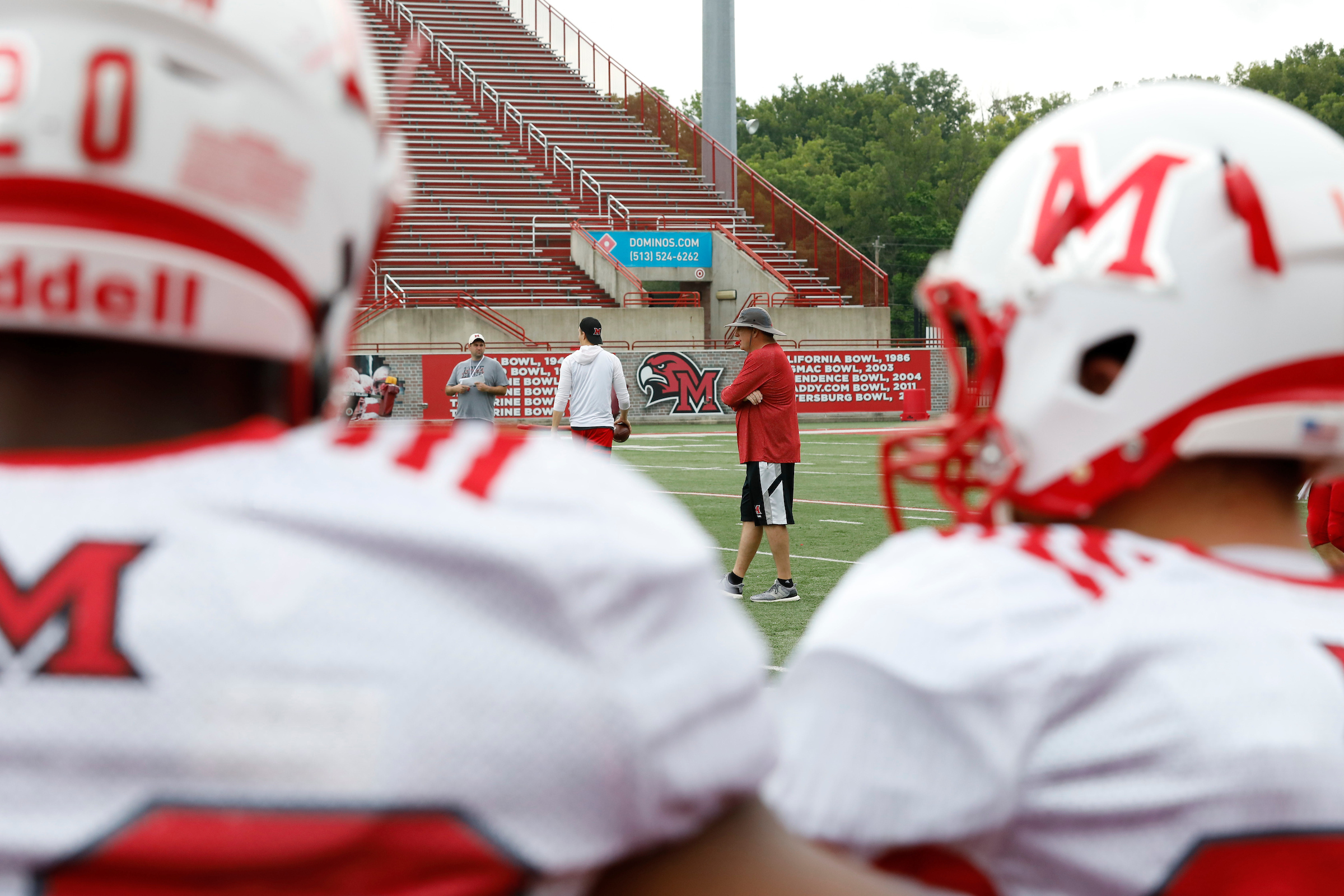 Miami Coach Chuck Martin works with the team at practice this month (photo by Jeff Sabo).
Go to MiamiRedHawks.com/blitz to buy tickets, read bios on the 14 Cincinnati area players on Miami's team, get a parking overview and more. Special events leading up the big game include:
• Sunday, Sept. 2 during the WEBN Fireworks downtown — a special presentation will light up Fifth and Vine near Fountain Square from 8:30-11:30 p.m. and get fans hyped for the big game.
• Thursday, Sept. 6 — a one-hour live Coaches Show broadcast on the Miami IMG Radio Network at Main Event, 9477 Oxford Way, West Chester Township, 6-7 p.m.
• Saturday, Sept. 8 — Pepsi Fan Fest in the Jungle Zone (right outside of Gate E of the stadium), 5-7:30 p.m., with a live band at 5:30 p.m.
Did you know...?
• Paul Brown, legendary coach for the Cincinnati Bengals and Cleveland Browns, graduated from Miami in 1930 and is a member of its "Cradle of Coaches."
• UC and Miami football teams have played each other every year from 1909 through 1942 and since 1945. • Of the 122 meetings, 54 have been decided by seven points or less, including seven ties.