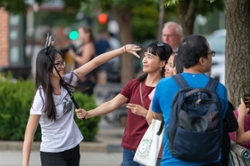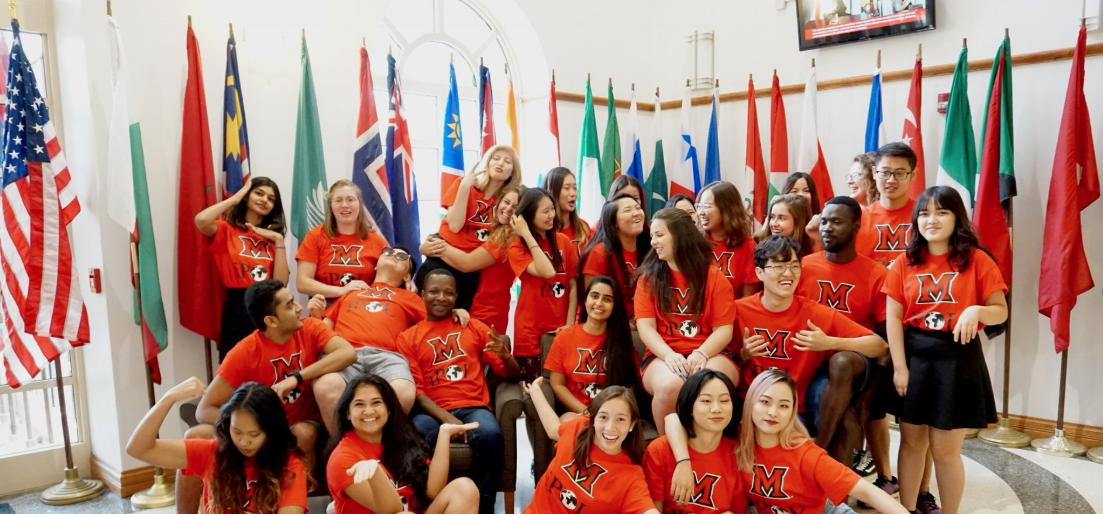 The Miami iPOLS (international peer orientation leaders) are prepared to greet about 600 new international students and lead them in their orientation sessions this week.
Aug 16, 2018
Miami adds its collective voice to national #YouAreWelcomeHere campaign
By Margo Kissell, university news and communications
Miami University has added its collective voice to the national #YouAreWelcomeHere campaign, which aims to send a welcoming message to international students around the world.
The campaign features more than 300 participating universities as well as other schools and organizations.
Cheryl Young, assistant provost for Miami's Global Initiatives and Continuing Education, was instrumental in getting the university involved after she learned about it at a NAFSA Association of International Educators conference last year.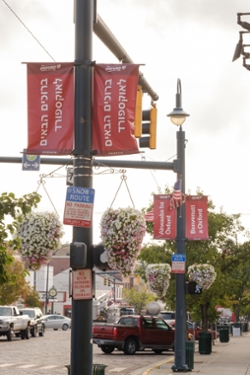 Flags in uptown Oxford welcome students in various languages.
Participating universities are asked to produce a video specific to their campus that could be added to the national campaign's website. Miami was approved this summer after completing that requirement, Young said.
Miami President Greg Crawford and Renate Crawford are featured in the video along with several other Miami and Oxford officials. They tell about Miami's welcoming environment to international students. Nearly 3,000 students from 85 different countries attend Miami.
The common refrain of the campaign — "You Are Welcome Here" — is repeated throughout the video.
Several international students from such places as Bolivia, Kenya, Pakistan, Russia, Sri Lanka and Turkey also are featured saying that phrase in their native languages. Young, who is among those appearing in the video, hopes the message comes across loud and clear.
"In the current political climate in the U.S., our international students are caught in the middle. They hear the national rhetoric, yet they want to be here," she said. "It is important that we continuously remind ourselves and our students how important they are to our campuses and community, and even for diplomatic ties at the international level."
Young said the international students become ambassadors for Miami, Ohio and the U.S. "when they return home either to visit or live and when they are out in the world."
One such ambassador is Ni "Sunny" Suo, an international student from Shanghai, China. She graduated in May with a degree in media and culture and has since returned home. Her Miami experience is featured in the accompanying video, which also is on the national #YouAreWelcome website.