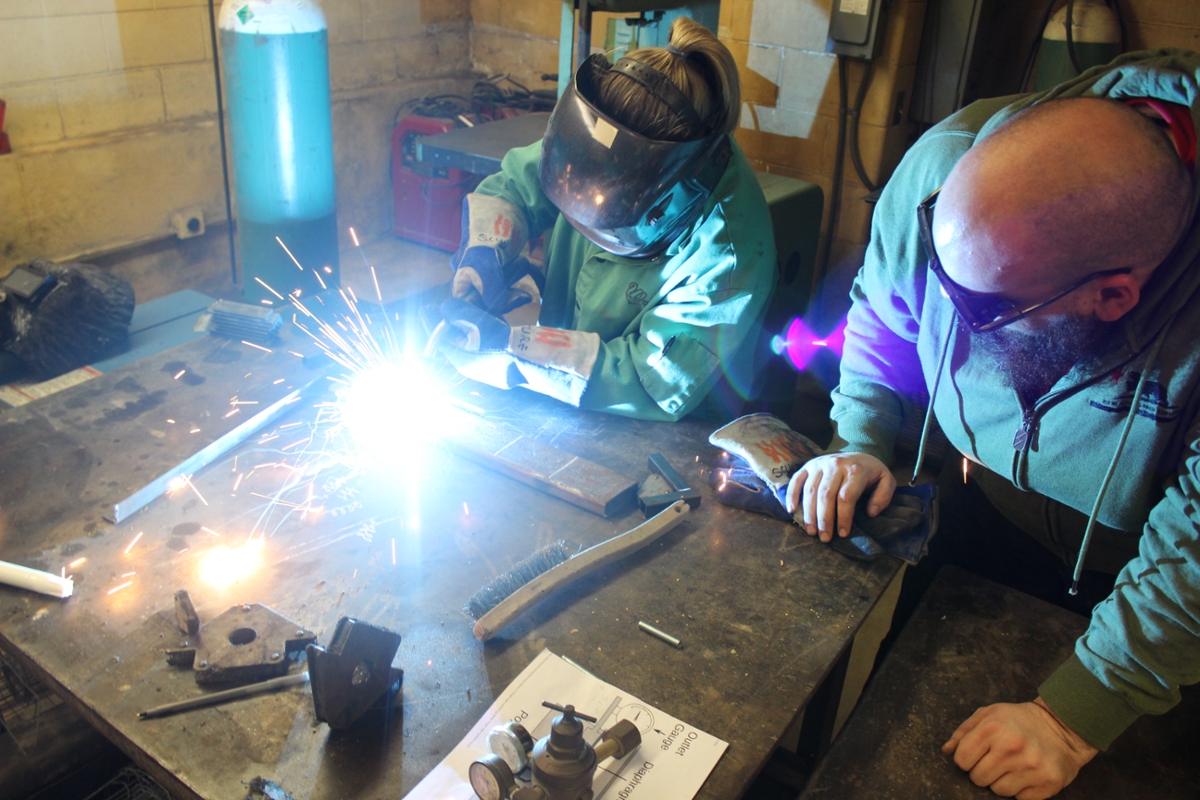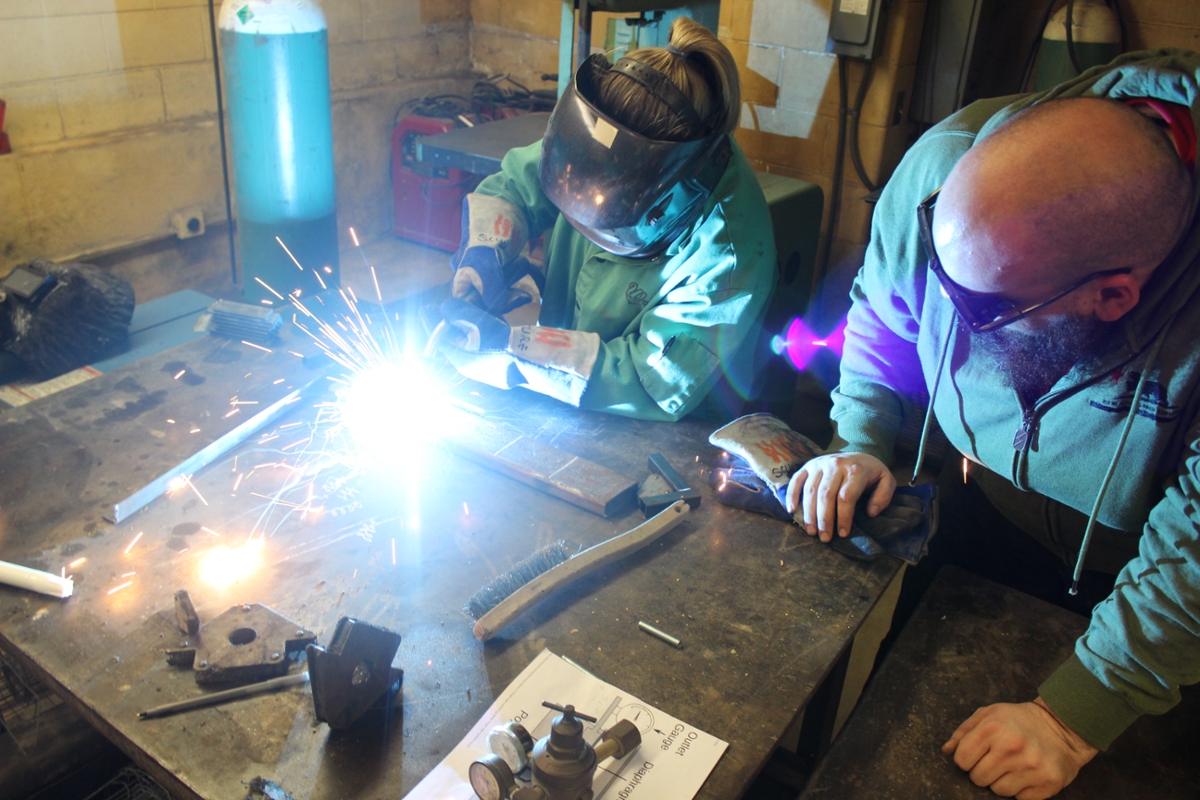 Miami advanced sculpture students welding to fabricate 'Sound of Music.'
Sep 20, 2018
"Four and a Horse": how art created a bond among students two states apart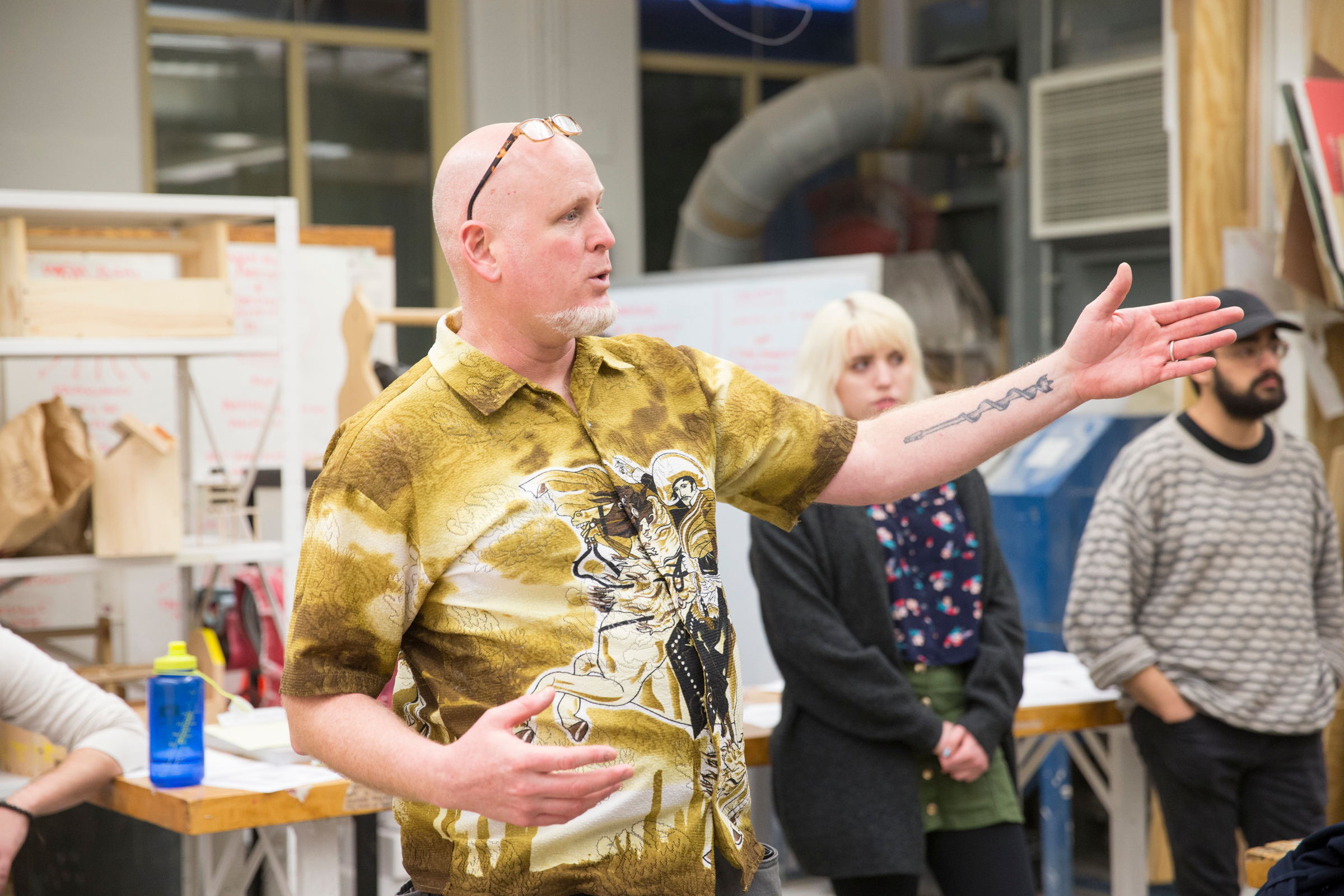 Rod Northcutt engages with students in his advanced sculpture class.
By Shavon Anderson, university news and communications
This isn't academic, this is real.
At least that's how Rod Northcutt, associate professor of sculpture, describes a project his students have undertaken with a middle school north of Chicago.
Real clients, concepts and critiques, and an opportunity for his advanced sculpture students to get unheard-of experience.
Earlier this year, alumnus Loren May (Miami '70, Miami M.Ed. '73) approached Miami University, wanting students to complete artwork for display 300 miles from Oxford.
Marquardt School District 15, 25 miles from Chicago, serves about 2,700 students. Its 2017 Illinois District Report Card reveals 72.9 percent of kids are low-income and 2 percent are homeless. May is the former superintendent.
"The district sees the arts as an important component," he said. "Prior to entering the district, most students have had little exposure."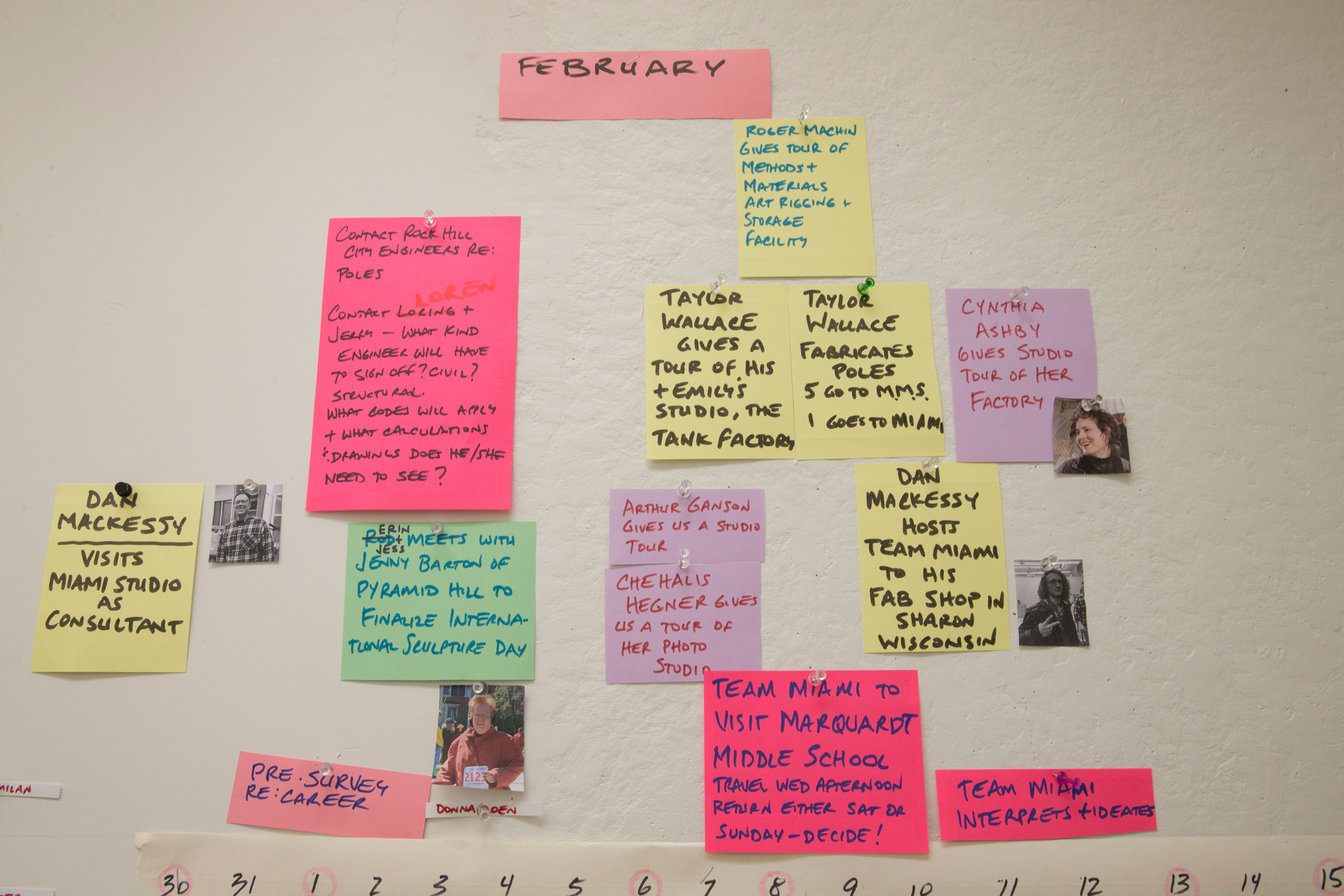 A section of the timeline used for the project.
The proposal is for five sculptures to accompany a new performing arts center at Marquardt Middle School. It was a perfect pairing for Northcutt, who specializes in socially engaged art, a genre focused on serving communities. But, he had reason to hesitate. Northcutt recently returned from medical leave and was concerned about taking on a large project. He also knew he couldn't pass up the unique invitation.
Ultimately, the class decided if they accepted the proposal, they'd buckle down, cut distractions and get serious. They did.
Phase I
Late January 2018, there was a long road ahead.
"We would have to get the shop ready, fix a lot of machines, buy new equipment and find money for it somehow," Northcutt said.
Within weeks, professional experts from across the country came in as project consultants. The students dubbed themselves "Team Miami," and mapped out a plan. By early February, the group headed to meet with Marquardt students for the first time.
"We asked the teachers to give their students a sheet of topics such as 'family,' 'sports,' 'education,' and to rate these things," Northcutt said. "For almost all of them, 'family' came first."
After a whirlwind, weeklong trip meeting with middle schoolers and visiting a handful of Chicago-area art studios, Team Miami had a week to produce initial concepts inside their studio on the basement floor of Hiestand Hall. They analyzed everything from students' favorite songs, activities and snippets about their daily lives.
"We took on a large challenge as a department," said Benjamin Delano, an original member of Team Miami who graduates in December. "It was our job as sculptors to express what is important to the 6th and 7th graders."
The schools kept in touch through Skype and a project website. At the end of February, Team Miami's project consultants were brought back to Oxford to critique the sculpture models and vote on finalists. "They want four sculptures and a horse," Northcutt said, adding that the school's mascot is a mustang. "So, we've been literally calling this whole project, 'Four and a Horse.''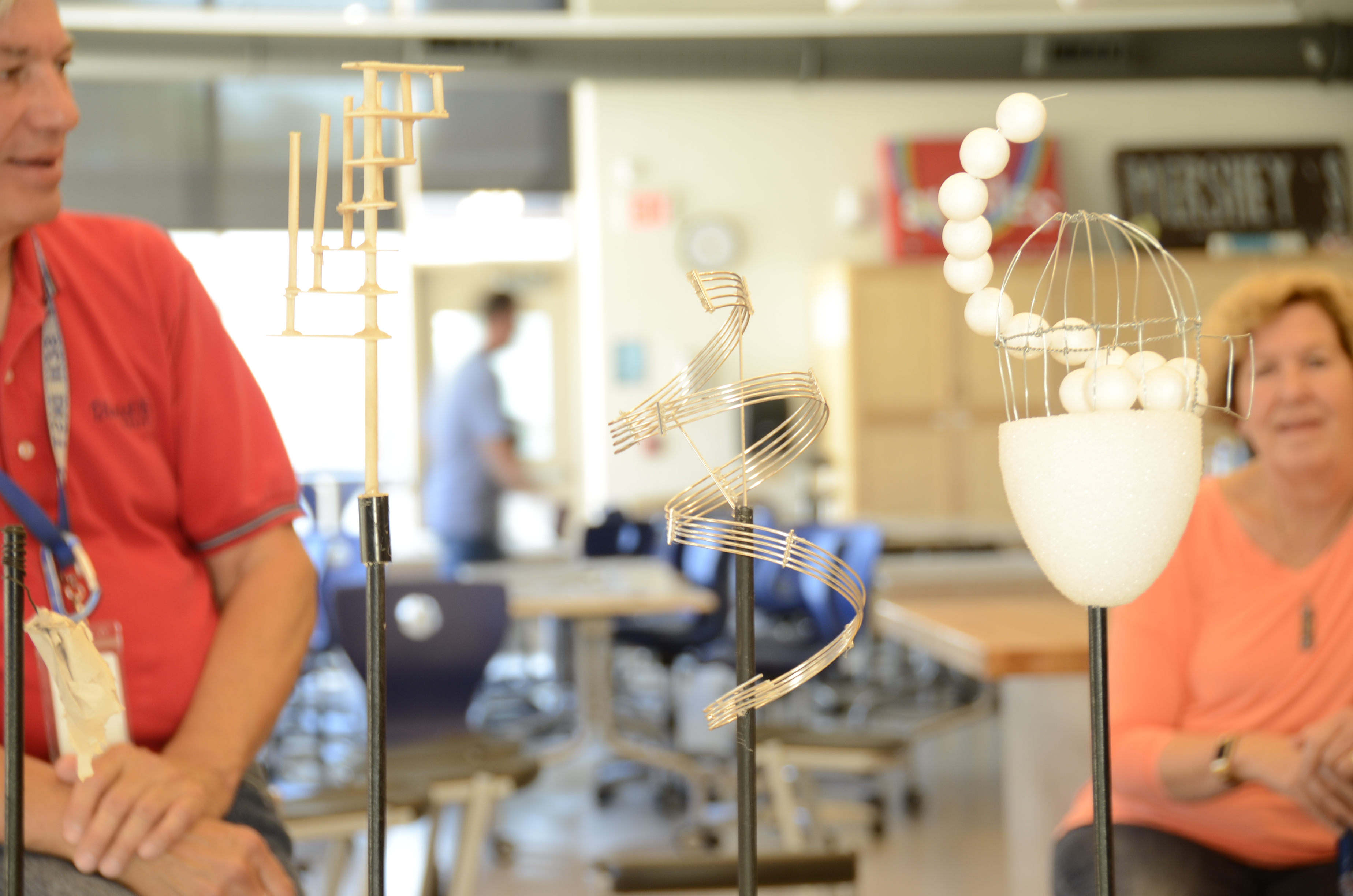 The final concepts: 'Chrysalis,' 'Stairstep,' 'Sound of Music,' and 'Birdcage.'
Regrouping
Initially, the plan was to produce and install all five pieces by spring 2018. Northcutt admits it was an aggressive deadline. A lot of time was spent working on shop modifications, and by May, most of Team Miami graduated. This fall, a new group (including two from the original team) traveled back to Marquardt to present the final sculpture concepts before they move into the production phase.
Specs and installation
Once complete, the sculptures will be assembled in Chicago. Each piece will sit on 12-feet-tall poles fabricated by Metal Magic Interiors, a company co-directed by alumna Emily Moorhead (Miami '08) and her husband J. Taylor Wallace.
"Being connected with current and past faculty at Miami is the best way to find other alums," Moorhead said about the university's network. "We share resources and pass along opportunities. My husband and I are very excited to foster student development."
Miami and Marquardt agreed to an ongoing collaboration, where Northcutt's classes continue creating new pieces. Marquardt is adding space for four more sculptures, with all eight rotating every few years. The project is already having an impact, according to Delano. "The network of inspiration and support gives me a lot of confidence for artistic jobs after graduation," he said.
The first set of sculptures is scheduled for installation by the end of the semester.