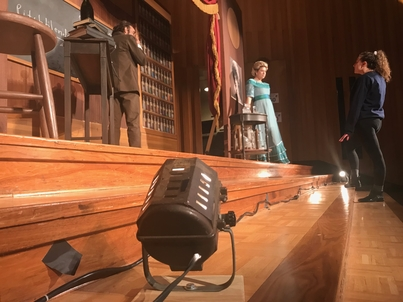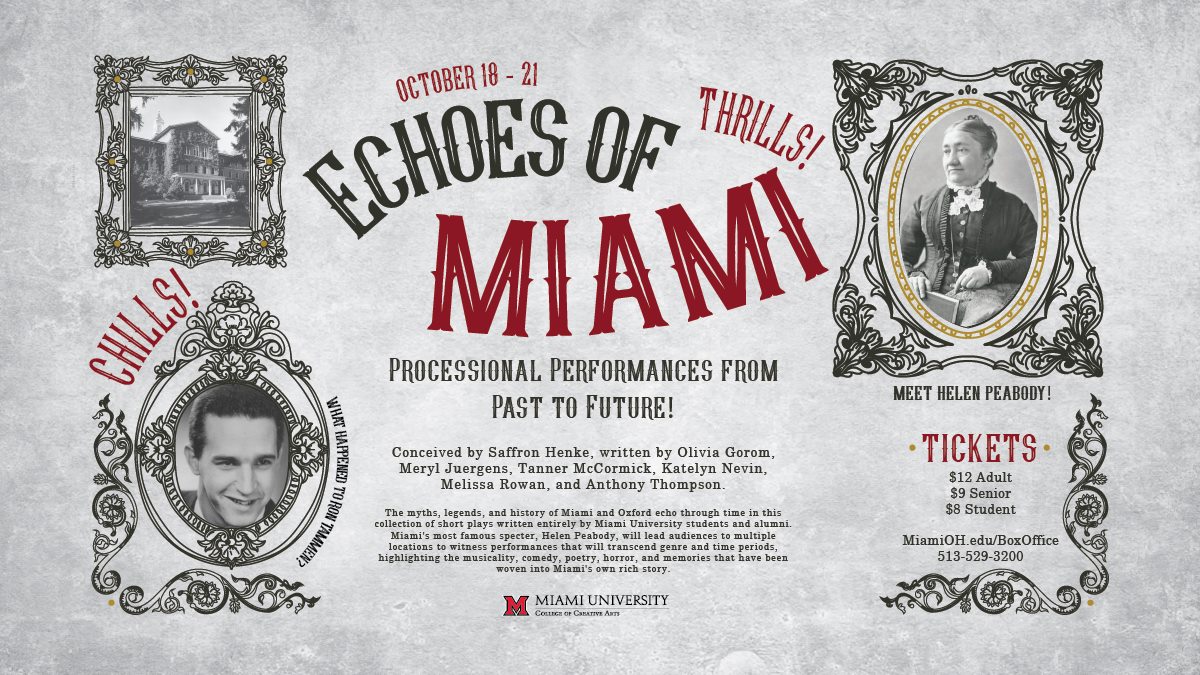 Oct 18, 2018
Innovative student play brings Miami's haunted history to a haunted house in "Echoes of Miami"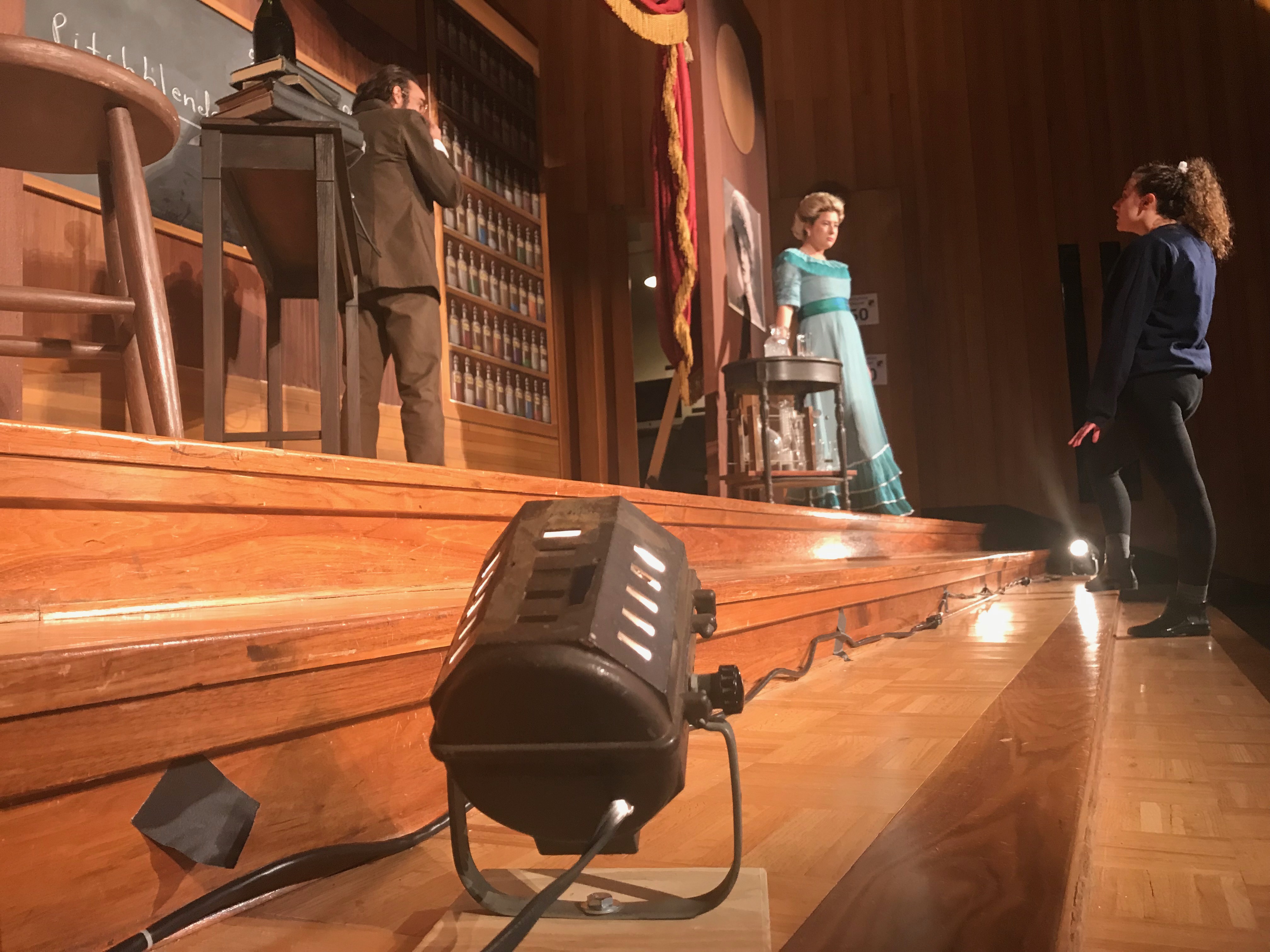 "Echoes" cast and crew run through a dress rehearsal inside The Sidney W. Souers Recital Hall. (Photo by Shavon Anderson)
by Shavon Anderson, university news and communications
Ask anyone about Helen Peabody and the answer usually starts with, "Legend has it…"
Everything after is likely a mix of accounts cobbled together from well-meaning Miamians, eager to keep the tale of "Miss Peabody's" spirit alive.
People say her ghost roams Miami University's Peabody Hall, where she served as principal of the then-Western Female Seminary in the late 1800s. To date, she watches over women and haunts men who walk its corridors.
This week, Miss Peabody is taking on a physical form. Gracing the halls inside the Center for Performing Arts, she'll guide guests through some of Miami's most notorious events as part of the student-produced play, "Echoes of Miami."
Show creator Saffron Henke, assistant professor of theatre, describes it as a haunted house-style series of stories spanning time periods, genres and horror. It boasts a collection of 10-minute plays written entirely by Miami students and alumni, with influences pulled from "The Twilight Zone" and FX's hit show "American Horror Story." With set designs ranging from classic 50s noir to vaudeville, you won't get the same experience twice.
"This has been a Herculean labor of love," said Henke. "Four years."
"Any resemblance of known events is coincidental"
For poltergeist purists eager to pinpoint the show's accuracy or for newbies who know nothing about Miami's spiritual surroundings, Henke knows it won't please everyone.
"I fully expect that we'll get flack," she said.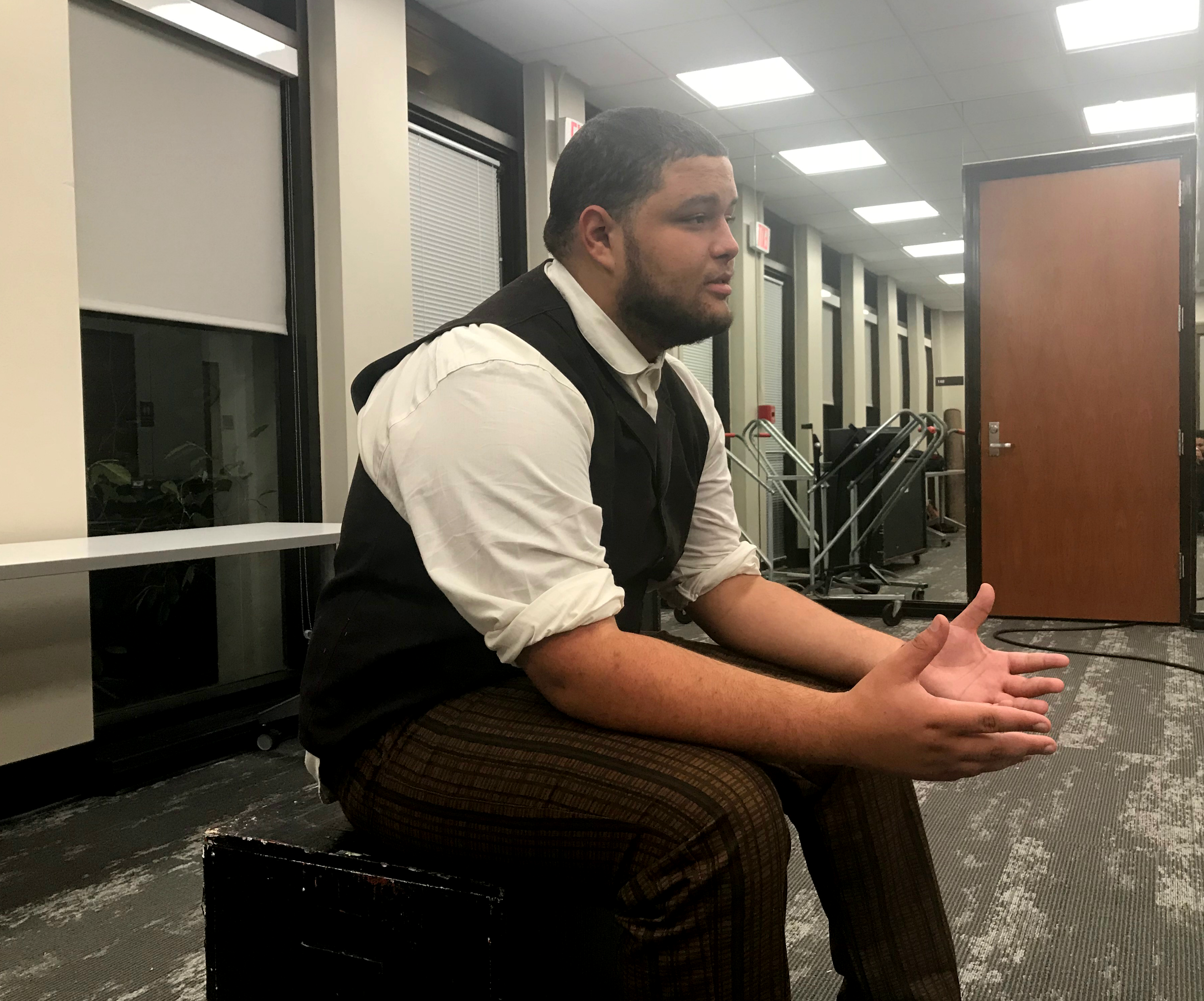 James Taylor, a sophomore mechanical engineering major, practices lines for his performance as underground railroad conductor Gabriel Smith. (Photo by Shavon Anderson)
"That's part of the battle with writing it," said sophomore Olivia Gorom, writer and director of the short play "Murder at Reid Hall." "Who's going to have a problem with it and why?"
Though the group poured over research, scouring digital archives and combing through online forums, the lines between fact and fiction often get blurred.
"It's all based on Miami University internet lore," said Christiana Molldrem Harkulich, visiting assistant professor of theatre. "Certain stories are so well-known, people have their take on what happened."
Henke stresses the show's ultimate purpose is highlighting lesser known history, including acts honoring the Myaamia people and the nearby Hopewell Church, which had its place helping escaped slaves on the underground railroad.
"What makes it worth it is the ability to tell those stories and honor these spirits," she said.
"The Helens": Defender, Historian, Man-hater
Miss Peabody's character is portrayed by three separate actresses, representing specific aspects of her personality.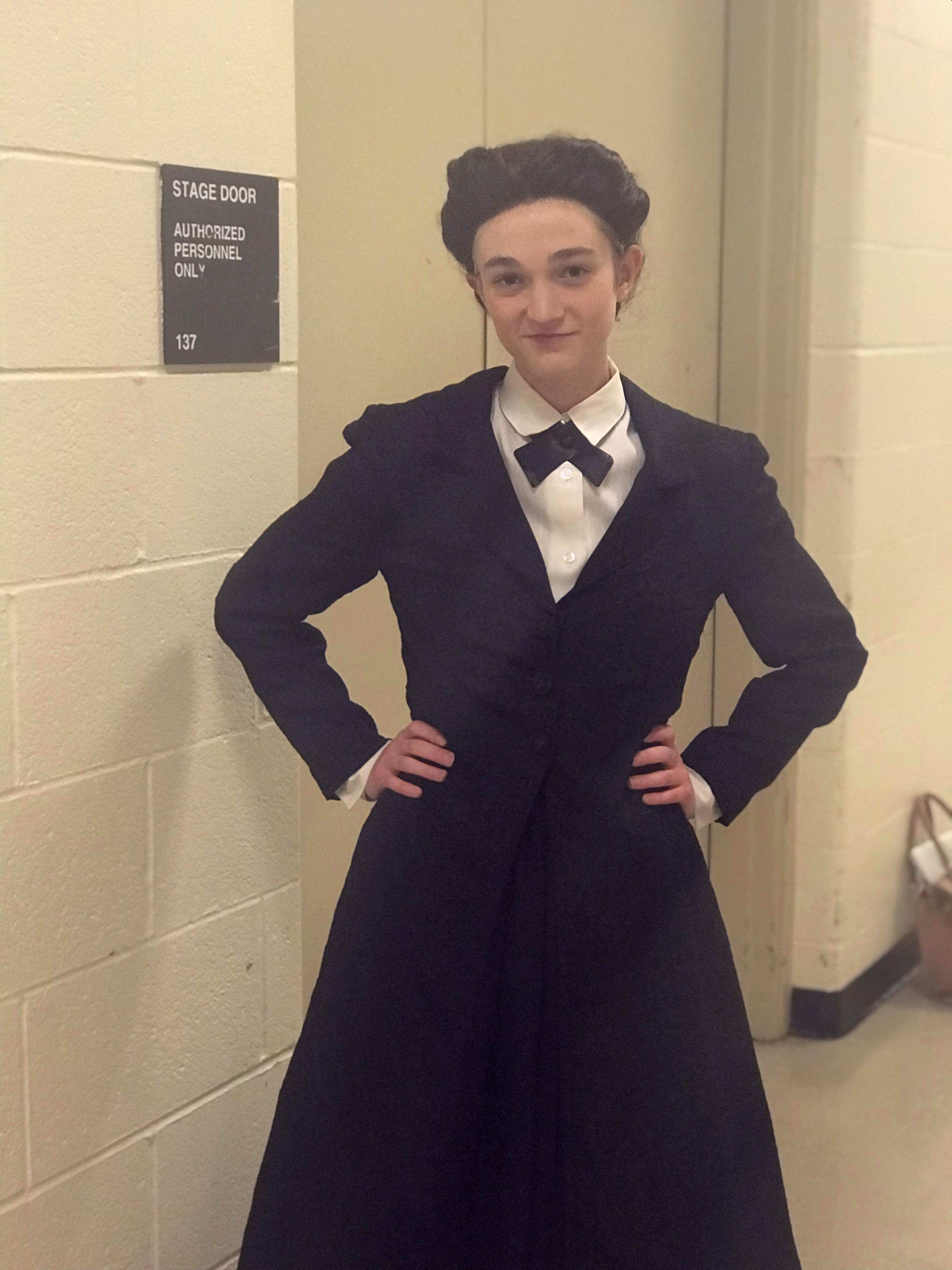 Sophomore Maddy Shilts, who plays Man-hating Helen, awaits her cue. (Photo by Shavon Anderson)
Jamie Chmielewski plays Helen the defender. Chmielewski describes her portrayal as deeply connected with people and issues, noting her performance is connected to Oxford's storied "mental hospital."
"My Helen is extraordinarily concerned and affected by the suffering and injustice brought before her," Chmielewski said.
Historic Helen is played by Laura Smith.
"I'm the one with the facts and figures," Smith said. "Very prim and proper and plucked from the 1890s."
Smith's character contrasts Man-hating Helen, a role Maddy Shilts owned.
"Her take on everything is that a lot of these bad things that happen, they're basically because of the actions of men," Shilts said. "I have a lot of fun with it."
But, evoking the spirits comes with a level of respect needed to stay in good graces. Cast and crew regularly talked to Helen throughout production, acknowledging her presence after curious occurrences.
One night, a large prop fell off a shelf. Nothing touched it.
"That's actually a Helen Peabody signature move," said Henke.
"One of the production staff, I think she identifies as a medium," Gorom said. "She gives us updates all the time."
Chmielewski jokingly makes a sign of the cross in the air.

Members of the "Echoes" stage management team: Emma Wott, Michelle Guiot, Delaney McLaughlin and Julia Burkholder. (Photo via Miami University department of theatre)
New experience, new challenges
Among six plays, three monologues, independent stories with "the Helens," an audience split into three groups and a walking tour, this show is intentionally a hard shift from traditional.
Gion DeFrancesco, associate professor of theatre, scene designer and charge artist, says immersive theater is a growing trend, in which attendees directly interact with the environment.
"They can touch things," he said. "You're part of the play, and you control your own experience."
Winding through the Center for Performing Arts, audiences are expected to feel unsettled, adding to the show's atmosphere. One of the plays has multiple endings.
DeFrancesco adds that the varied locations prove technically challenging, having to configure multiple lighting and sound controls in unusual places.
"It'll be interesting seeing the audience react to being in spaces that aren't supposed to be performance space," DeFrancesco said.
"Echoes of Miami" runs Oct. 18-21. Bring a jacket and comfortable shoes.
As of Thursday morning, tickets for all four shows were sold out.