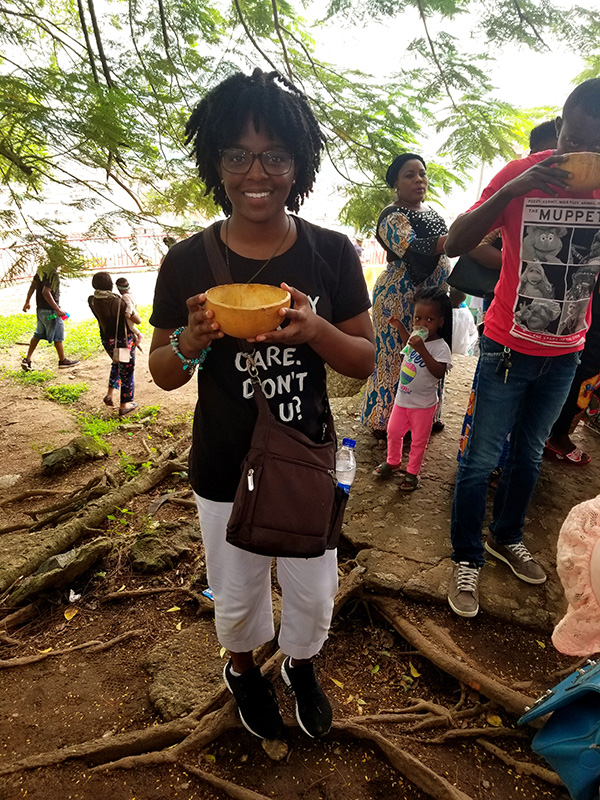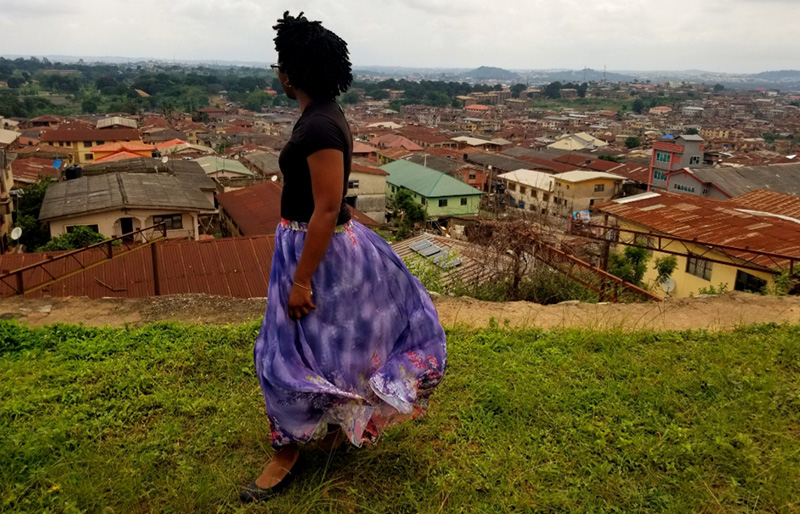 Fulbright Scholar Kala Allen looks out over the African city of Ibadan.
Photo: Courtesy of Kala Allen
Oct 10, 2018
Kala Allen lifts up the voiceless through research and volunteerism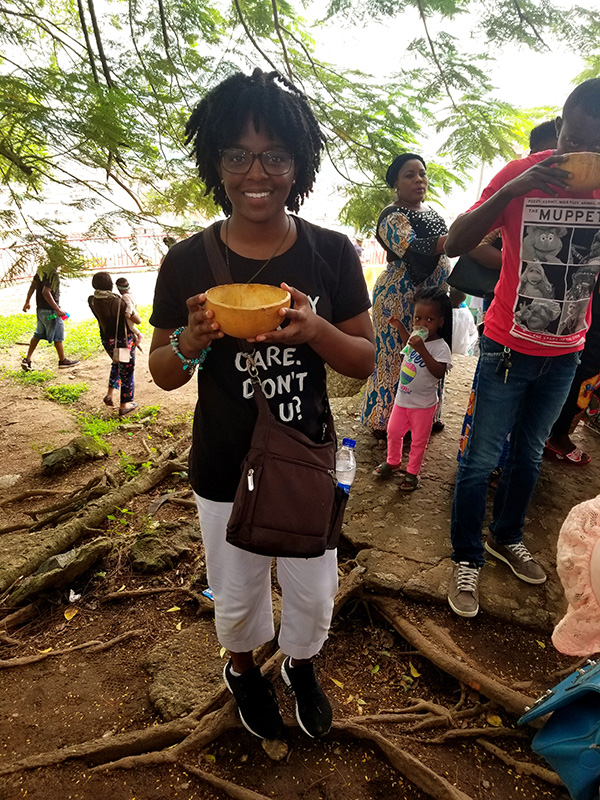 Kala Allen (Miami '16) relishes the rice dishes of Nigeria and found friends among the residents. (Photo courtesy of Allen.)
By Carole Johnson, university news and communications
Miami alumna Kala Allen still hears her longtime friend's voice when she does research. Brian committed suicide when Allen was 19.

Four years later, Allen (Miami '16) is now in Nigeria, Africa. The recipient of a coveted Fulbright U.S. Student Program award in psychology, she's studying cultural differences between Western and developing nations related to suicide and looking for what is common.

In her personal blog, she recently described Brian — "an exceptional athlete, a warm, funny and kind African American man." He mentored her when she ran track in high school, and his death hurt her.

The grief process didn't feel right to her. In just three days, it seemed like most people in her community went back to the "normal" way of thinking about suicide.

They said, ".… 'We don't need a therapist, that's for white people,' 'I'm too strong for a therapist' and even 'Jesus is my psychiatrist,'" she wrote in her blog.

Their reaction toward mental health set Allen on a path to help people with suicidal thoughts speak up.

She is conducting research at the World Health Organization at the University of Ibadan. She's looking for patterns of thought processes toward mental health in Western and developing nations.

In the United States, the suicide rate is 12.1 per 100,000 people, she reported in her Fulbright application. Researchers found that religion can serve as a prevention or a risk factor in the U.S., and Allen wants to include data from high-risk, developing countries in that research.

"Mental health continues to have a negative stigma in Nigeria and is seen as a Western problem," she explained.

But statistics prove otherwise. In Nigeria, the suicide rate is 15.1 per 100,000. Her goal is to develop assessment tools for Christian leaders so they can intervene and prevent deaths.
From the United States to Nigeria
Since arriving in August, she's been getting to know members of the Yoruba community, the largest tribe in southwest Nigeria. Half identify as Christian.

Although English is their second language, food is a common language. She's becoming a connoisseur of their rice dishes. And, they've given her a Yoruba name — Adebola-ewa —meaning "a beauty who comes to meet the world." Allen discovered through a DNA test that her ancestry can be traced to this tribe.

Their friendliness is expressed daily. For instance, when they say goodbye, they include the phrase, "make sure you take care of you."

Embracing this sentiment, she's jumped into volunteering for the Mentally Aware Nigeria Initiative. Its goal is to lower the stigma of mental health issues. The members want to establish Nigeria's first toll-free suicide hotline — something familiar to Allen.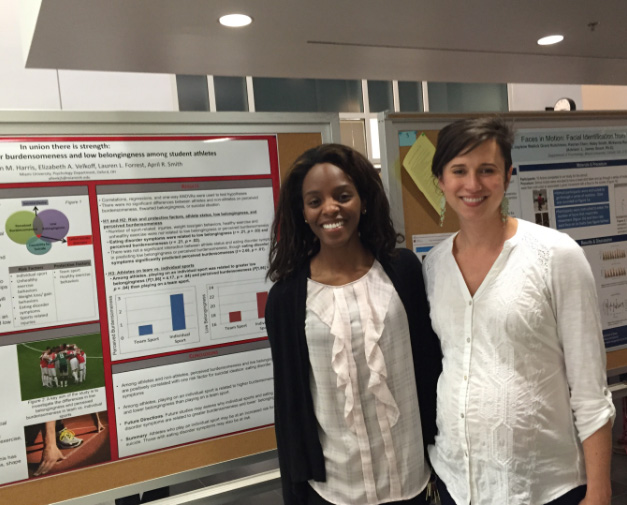 Allen presented her research at a national conference while a student at Miami. April Smith, associate professor of psychology, mentored her in Miami's REDS Research Lab.
As an undergraduate in psychology at Miami, Allen volunteered for the Butler County Crisis Hotline. She heard the anguish as callers described their "breaking points." Wanting to understand more, she sought out April Smith's psychology lab.

In Allen's preliminary research, she found a gap in the literature on underrepresented communities.

"I felt like Brian's voice wasn't heard in our studies, so I made it happen myself," she wrote in her blog.

A member of Miami's track team, Allen found her athletic background aided her in developing insightful questions for her research. Her study, which she conducted with classmate Katie Harris (Miami '16), examined risk factors for suicide among student-athletes.

"Miami set the case for and the pace for my research experience," she said.

Allen found a home in Miami's Research on Eating Disorders and Suicidality Laboratory. In the REDS Lab, students learn the research process. They practice protocol with study participants, conduct assessments and present findings, said Smith, an associate professor of psychology who directs the lab.

The work Allen began at Miami will continue when she begins a master's program in psychological research at Oxford University next fall.
From Miami in Oxford to Oxford in England
Allen got her start as a researcher during her freshman year enrolling in Miami's First Year Research Experience program, which connects undergraduates with full-time faculty.

In addition, she honed her mentoring and listening skills as a member of Miami's Dream Keepers, a college and career readiness initiative directed by Gwendolyn Etter-Lewis, professor of English, Black World Studies and women's studies. The program targets high-achieving, multicultural students in the greater Cincinnati area.

After graduating from Miami, Allen worked in research labs for Duke and Harvard universities and at Massachusetts General Hospital.

As if the Fulbright and the doctoral program aren't enough, she just launched a new business.

I'm Heard is a nonprofit in the United States promoting wellness and positive mental health among minority communities – a tribute to Brian and voices like his.