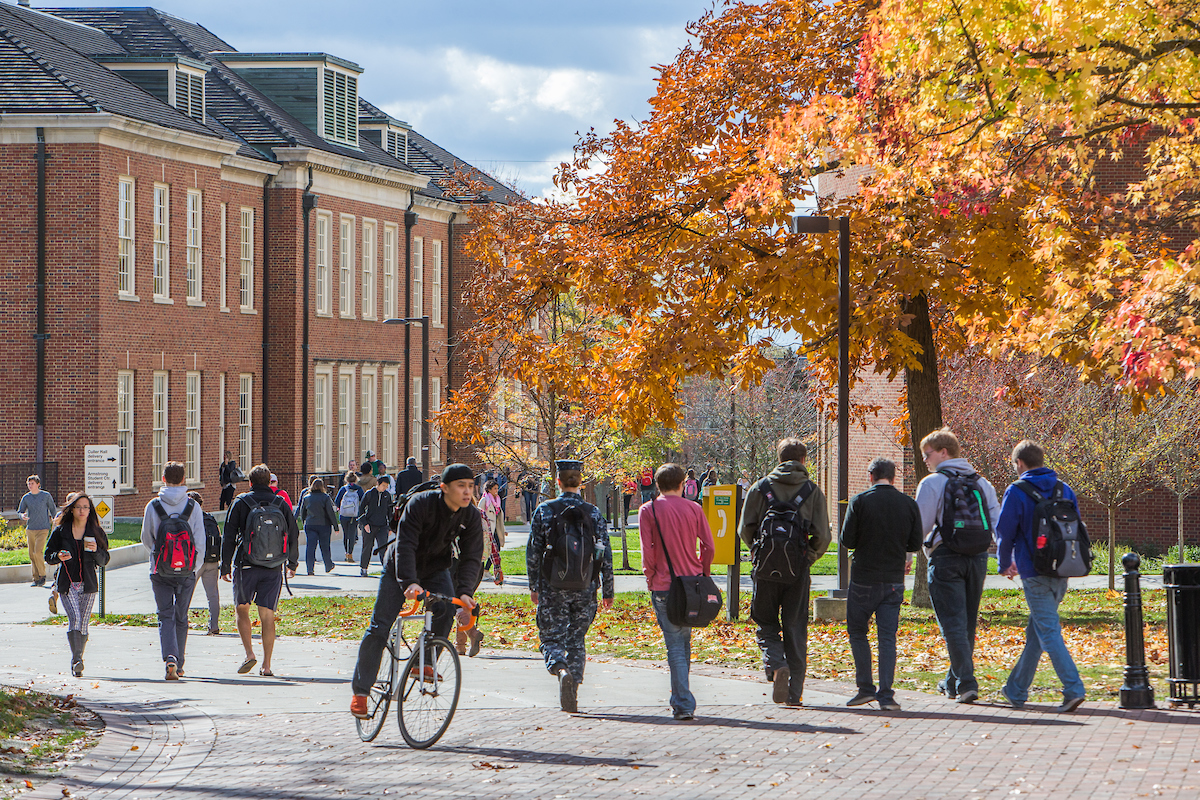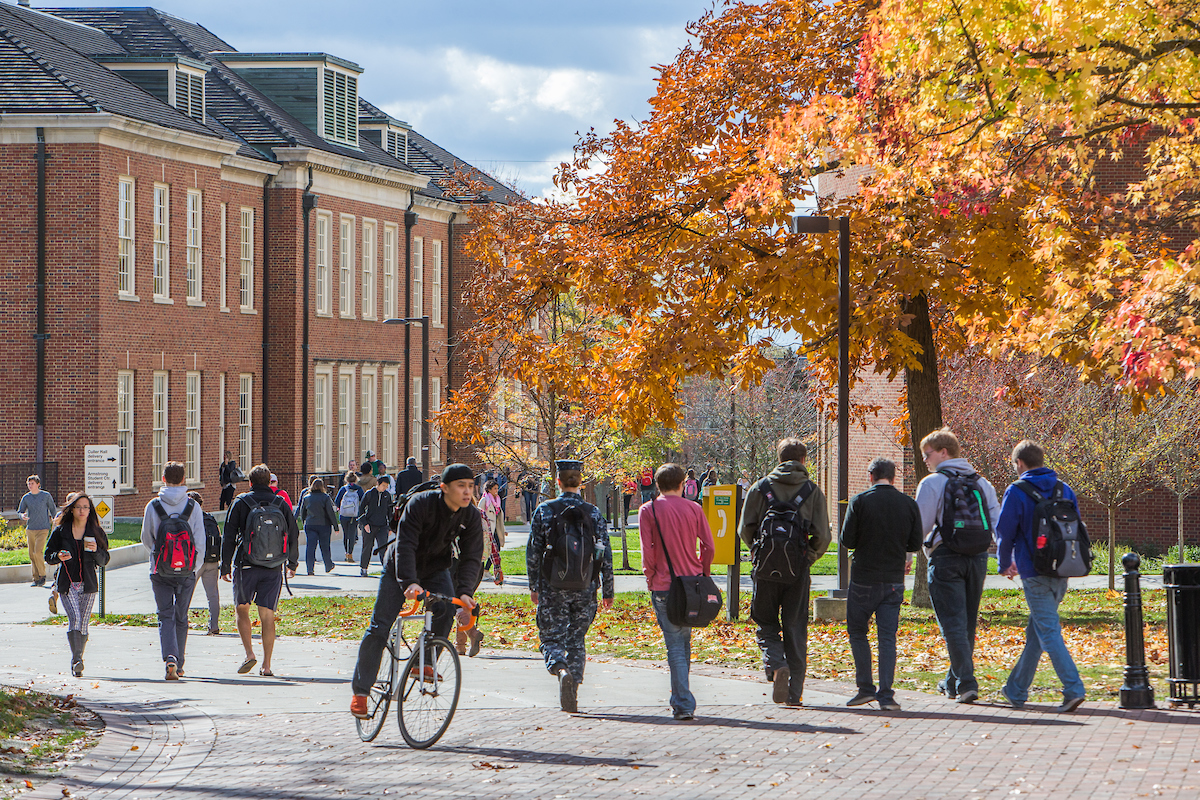 Miami University students change classes on an October day.
Photo: Jeff Sabo
Oct 31, 2018
Miami students work to engage young voters
by Shavon Anderson, university news and communications
Charles Kennick, president of the Miami University College Democrats. Photo via Facebook
They're on opposite sides with similar goals: register people to vote and get them to the polls. Ahead of the 2018 midterm election, the Miami University College Republicans and Democrats are in high gear.
Miami senior Charles Kennick, president of the College Democrats, says his group recently registered around 1,200 voters. They've been actively canvassing Butler County, and last week, they rallied outside of Hall Auditorium ahead of the Ohio U.S. Senate debate between Sen. Sherrod Brown (D) and Rep. Jim Renacci (R).
"Ohio has a really important election for the Democrats," he said.
The College Republicans, a group which at times can reach more than 100 members, had a massive voter push before the deadline, handing out registration cards at meetings and partnering with other organizations to place tables around campus.
"We've had every statewide official on campus, all republican nominees," chairman Michael Wing said.
Their students have campaigned door-to-door every Saturday morning, and Wing aims to maintain a conservative foothold, while keeping students connected to candidates.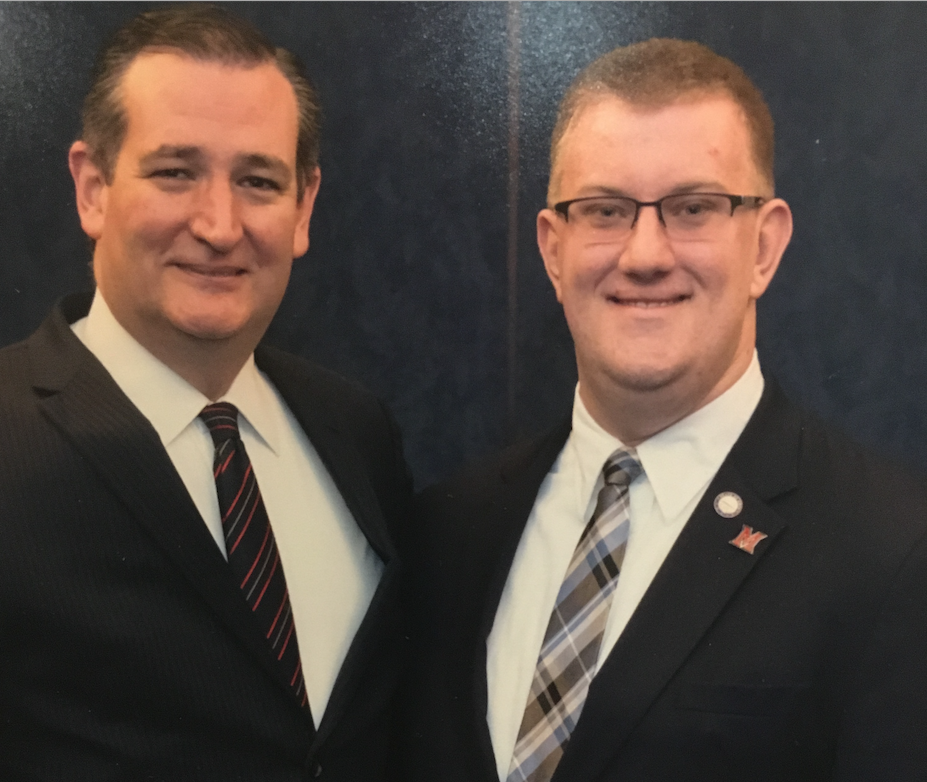 Michael Wing, chairman of the Miami University College Republicans with former presidential candidate and U.S. Senator Ted Cruz (R-Texas). Photo by Michael Wing
Registration vs. Turnout
Miami's Office of Community Engagement and Service also promotes student voting via participation in Vote Everywhere, through the Andrew Goodman Foundation. Student Kelsey Demel is the Vote Everywhere ambassador and Jack Krolack is a Democracy Fellow also encouraging voting. 
Earlier this year, Miami was ranked as one of only 58 institutions to be recognized for its investment in student voting. Along with the designation, the university is working toward three main goals:
To achieve at least 75 percent voter registration.
To increase voting rates among engineering and business majors.
To achieve at least a 25 percent voting rate, as compared to 14 percent in the 2014 midterm election.
The numbers feed into a long-standing problem that while young people will sign up, they don't actually show up.
"They don't think they can make a difference," Wing said. "They don't think the election can help them much. Since students aren't as involved, there are a lot of things that get overlooked like education funding."
This year, enthusiasm from registered voters is at the highest level for any midterm election in more than 20 years, according to the Pew Research Center. However, a report from the Associated Press-NORC Center for Public Affairs Research reveals that while nearly two-thirds of Americans age 15 to 34 say their generation is motivated to make positive change for the country, only 32 percent of eligible young voters who took the survey definitely plan to vote on Nov. 6.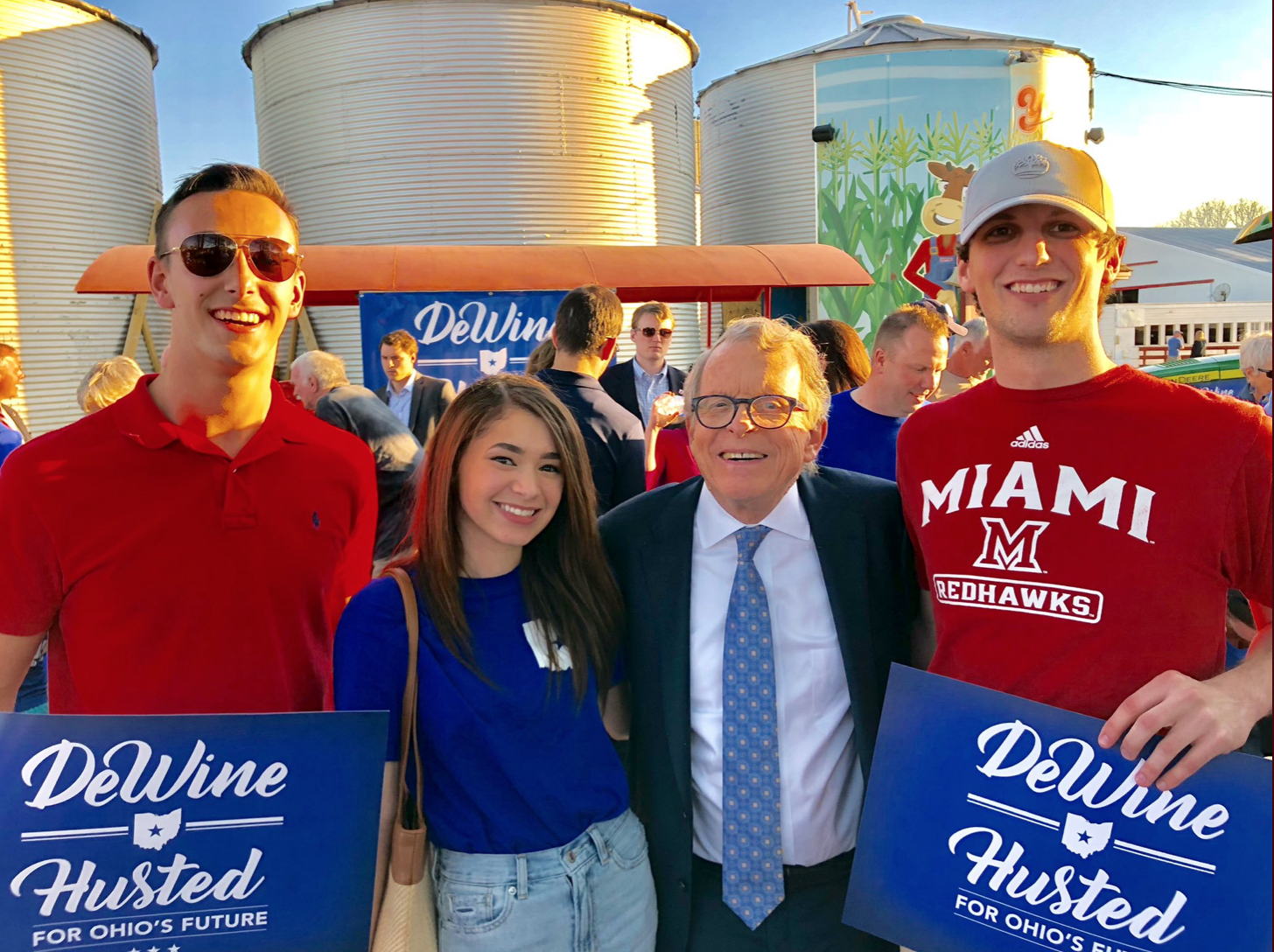 Members of the College Republicans with gubernatorial candidate and Attorney General Mike DeWine. Photo via Twitter
Kennick points to one reason. 
"Politics hasn't stood in their way yet," he said, speaking specifically to Miami students. "Actions taken by the government affect everyone. Some people don't make the connection, or it hasn't been pronounced enough for them to realize it." 
Meeting in the middle
As graduation approaches, there are a few issues that transcend party politics: jobs and the economy.
"It's been on my mind all four years, but really picked up last fall when I realized I only have less than two years left," Wing said. "People my age, we still remember the great recession well. It's not something I thought about back then."
"College is expensive, housing and transportation are expensive," added Kennick. "People are worried about that. I don't know if that's a wage thing or what."
Kennick and Wing agree that current issues directly affecting young voters are being mostly decided by other people. They want that to change.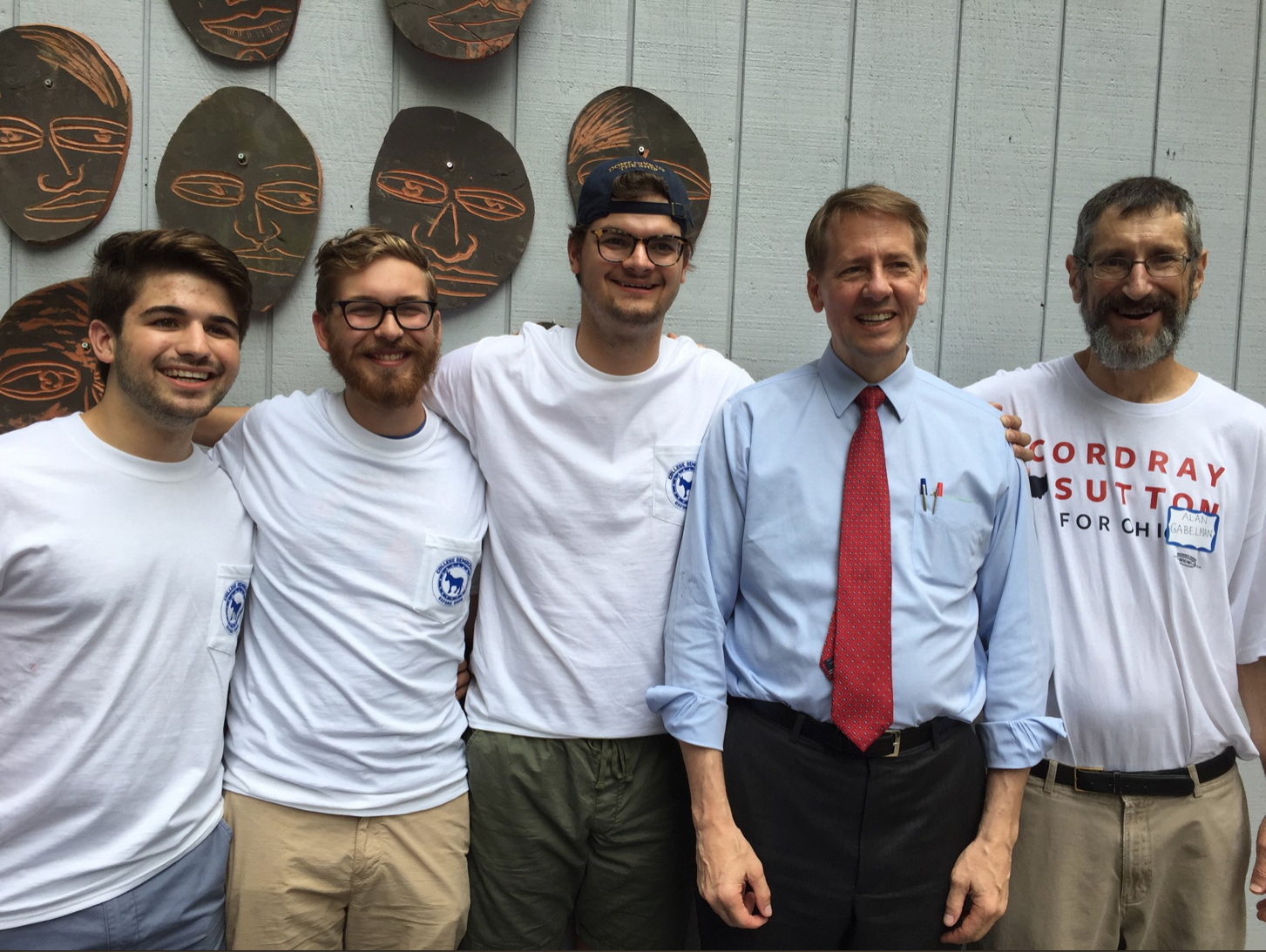 Members of the College Democrats with gubernatorial candidate Richard Cordray. Photo via Twitter
Get to the polls
For students registered in Butler County, you can find detailed information on the candidates and issues by visiting the Board of Elections website.
Butler County early voting schedule:
Week 4: Oct. 29-Nov. 4  
8 a.m.-7 p.m. on each weekday (Monday through Friday)  
8 a.m.-4 p.m. on Saturday, Nov. 3  
1 p.m.-5 p.m. on Sunday, Nov. 4   
Week of Election Day: Monday, Nov. 5 
8 a.m.-2 p.m. on Monday, Nov. 5
Election Day: Tuesday, Nov. 6
Polls are open in Ohio from 6:30 a.m.-7:30 p.m.