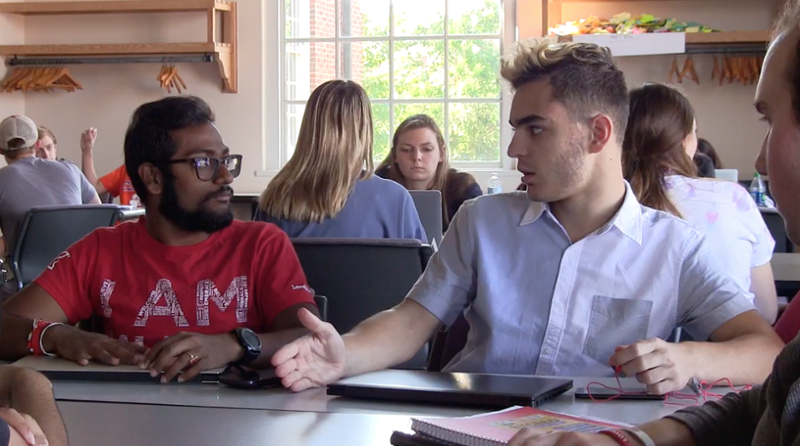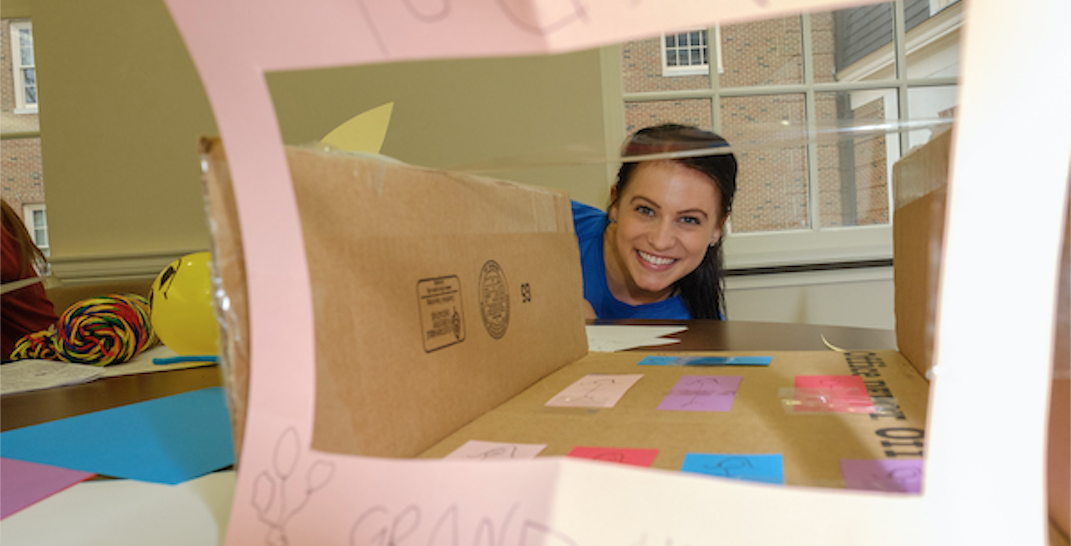 A Miami University business student shows off her creation during a marketing project.
Photo: Scott Kissell
Nov 08, 2018
Business students find power in working with diverse thinkers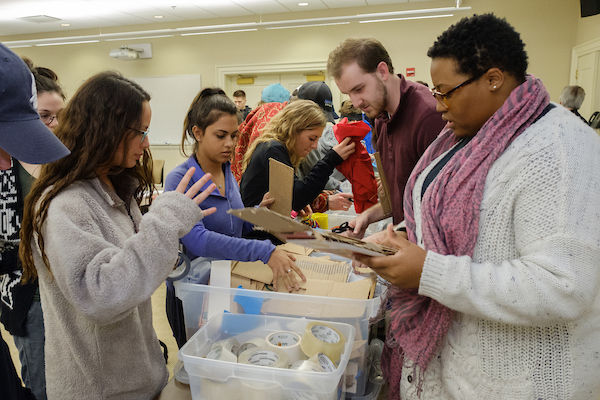 by Shavon Anderson, university news and communications
Miami students search for supplies during a marketing class project.
Inside Miami University's Farmer School of Business, students and faculty talk in code.
"Hey, what's your HBDI?" asks David Eyman, assistant lecturer.
The question is aimed at freshman JD Rudie, who's casually reclined on a chair in Eyman's office. It's a slow Monday afternoon, and Rudie pauses to think before answering.
"Two, two, one, one. Blue, green, red, yellow," Rudie replies.
Eyman follows up with a few more numbers, pointing to a plastic data chart with his name on it and emphasizing the northeast quadrant colored yellow.
Macey Neubauer, a junior, walks in. Eyman repeats the question.
"I was green, then blue, yellow, then red," she says. "Super organized."
To an outsider, the conversation is indecipherable. To those in Farmer, it's a universal language.
The letters and numbers are their results from the Herrmann Brain Dominance Instrument (HBDI). Every incoming Farmer student must take the assessment, which reveals how someone's brain thinks. 
Students are split into teams made of people who score differently, then run through projects. There's usually confusion and frustration before it clicks.
A different kind of diversity
The HDBI is part of the First-Year Integrated Core, for which Eyman is the faculty lead. It includes four classes that build key skills in critical, creative and ethical thinking, communication and collaboration:
BUS 101: Foundations of Business.
BUS 102: Foundations of Business Communication.
ESP 103: Creativity, Innovation, and Entrepreneurial Thinking.
BUS 104: Introduction to Computational Thinking for Business.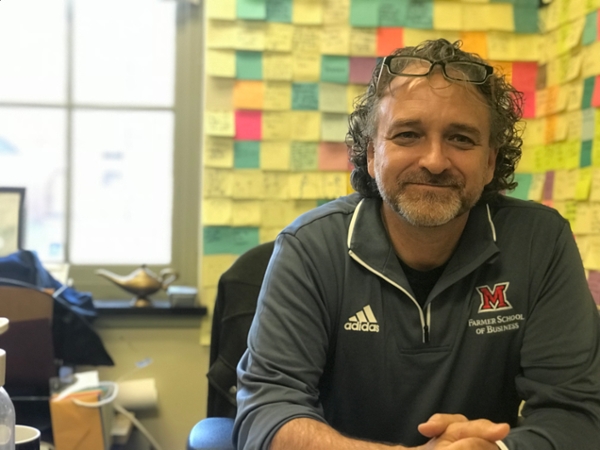 David Eyman, assistant lecturer, sits at his desk in his now notorious Post-it covered office.
The program was created after employers reported that college graduates weren't equipped for the workforce. Using the whole-brain thinking assessment proved to be a game-changer, but for new students, it's hard to appreciate.
"At 18 years of age, they don't know what to do with it," Eyman said. "Halfway through, they realize they're a powerhouse."
"We had some struggles," Neubauer said about her group. 
When they bought into the idea, she loved it and learned to weigh her own thought processes. Scoring high in the green quadrant labeled Neubauer as practical, detailed and planning-oriented.
"I made it organized and pushed them to get things done, but at the same time, I wasn't over the top on them. I let the guys have fun with it."
Rudie believes the First-Year Integrated Core classes pull collaboration out of students and forces them to lean on one another. He points to Eyman's teaching style.
"He's giving you some vague task and expecting you to do it well and record how you do it well, but there's no correct answer," he said. "He'll tell you if you're on the right track."
While the HBDI is successful, it isn't new.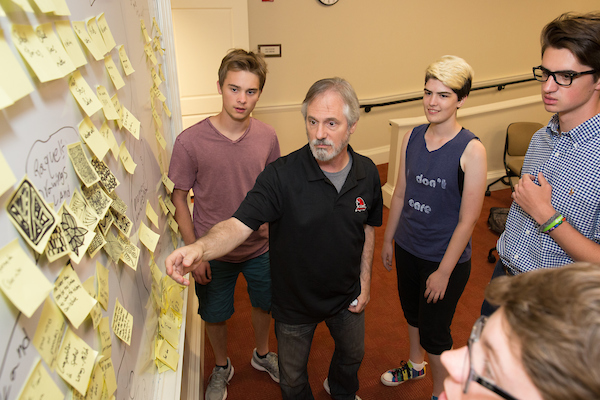 Jim Friedman, White Family Clinical Professor of Creativity, engages with students during a Summer Scholars class.
Jim Friedman, White Family Clinical Professor of Creativity, says it was in place before he started in 2008. Friedman is currently the HBDI gatekeeper, and says the tool is continually relevant.
"We way too often think of diversity as black and white, male and female, liberal and conservative," he said. "One thing that divides and connects us is how our brains work."
Not only does the tool yield cognitively diverse teams, ethnic diversity comes into play when students consciously choose partners who don't think or look like them, but who possess certain skills. Those students can then bring their own life experiences into the collective workspace.
"Do we change people? No," Eyman said. "But, we all have everything in us. We help students actually discover their own capabilities."
The assessment is less about forcing diversity and more about understanding others in an age where technology has made the world smaller.
"HBDI helps students see that people who don't think like them (cognitive diversity) are valuable team members and are great when we accept others for their strengths," Eyman added.
The concept is something the program's faculty and staff want students to carry both on campus and beyond.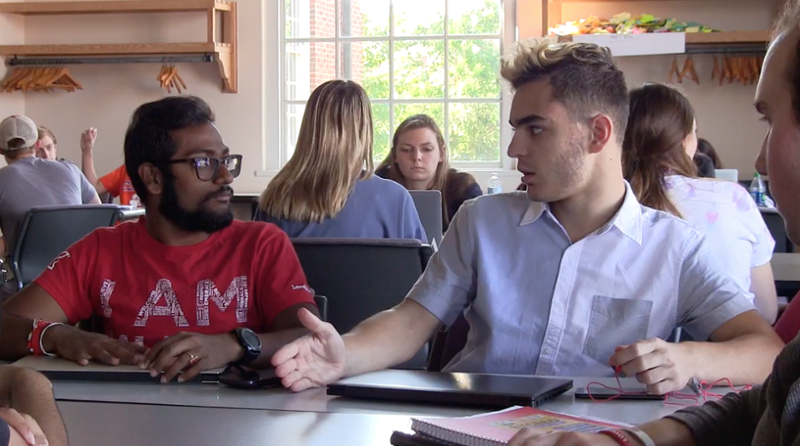 Students in Farmer School of Business discuss an assignment.
The tip of the iceberg
Farmer has unlimited licensing for the assessment, and the College of Creative Arts inked a deal for its students. Right now, if you want to take an individual HBDI assessment, Friedman says it costs about $140, but he's working with Herrmann International to provide licenses to all the other colleges.
"I see it bringing people together as individuals within teams. I see a common language, a much deeper understanding," he said.
Friedman estimates expanded access by January at the earliest and fall 2019 at latest.