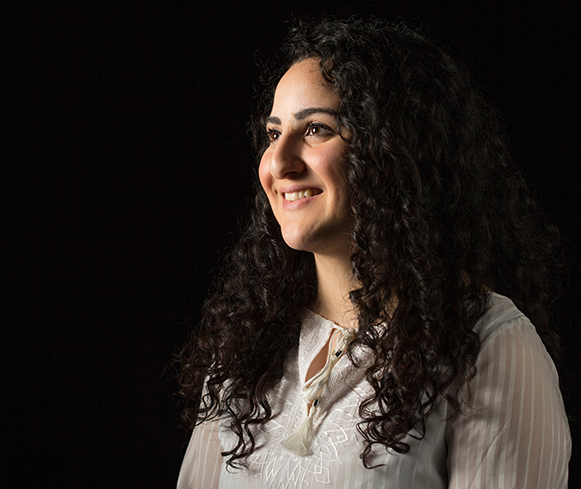 Nov 06, 2018
Senior Sara Al-Zubi named a Rhodes Scholarship finalist
By Susan Meikle, university news and communications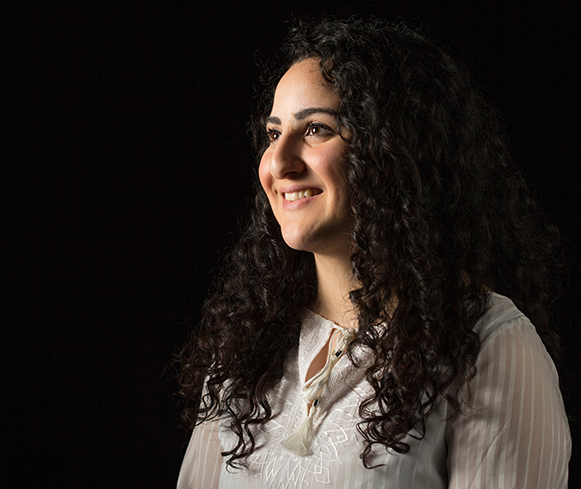 Sara Al-Zubi (photo by Jeff Sabo)
Sara Al-Zubi, a Miami University senior from Cincinnati, was selected as a finalist in the 2019 Rhodes Scholarship competition.  
The Rhodes Scholarship is the oldest (first awarded in 1902) and perhaps most prestigious international scholarship, according to the Rhodes Trust. It allows outstanding young people from around the world to study at the University of Oxford in England.
Each year, 32 students from the United States are selected as Rhodes Scholars from a pool of nearly 900. The Rhodes Trust provides full financial support for scholars for two or three years to pursue a degree or degrees at the University of Oxford.
Being a Rhodes Scholar finalist is both humbling and exciting, Al-Zubi said. It is an opportunity to continue her journey learning and exploring how to be a better advocate and change-maker for the refugee communities in this country, she said. 
If selected as a scholar, Al-Zubi said she "would be honored to continue my education at Oxford through a MSc (master of science) on Refugee and Forced Migration Studies along with a MSt (master of studies) in Islamic Studies and History."
Rhodes Scholars are chosen in a two-stage process. Applicants must first be endorsed by their college or university. This year more than 2,500 students sought their institution's endorsement; nearly 900 were endorsed.
Applicants are chosen on the basis of academic excellence, character, leadership and commitment to service.

Finalists will be interviewed Nov. 16-17.
The 32 American Rhodes Scholars, Class of 2019, will be named Nov. 17.
Al-Zubi is one of three Miami students to have been named a Rhodes Scholar finalist since 2012,  with Joseph "Harrison" King (Miami '11) and Matt Meeks (Miami '15).
Al-Zubi is a human capital management and leadership major and premedical studies co-major at Miami.
An immigrant to the United States from Jordan, she has worked extensively with Arab refugees in Cincinnati and across Ohio to increase their self-sufficiency in their adopted homes and improve their knowledge about, and access to, healthcare and mental health resources.
This work has led her to start her own nonprofit, the 3Sisters Foundation, which provides mental health counseling to refugees through a toll-free helpline.
She serves as the U.S. Ambassador for UN Humanitarian Affairs.  This past summer she led the recruitment of 150 North American delegates to the UN's University Scholars Leadership Symposium in Bangkok. 
This semester she is a student consultant with Megan Gerhardt, professor of management and leadership, for a new program on leadership development in the Farmer School of Business. Among her other activities, Al-Zubi is: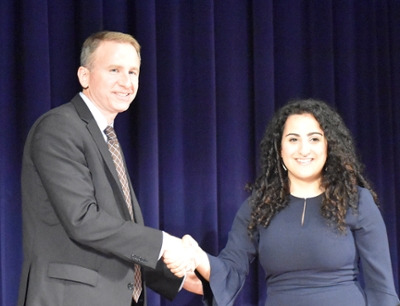 Al-Zubi at the Truman Scholarship award ceremony (submitted photo).
Founder and president of the Refugee Advisory Council at Miami.
Founder and director of Peace of Mail.
Former member of the Ohio Refugee Advisory Council.
In April Al-Zubi was one of 59 students nationwide to receive a Harry S. Truman Scholarship — Miami's first recipient of the award since 2003 and the only recipient this year from Ohio.
Truman Scholars, who must be committed to careers in government or the nonprofit sector, receive up to $30,000 for graduate study.
Read more about her in the Miami news story "A news photo ignited Miami's Truman Scholarship recipient Sara Al-Zubi's passion for the health and well-being of refugees."