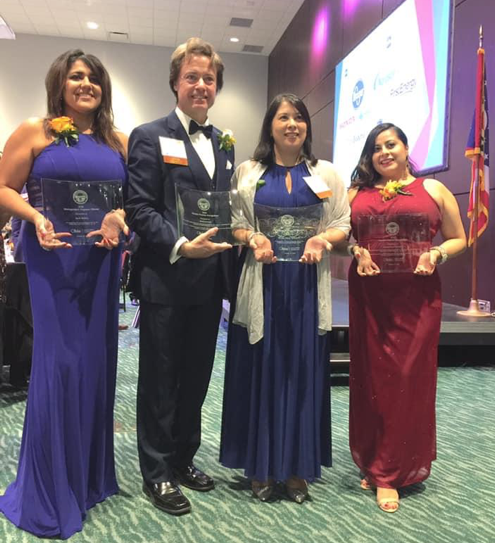 Dec 11, 2018
Mark Curnutte recognized for coverage of race and social justice issues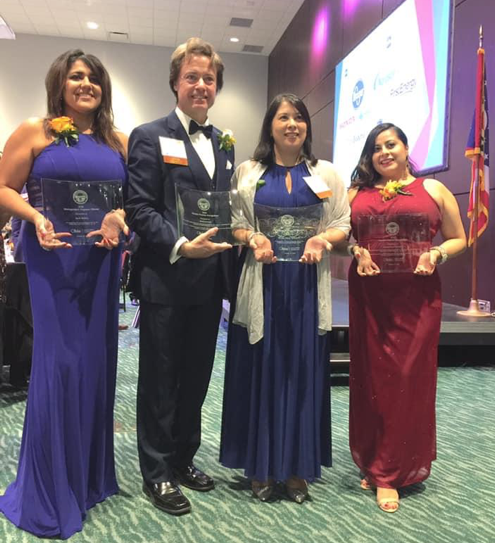 Mark Curnutte receives Governor's award for his work as a journalist. Curnutte is an instructor in the department of media, journalism, and film.
By Nina Franco, university news and communications intern
Mark Curnutte, a journalism instructor at Miami and a Cincinnati Enquirer reporter who focuses on race and social justice issues, was awarded the Governor's 2018 Nuestro Amigo.
The Nuestro Amigo award was first presented in 1980 by the Ohio Commission on Hispanic/Latino Affairs. The commission works to connect Latino communities throughout Ohio, build and support nonprofit organizations dedicated to helping the Latino community, and to recognize the accomplishments of those in the community and those who help build it up.
In this question-and-answer piece, he talks about his experiences as a journalist.
Q: What sparked your interest in journalism?
A: I grew up in a house without a TV, something that my parents decided against. Neither one of my parents were formally educated, but they emphasized education as a vital way for their seven children to have a better life. They both loved newspapers and our household received our hometown paper the Dixon Evening and the nationally recognized, Chicago Tribune. On top of those, we received magazines, had lots of encyclopedias and books and I read Sports Illustrated in my school libraries. So, it wasn't too surprising when I started writing for my hometown newspaper at 16. I always wanted to live a full life. And, being a journalist allowed me to see new things. As a student here at Miami in the 80s, I interned for the Enquirer and covered sports for The Miami Student. Then, before my 25 years with the Cincinnati Enquirer, I wrote for The News & Observer Publishing Company in Raleigh, North Carolina.
Q: What is something you find, even as a seasoned journalist, difficult about your day-to-day reporting?
A: Keeping up with technology. And, aside from having to keep up with new digital methods of communication, I see a lot of pain and injustice in my beat reporting. As a white male who recognizes my privilege, I am not complaining. I just have a hard time reconciling the gap between the life that I live and the lives that other people live.
Q: At the Enquirer, you transitioned from a general news/sports reporter to a race and community reporter within the last five years. How did this happen?
A: I spent my first 21 years at the Enquirer covering general news and working as a Bengals beat reporter. So, my friends were surprised in 2009 when I began to report on race, poverty and social justice issues. But, I always had an interest in civil rights. My liberal arts education at Miami and double major in English and geography allowed me to explore a variety of different cultures. Learning about different communities of people was a passion, but it was also an academic interest for me.
Q: From my understanding, you didn't grow up in Cincinnati. You went to school here at Miami, but as someone who wasn't a Cincinnati native, how did you immerse yourself into the community?
A: I had awesome mentors and read lots of documents to build a foundation to start reporting in Cincinnati, but my 1993 series on race relations titled "A Polite Silence" is really what allowed me to immerse myself in the community. "A Polite Silence" was an assignment from the top editor of the Enquirer, Larry Beaupre. He had just come to town, too, and was struck by the racial polarization. The Ku Klux Klan also had won a permit to put a cross on Fountain Square in December 1992 — a first. And the community was kind of paralyzed by the whole issue. Larry said we needed to look into race relations. "A Polite Silence" came from the city's preoccupation with manners, that a polite city didn't talk about such topics. The piece taught me a lot about Cincinnati's minorities, predominately African American community members. It took six months to write and report that, but it was time well spent learning about people whose voices needed to be heard.
Q: For not being a member of these minority groups, how did you gain enough trust from community members in order to have them tell you their stories?
A: Sure it's about doing the job and being accurate at it. But, it's all about developing credibility with people. And, the ability to be empathetic. I took time to prove to community members that I cared. I didn't start with the government people. I didn't start top down. I started "street up." I dove into Latino, black, Muslim and LGBTQ+ communities in Cincinnati, attending events and chatting with members of each.
Q: You were awarded the Nuestro Amigo for your fair, accurate and compassionate coverage of Latino/Hispanic immigration. When it comes to coverage on minority groups in the U.S., what needs to improve?
A: I just think we need to understand that we are all people. And, that while we have cultural and faith differences, we are essentially all very similar. We all want security in our lives.
Q: How do you teach your students at Miami to recognize the need for this kind of reporting?
A: I try to show my students how satisfying this kind of work is. I structured my JRN 318 course in a minority affairs beat structure. Each student has to cover a beat on campus that is different than their life and normal circle: I have students covering the disabled community, African students, Chinese students, the LGBTQ community, the Muslim community, etc. They've all learned some journalism and learned something about another culture in the process. It's important that journalism on any level is inclusive and respectful of the many communities it covers.