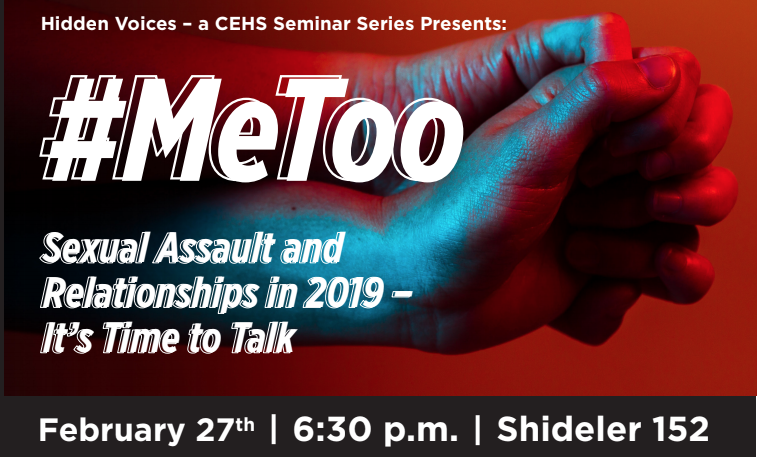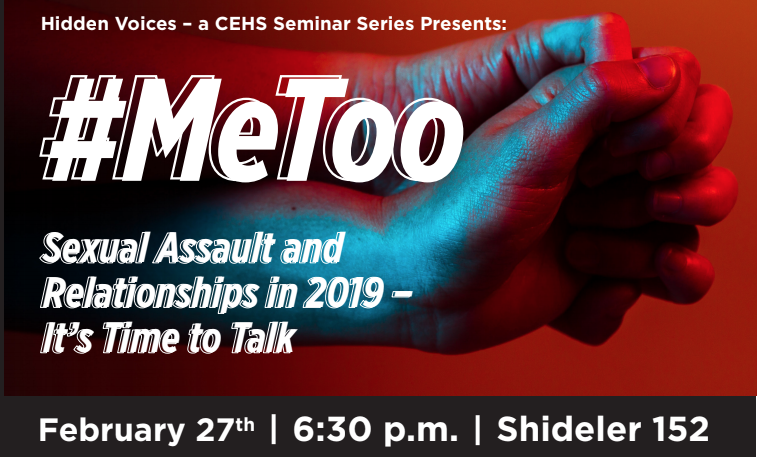 Feb 10, 2019
"It's time to talk": Upcoming faculty-led seminar tackles #MeToo at Miami
by Shavon Anderson, university news and communications

Sexual violence survivors often stay silent, but recently, their stories are deafening.
 
They've been coming forward in waves, unearthing trauma and inspiring others to speak out and get involved.
 
This month, Miami University faculty are leading a community seminar aimed at creating a space for survivors and the community to connect with educational resources. "#MeToo: Sexual Assault and Relationships in 2019 – It's Time to Talk" is the latest event in the Hidden Voices series, headed by the College of Education, Health and Society.
 
Through Hidden Voices, people get to hear perspectives that they're not exposed to in daily life.
 
"Sexual assault and healthy sex have long been researched," said Rose Marie Ward, professor of public health and the seminar organizer. "Unfortunately, it took some very recent high-profile cases for the media and the culture in the U.S. to take note."
Turning conversation into action
Nearly one in three women will experience some form of unwanted sexual contact in college. More than 50 percent of those experiences will involve alcohol use by either the victim, the perpetrator or both.
 
Leading health scientist Nichole Scaglione (Miami '08) explores why schools should address sexual assault and alcohol consumption as a combined health issue. One of three speakers, her presentation unpacks research tied to consumption and consent, moving the conversation from awareness to action. 
 
Veronica Barrios, assistant professor of family science and social work, educates sexual violence survivors on systems meant to silence them. Her goal is for the audience to reflect on their own personal relationships.
 
According to Barrios, many survivors want to disclose, but society, their community and their families aren't ready to hear them.
 
The seminar will also highlight sexuality education nationwide with a presentation by instructor Richelle Frabotta. Frabotta serves as coordinator for Miami's Dennis L. Carlson Sexuality Education Studies Center. Her training focuses on comprehensive sexuality education and the effectiveness of abstinence-only programs. Part of her presentation breaks down the complexities surrounding consent.
 
"Consent, in some sexual situations, lives in the grey," Frabotta said. "It is precisely these moments that require a sophisticated, informed approach."
Tracking the numbers on campus
Miami has put a significant emphasis on training for faculty, staff and students.
 
Within the past few years, Miami created a comprehensive student health survey that emphasizes questions related to alcohol, sexual and interpersonal violence and mental health.
 
Miami requires incoming students to take an online course on sexual and interpersonal violence. Students can also get extra training as part of the Step Up! bystander program delivered by the HAWKS Peer Health Educators.
To learn more about Miami's resources, visit the university website.