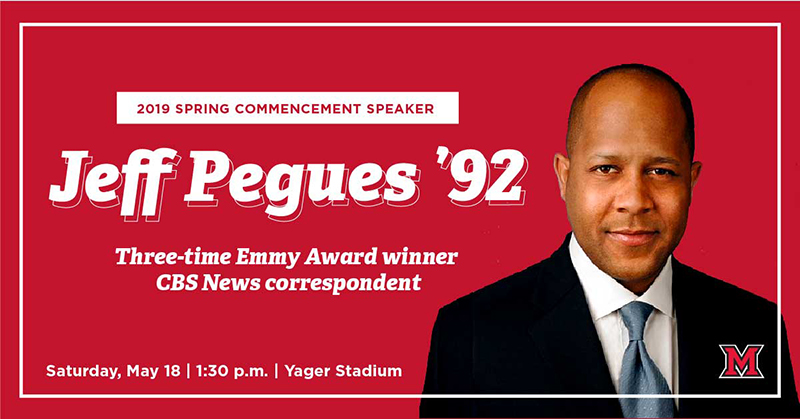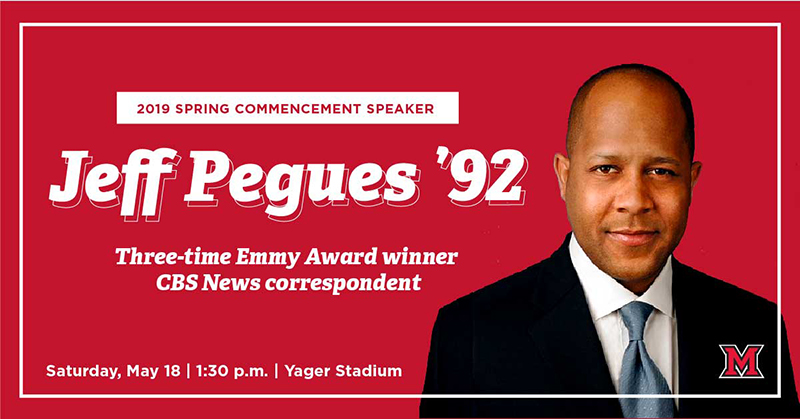 Feb 27, 2019
CBS News Chief Justice and Homeland Security Correspondent Jeff Pegues ('92) is Miami's 2019 spring commencement speaker
Three-time Emmy Award winner and CBS News correspondent Jeff Pegues (Miami '92) will address graduates and families at Miami University's 180th spring commencement ceremony 1:30 p.m., Saturday, May 18, at Yager Stadium.
Pegues has nearly three decades of reporting experience covering stories of national and international importance — most recently as the chief justice and homeland security correspondent for CBS. He was part of the CBS News team that earned the Edward R. Murrow Award in 2017 for overall excellence as well as for continuing coverage, investigative reporting and other categories.
Pegues has led the network's coverage of recent terrorist attacks, active shooting incidents and Russia's 2016 election interference. In late 2016, his reporting on the Russia investigation gave CBS News viewers an early look at the importance of the Russia investigation and how it would shape American politics in the years to come. His 2018 book, Kompromat: How Russia Undermined American Democracy, includes exclusive interviews with officials from the FBI, Department of Homeland Security, as well as cybersecurity experts.

He is also considered one of the most informed voices on the conflict between the black community and police. In 2017, he authored the book, Black and Blue: Inside the Divide Between Police and Black America.

He has reported on presidential conventions, Superstorm Sandy and Hurricane Rita.

"We are so proud of our alumnus Jeff Pegues, who has built an impeccable reputation for taking on the toughest and most complex subjects and explaining to viewers why they matter," Miami President Gregory Crawford said. "He is yet another example of Miami graduates who are applying the core values learned at Miami in their lives and careers."
During a visit to Miami in 2017, Pegues spoke to students about the importance of cultivating and double-checking sources. "It's not about getting the story first, it's about getting it right."
"At Miami, I developed a passion for learning," Pegues said. "I love coming back and engaging with today's students, who are talented and passionate and have such great potential to change the world."
The Miami alumnus majored in mass communication. On a football scholarship, he played wide receiver in the early 1990s. Pegues gained reporting experience by working for eight network affiliates across the country, including WABC in New York City, before joining CBS News in 2013.