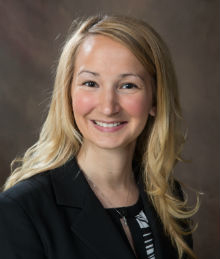 Mar 18, 2019
Kristen Budd receives Knox Distinguished Teaching Award
By Susan Meikle, university news and communications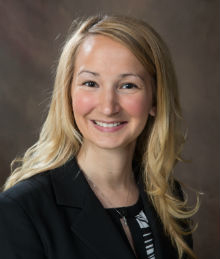 Kristen Budd, assistant professor of sociology and gerontology, is the recipient of the 2019 E. Phillip Knox Distinguished Teaching Award.
The award recognizes one faculty member who uses creative, innovative and engaging teaching methods at the undergraduate level.
Established by Miami alumnus E. Phillips Knox, a 1968 graduate, the award is presented to faculty members whose achievements unequivocally merit recognition for excellence in teaching. Award winners receive a professional expense allocation of $3,000.
Budd will be recognized at the University Awards Reception 5-6:30 p.m. Tuesday, March 19, in Marcum Conference Center.
Team-Based Learning
Budd's passion and innovation in the classroom exemplify the criteria of the Knox award, a nominator said.
Budd uses Team-Based Learning (TBL) in her classes, a technique new to her department and her field.
The Center for Teaching Excellence (CTE) recently asked her to conduct workshops on Team-Based Learning for other faculty to learn from her innovative approach.
Budd's students: Had never experienced a teaching method quite like this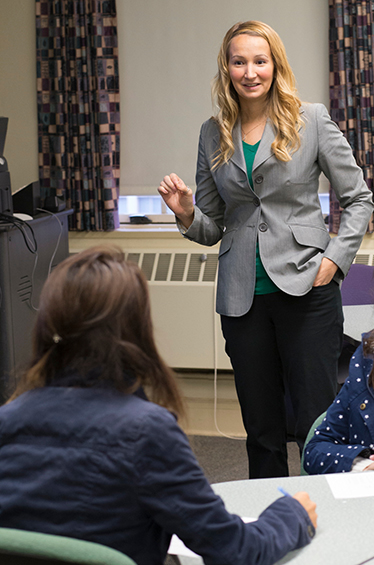 Budd in the classroom (photos by Jeff Sabo)
What really sets Budd apart from other professors at Miami is her teaching style, a student nominator said. 
"Using Team Based Learning (TBL), students were able to communicate with their peers and discuss difficult topics and ideas to arrive at better solutions. I had never experienced a teaching method quite like this," the nominator added.
Another nominator said Budd's creative and innovative methods build an engaging and enjoyable learning environment. "Her teaching methods set her far apart from every other instructor I have had. TBL has truly changed the way I approach learning."
Team communication forces students to evaluate their own opinions for strengths and weaknesses, another student said. "This creative method of classroom interaction ensured that every day I was exposed to new ideas from my fellow students and I was able to think about complex problems in ways I would've never thought to do on my own."
Budd's TBL approach strikes a unique balance between individual inquiry and group discussion "that produced a deeper level of learning unmatched by traditional lecture-based courses," another student said.
"Her ability and passion as an educator have inspired me to pursue a career as an educator, and I hope to one day be even a fraction of the professor she is," a nominator said.
About Budd
Budd's research areas are within the field of criminology and law and society. Her research focuses on sexually motivated interpersonal violence, examining sexual offending behavior, public perceptions of laws and policies that address sexual violence, and social and legal responses to sex crimes and to those who commit sexual assault.
She is active in the Society for the Study of Social Problems (SSSP) and is currently chair of SSSP's Crime and Juvenile Delinquency Division. She is the pre-law adviser for the sociology and gerontology department, the co-chair of Miami's disciplinary board and serves as an advisory member to the Mindfulness and Contemplative Inquiry Center.
Budd received her doctorate from Purdue University in 2011. She was a visiting assistant professor at Miami from 2011-2012. Prior to joining Miami in 2014 as assistant professor, she was assistant professor of criminal justice at Indiana University South Bend from 2012-2014.
The committee for the Center for Teaching Excellence, a subcommittee of University Senate, selects the Knox awardee from nominations by examining the nominees' teaching portfolios and through interviews with the finalists.