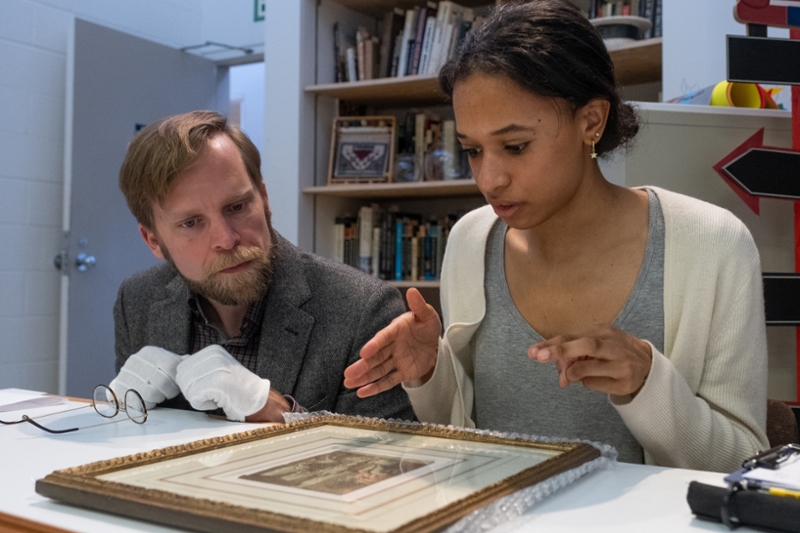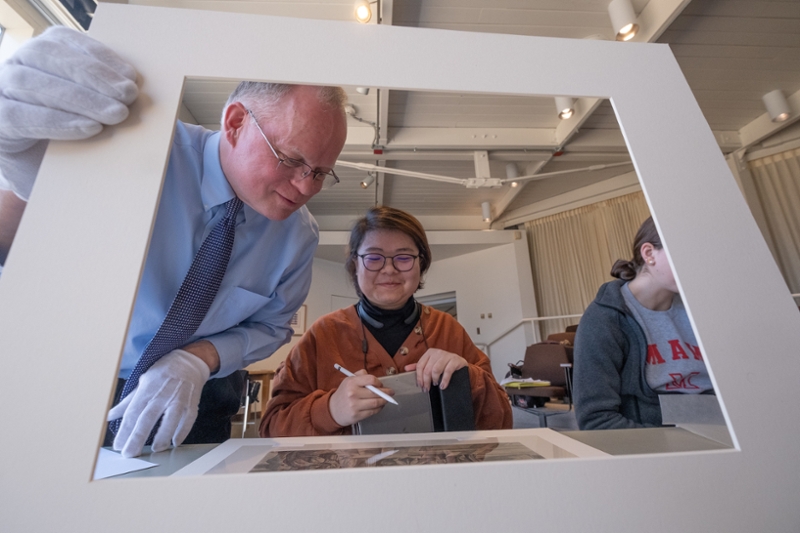 Bob Wicks, director of the Miami University Art Museum, helps a student during a recent class visit.
Photo: Scott Kissell
Mar 19, 2019
Groundbreaking art course lets students purchase artwork for the Miami University Art Museum
By Shavon Anderson, university news and communications
It took a mere $450 million to purchase Leonardo da Vinci's painting of "Salvator Mundi" from a New York auction house in 2017.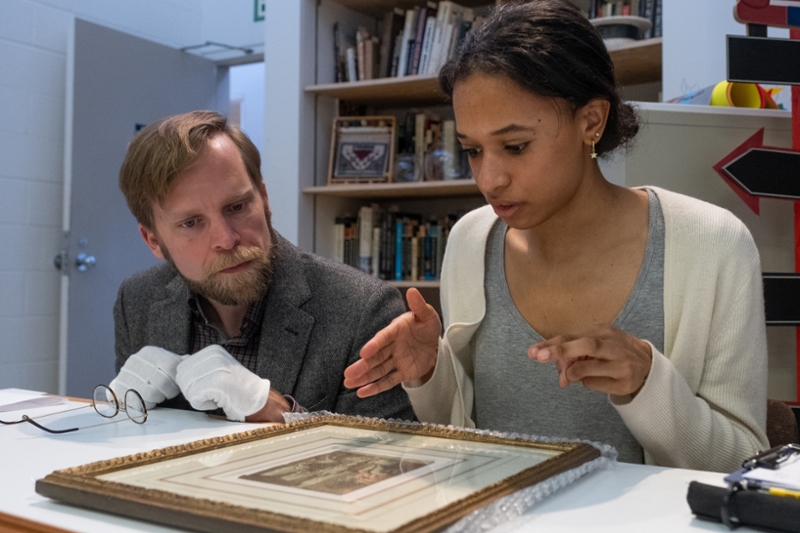 Michael Hatch, assistant professor of art history, discusses a print piece with senior Camille Boggan (photo by Scott Kissell).
If you're not connected to the art circuit, the massive number is enough to give you sticker shock with the most in-demand works selling for unimaginable figures. Michael Hatch, Miami University assistant professor of art history, studies why.
"How is it that we decide that one artwork is more valuable than another?" he said. "Who gets to decide, and by which mechanisms do we attach value to things?"
Hatch wanted his students to get better insight into the art dealing industry and understand the process. Drawing on his ties working with international galleries and auction houses, he created a groundbreaking course where students could learn how art flows from artists to auction houses through firsthand experience.
"This class also shows students how the critical research skills they learn in the humanities support professional skills they can put on resumes," he said.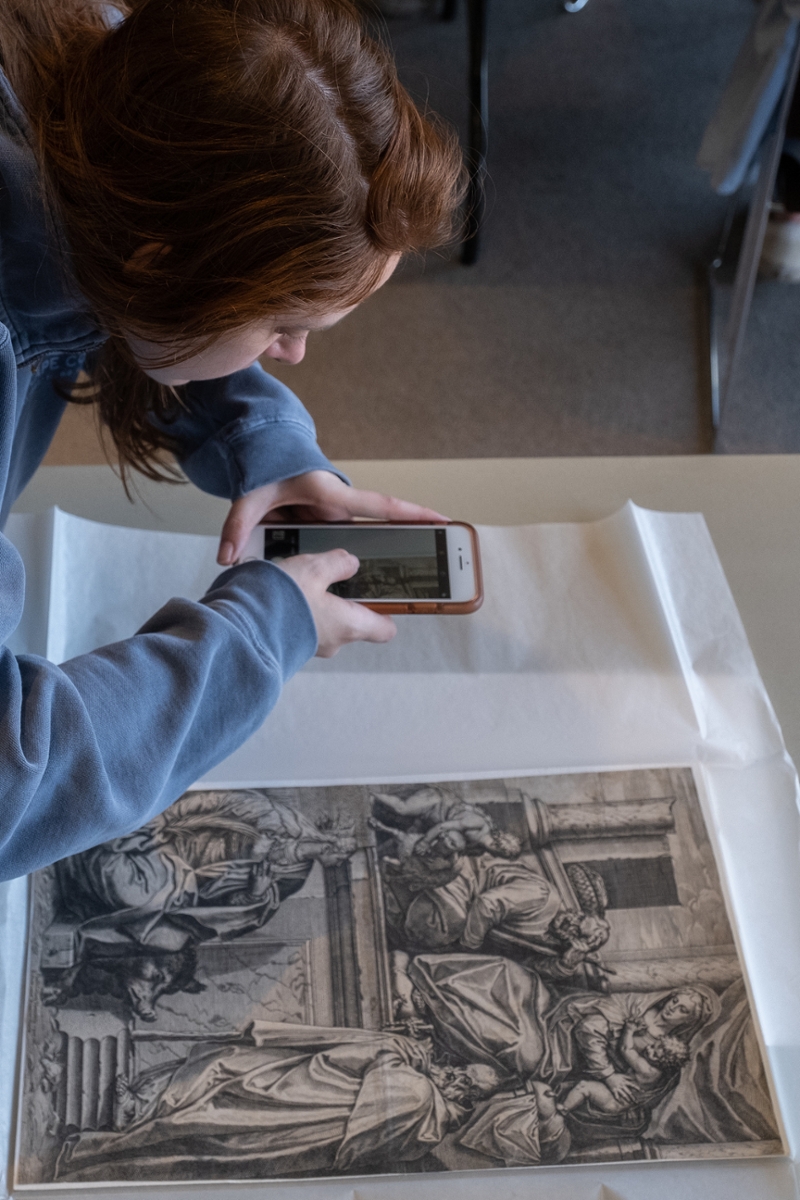 A Miami art history student take pictures of her print piece to better note its condition (photo by Scott Kissell).
Hatch connected with the Thomas French Fine Art gallery in Akron, which loaned the class 30 print art pieces for the spring semester. Each student chose a print.
During a recent class session at the Miami University Art Museum, students studied their pieces with help from Hatch and Bob Wicks, director of the art museum. Hatch and Wicks showed the class how to note wear and tear in order to create a condition report.
Treating the museum like a client, each student creates an individual proposal, including the best market price for their artwork. After presenting to the class, five selected proposals get pitched to Wicks and his staff.
In an unprecedented collaboration, Miami's Center for Career Exploration & Success awarded Hatch a $3,000 grant. Around $2,000 goes to purchasing the winning piece from the Thomas French Fine Art gallery for the museum to acquire.
"Although the art museum does have a number of acquisition funds that can be used to purchase works of art for the permanent collection, this is the first time a university course has been given money for the purpose of recommending an art museum purchase," Wicks said.
Even students, like senior Bradley Warner, were shocked by the opportunity.
"We were thinking this was going to be lecture learning," he said. "We show up and realize that we're getting the museum a new piece of art? That's insane."

Warner hopes his print, an iconic Jasper Johns lithograph, wins the spot.
"Johns had things go for near the tens of millions of dollars before," he said. "This is obviously not worth anything near that, but being able to have a piece of his in the collection is alone significant."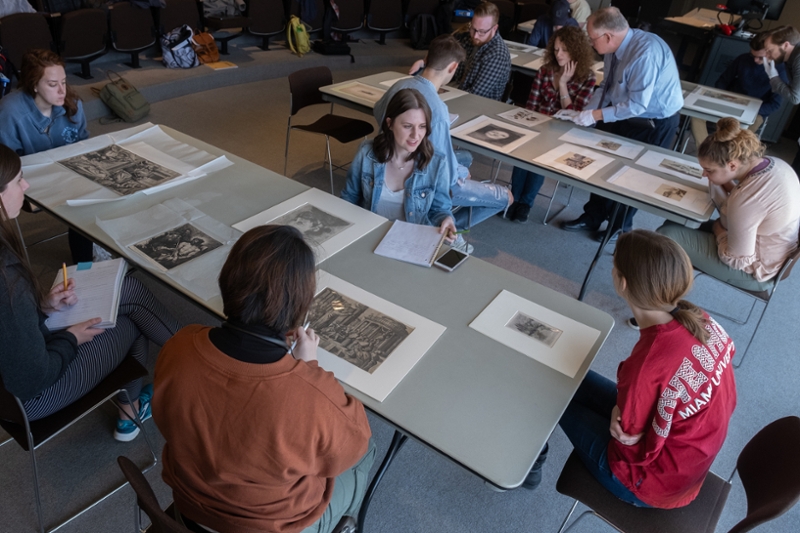 Michael Hatch's art history class studying their prints at the Miami University Art Museum (photo by Scott Kissell).
Hatch believes the real connection between the course and the art museum highlights the importance of the museum as a learning tool. The course's innovative structure gives students a real-world example of how galleries and art dealers present works on offer to museums.
That focus is what drew senior Camille Boggan to register for the course. After gaining experience in galleries over the past two summers, she narrowed her passion to understanding art markets but said Hatch's course delivers more.
"It's not only about understanding how the market works but also how that intersects with the general scope of art being put in museums," she said. "In art management, you learn about the organization and not the art itself. Art history looks into the objects."
While Hatch's grant covers this semester, he's working to secure funding so that the course can regularly recommend pieces for the art museum.
Pitch proposals and the final artwork selection happen in May.