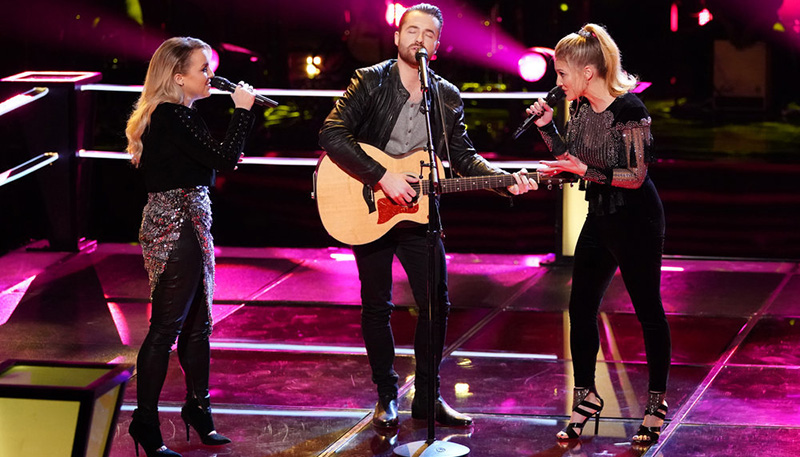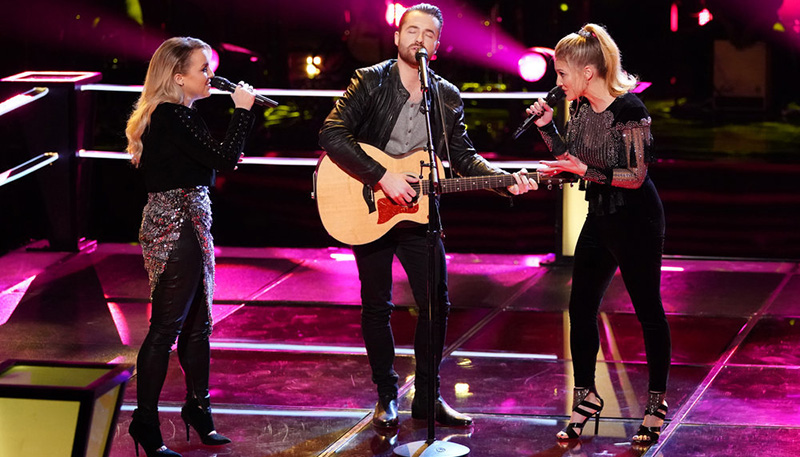 Miami alumni Megan, Ryan and Katey perform on NBC's The Voice.
Photo: NBC/The Voice
Apr 24, 2019
The Bundys say fond farewell to "The Voice"
By Donna Boen, editor of the Miamian magazine

Megan, Katey and Ryan Bundy enjoyed an "amazing journey" during their time on NBC's "The Voice," which came to an end earlier this week after America voted for southern rocker Andrew Sevener of Team Blake.
In a tweet minutes after learning their journey was over, the Bundys thanked their coach, Kelly Clarkson, and "The Voice" for choosing them to be the show's first trio.

The three Miami alumni talked about their experience during a break in the competition a couple of weeks ago.

Ryan, who graduated from Miami in 2015 with a major in marketing, described the show as a giant music camp where they learned not only from their coach, but the other coaches and competitors as well.

"There are so many amazing musicians there that you just find yourself singing random songs with everybody," he said.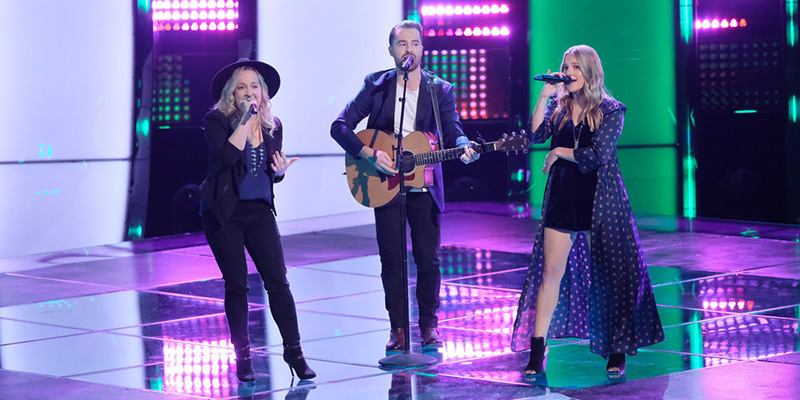 The trio released two albums prior to their appearance on "The Voice."  (Photo courtesy of NBC/The Voice)
The Bundys have been perfecting their harmonies professionally since 2012 when Ryan and Katey, a 2012 graduate and education major, joined Megan in Tennessee. Megan, a 2009 graduate who majored in Spanish, had moved to Nashville to write and record.

"I had one song in particular that I thought needed some old-fashion sibling harmony, and so I asked Katey and Ryan to come down to sing for one song, and they never left," she said.

The alternative country trio is known for beautiful folk harmonies. Their first major project, a 12-song album, Louisiana Avenue, was released in 2015. In 2017, they came out with Before I Go, which includes one of their favorite songs, "Fine and Dandy," a touching tribute to their grandfather.

Now they can add "The Voice" to their resume.

As for backstage insights, Ryan said Clarkson is the same in person as on TV, kind and considerate and funny. "Like really funny," he said. "I didn't expect her to be that funny."
Harmonizing is harder than

it

sounds

But Clarkson takes coaching seriously. She told the Bundys to make sure they sing as one, Megan said.

"We had to have really, really tight harmonies since this is such a magnified situation" on the show, she added.

Also magnified was their being a trio. Some viewers called that unfair.

"It's not necessarily an advantage to have three people on the stage because you have to all three learn the same part, the same song," Ryan said. "And then you have to work through each line together to make sure you're saying everything on key in different parts to where it all blends together."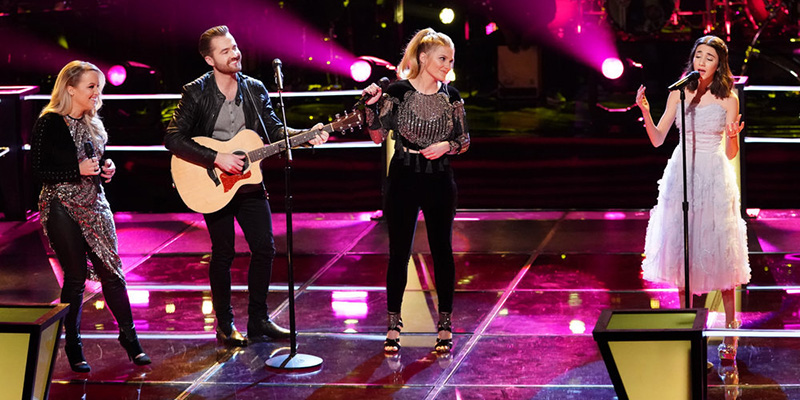 The Bundys perform with 14-year-old contestant Mikaela Astel.  (Photo courtesy of NBC/The Voice)
It was even harder to add Mikaela Astel, the 14-year-old they battled against. The four worked together for weeks to blend their voices.

"We really, really loved Mikaela, and we loved singing with her," Ryan said. "She and her mom, we got to know really well. They're both such kind people, and we wanted to do whatever we could to make the song sound its best. It is emotional, you know, because you get a connection with this person and their lives and their career and everything, and you don't want to see them go home."

Unfortunately, it is a competition, so Mikaela did go home, and now the Bundys are moving on, too. "The Voice" has given them good exposure, especially in the age of social media. The TV show has increased their fan base, Katey said, adding that social media allows them to tell people about their music and upcoming tours.
Thanking their friends and supporters
The three grew up in Cincinnati's Wyoming neighborhood, along with their younger brother Evan, a 2018 Miami graduate. Megan, an entrepreneurship minor at Miami, and Ryan call Nashville home these days, while Katey lives in Chicago with her husband, Scott Breckheimer, another 2012 graduate.

The Bundys often meet halfway between Nashville and Chicago at the home of their parents, Tammy (Miami, MAT '09) and Brad, Miami's senior associate vice president for university advancement, who was named an honorary alumnus in 2013. They'll spend hours in the living room writing new music, practicing and humoring their parents, who are full of suggestions.

What they truly appreciate is the encouragement they've received from their parents as well as the Miami community.

"Miami has been backing us and talking about us," Ryan said. "It's so amazing going to a university that has your support in really whatever you want to do, whether it's the tech world, or like Katey's husband, the bank world, or like us in the entertainment world."