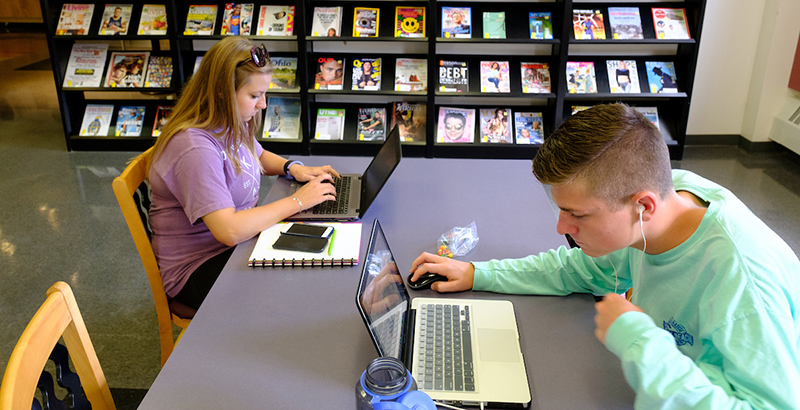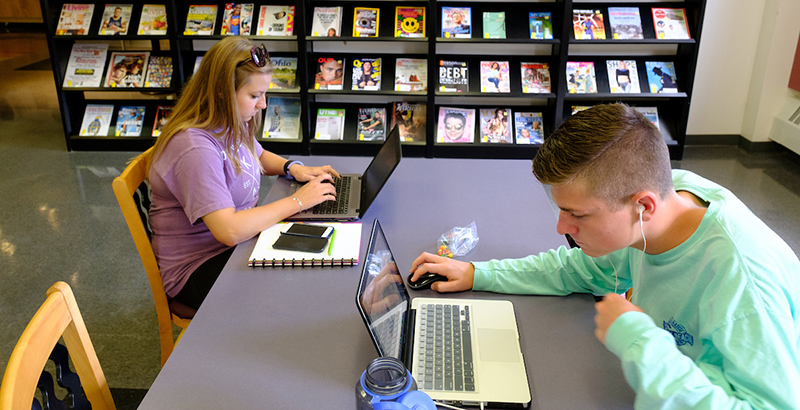 Miami joins education consortium that brings together resources from 27 campuses to provide shared benefits in areas of affordable content, teaching and learning.
Photo: Scott Kissell
Apr 17, 2019
Miami students soon to pay 60% less for books
Collective data to give faculty quick feedback
By Claire Wagner, university news and communications
In joining the higher education consortium Unizin, Miami University ramps up digital learning and teaching while saving students an average of 60% versus hardcover textbooks.
Unizin brings together resources from 27 campuses to provide shared benefits in areas of affordable content, teaching and learning, technology and research. It has negotiated pricing agreements with all major textbook publishers.
Beginning with a pilot program in January 2020, Miami faculty will be able to use Unizin Engage. The platform integrates fully with Canvas, Miami's learning management system, so students and faculty can have easy electronic access to texts and materials. The platform enables students and faculty to take notes, annotate the text and even download portions of the textbook to print or to read when they are offline. It can also deliver open educational resources to students.
"Miami faculty already focus intensively on providing the best learning opportunities for students. Being able to offer real-time data to faculty will help them provide even more valuable classroom experiences," said Jeffrey Wanko, associate provost and professor of teacher education at Miami. "That we can offer significant savings to students on books is also an important aspect in joining Unizin."
The platform will also provide student response data from individual classes as well as from each member institution in collective, anonymized data. Faculty will be able to scope broad trends or specific learning experiences among students. Unizin aims to build "a comprehensive platform for collecting and sharing common data across institutions that will become 'the largest, richest and broadest collection of anonymized learner data in higher education.'"
The textbook savings expands on efforts over many years by Miami seeking ways for students to save money as textbook alternatives became available. Examples:
Some psychology texts were available in 2007 through the Ohio Digital Bookshelf Project and OhioLink. Others have been added since then.
Texts in many interactive media courses have been available online through Miami's libraries.
In fall 2017, Miami used an electronic textbook purchasing program that enabled students to save an estimated 15-20% on textbooks.
Miami offers faculty incentives to adapt or create e-textbooks and to work with university librarians on free or less expensive course materials for students. Through the Open Educational Resource and Affordable Learning initiatives
Miami students this year have saved an estimated combined $368,522.
Miami's efforts on students' behalf also support goals expressed by Ohio's governor and state legislators for greater affordability in the cost of college for Ohio citizens.

Another benefit of Unizin is that is offers shared resources and best practices via a:
Teaching and Learning Advisory Group.
Libraries Group.
Learning Analytics Community of Practice.
With membership, two Miamians join the board of Unizin: David Seidl, vice president for information technology and chief information officer, and Wanko.