May 08, 2019
Miami launches first Boldly Creative initiatives
In first round, nearly $5 million committed in new academic directions
By Claire Wagner, university news and communications
New healthcare programs, several analytics degrees and certificates, micro-credentials and robotics are among ideas supported in the first round of Boldly Creative investments at Miami University.

President Greg Crawford announced the $50 million Boldly Creative academic development fund in spring 2018. Now Miami announces the first round of projects to be funded for feasibility studies or development in the next fiscal year. It's an investment of nearly $5 million with the investment ramping up rapidly in future years.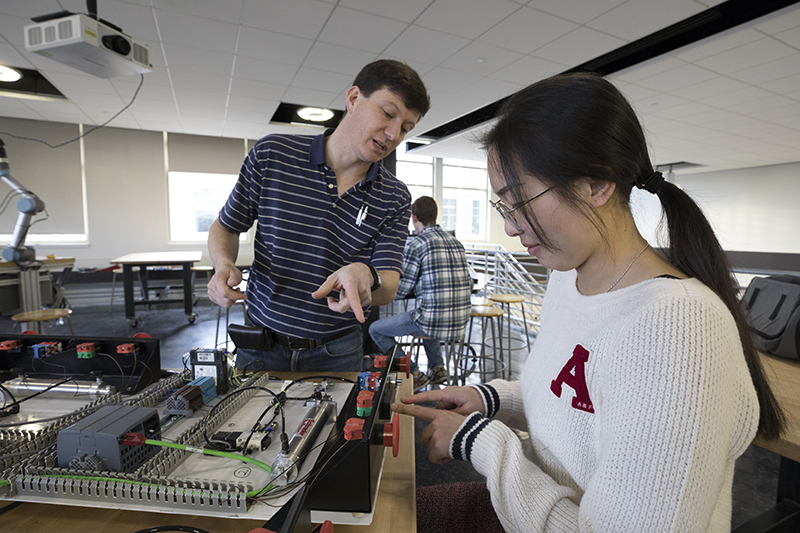 A student works with Giancarlo Corti, assistant professor of mechanical and manufacturing engineering, in a robotics lab.
An initial pool of 36 pre-proposals was reviewed last fall. From there, faculty teams or individuals proposed nine new or enhanced academic programs. A rigorous proposal review by deans, associate provosts and Provost Phyllis Callahan yielded three programs that will receive major funding and four that will receive seed funding, in this first year of Boldly Creative.
Proposals are expected to bring new students to Miami; prepare students for high-growth, high-impact careers; and sustain themselves financially within five years.
The major funded proposals are: 
A Data Analytics Initiative, offering these new programs:
Undergraduate certificates in data analytics and a minor in sport analytics.
Bachelor of arts degree in data analytics.
Stackable graduate certificates and a new master's degrees in business analytics.
The programs and stackable certificates (a collection of courses that mark a level of academic accomplishment and can be built upon for full degrees) will be available for Miami students as well as working professionals in a range of application areas. Students will be able to find core analytics training within the Miami liberal arts experience across disciplines and experiential settings.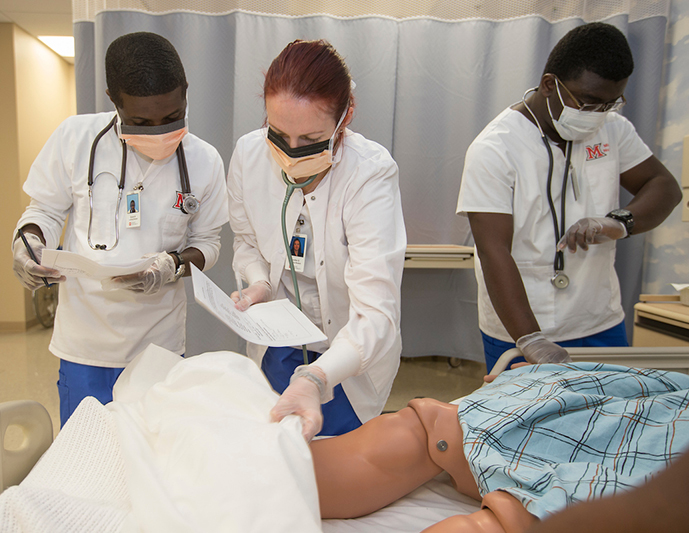 Miami University's undergraduate nursing students learn basic physical assessment skills by collaborating in the Nursing Resource Center.
Expanding Miami's Health Care Programs, with development of several new programs:
A post-baccalaureate pre-medical certificate.
A master's in biomedical sciences (MBS) program. (pending approval processes).
Three new academic programs pending feasibility study outcomes and preliminary state and accreditation approval:
A master's of science in physician assistant studies (MSPAS) program.
A master's in nursing (MSN) program with three tracks: nurse educator, nurse leader and nurse practitioner
An online doctor of nursing practice (DNP) program
Realigning Miami's Engineering Programs for the New Industrial Landscape, offering these new programs:  


An undergraduate program in robotics and a foundation certificate at the Regionals.
A robotics engineering major in Oxford.
"These Boldly Creative investments are the first step toward a new generation of academic excellence at Miami University, displaying a spirit of innovation and creativity that will help define our future," President Crawford said. "Better equipping our students with these capabilities they will need for workforce leadership enriches the Miami experience and sets a standard for future success."
Proposals receiving seed funding (for further study) are:
Collaborative Cybersecurity Initiative at Miami University

With a nationwide need for cybersecurity specialists, a Miami Center for Cybersecurity would target multiple audiences, including high school students, current Miami students, executives and managers in midsize regional firms.

Spanning several Miami colleges and working with industry partners, curriculum would be created for undergraduate, graduate and professional/industry. With technology as a base, curriculum would cover issues, implications, regulations, risk management and strategies in order to educate well-rounded leaders. Phase 1 of this proposal will define specific programs of focus and with whom the university can partner.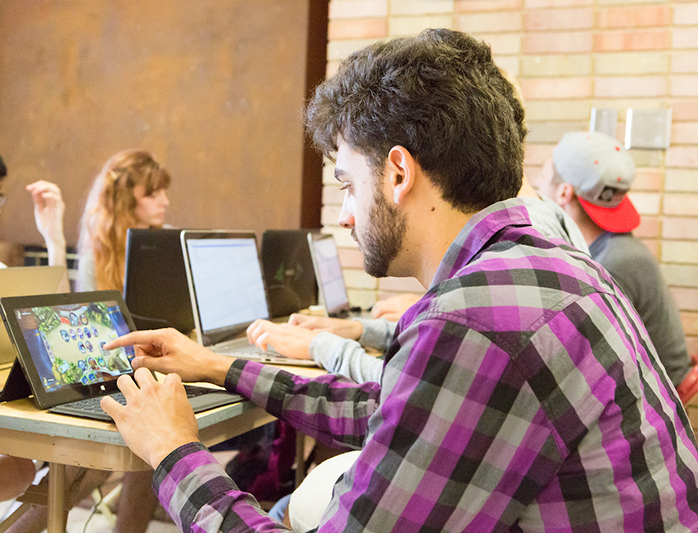 Building on Miami's status as a top college for esports, the initiative proposes to create a curriculum, expand esports spaces and develop a research base.
Esports@Miami will build on Miami's status as a top college for esports, working toward the following five goals:
To build and support the first major esports curriculum in the country.
To foster new research and to build an academic community around esports.
To expand the reach of Miami's varsity and club esports.
To develop physical spaces so that esports can thrive at Miami.
To generate scholarships for esports players and for students looking to study esports.
Miami University Microcredential Initiative, offering:
Creation of a structured framework for all departments on all campuses at Miami University to quickly respond to changing workforce, education, and skill gap development needs by creating/deploying new microlearning pathways for student success. These include in-class and online courses.
A portfolio approach with increased options for students at all stages to obtain market-driven microcredentials in addition to our traditional degrees and certificates. These credentials can be stacked toward a degree, making college more accessible and flexible for all students.
Potential microcredential opportunities include workplace and technical writing skills, chemical dependency counseling, customer service, data analysis, social global computing, aging services, information literacy and others.
A Master of Science in Business Management Program with an embedded Certificate in Business Management
This 10-month program designed for the nonbusiness major will leverage core critical thinking skills from Miami's liberal arts foundation and add value with essential skills, core business knowledge and hands-on client-based experiential learning.  
 
If a student completes a subset of courses in the business core of the program, they will earn the embedded certificate in business management. The degree or certificate could also be leveraged in stacked and collaborative programs that may develop across the university that require a core graduate business component.

Details about the second round of Boldly Creative review and funding will be announced in the next academic year.