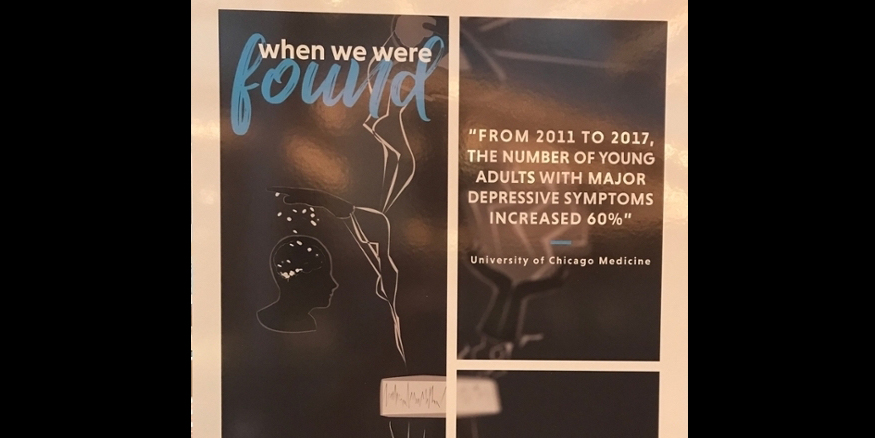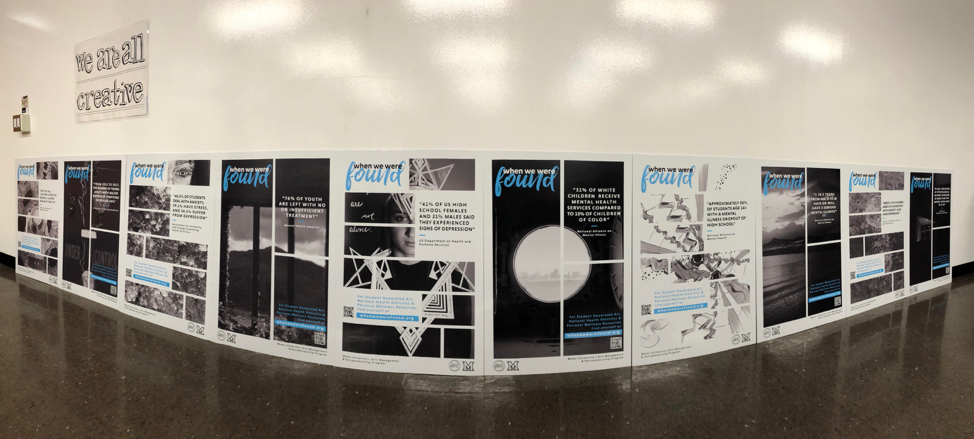 A panoramic view of Miami student mental health arts project, When We Were Found.
Photo: Willie Caldwell
May 08, 2019
Students tackle mental health through digital arts project inspired by Broadway hit Dear Evan Hansen
Arts management and entrepreneurship
By Willie Caldwell, visiting assistant professor of arts management and entrepreneurship, and Shavon Anderson, university news and communications
"Dear Evan Hansen" has critics raving and audiences grateful to see a Broadway musical address mental health head-on as the issue remains stigmatized nationwide.
The plot follows a high school student with social anxiety who, in a desperate attempt to connect with his peers, fakes a friendship with a classmate who commits suicide. Evan finds himself at the center of the tragedy, and with growing pressure, he's forced to decide between living a lie or revealing the truth.
Aligning with May's National Mental Health Month, students in Miami University's arts management and entrepreneurship program took themes from the musical and turned them into a digital community engagement project.
Titled "When We Were Found," the project explores deeper elements of mental and emotional health. Developed into a series of 10 posters being showcased in the lobby of the Aronoff Center for the Arts, each poster includes a QR code directing audiences to the website www.whenwewerefound.org.
The site includes a digital catalogue of original student artwork, national mental health statistics and personal wellness resources designed to destigmatize mental and behavioral health issues. There's also information on crisis intervention resources throughout Greater Cincinnati.
"When We Were Found" served as a passion project for student Karlie Allen who resonates with the theme. She struggles with her own mental health on a daily basis and understands how it can often leave people feeling isolated or misunderstood.
"This project made me feel connected to so many people and, in a way, gave me a voice," she said. "I'm so proud of the work that my classmates and I did on this project, and I hope it lets those struggling know that they are not alone."
One of 10 student-generated posters on display at the Aronoff Center for the Art (photo by Mark O'Hara).
Allen's sense of purpose through the art installation echoes among other students, like Leah Ball, who appreciates the opportunity to see how their work can impact a wider community outside of campus.
As a relatively new program, arts management and entrepreneurship includes classes in arts marketing and communications and arts engagement. Students working on "When We Were Found" spent the semester listening to the original Broadway cast album and reading Dear Evan Hansen: The Novel.
Willie Caldwell, visiting assistant professor of arts management and entrepreneurship, led the project. Caldwell said its creation allowed students to explore social practice art and community engagement through different artistic mediums.
"This type of work allows our students to grapple with tough issues through artistic production and connect personal artistry to larger community issues," he said. "That's what arts engagement is all about and one of the reasons why it is a focus of our program."
Megan Moretti, a student who led a design team, also feels personally connected the project's message and believes it gives a better understanding of mental health and self-care to those who may not experience the burden of anxiety, depression or other mental health conditions.
Support the project
"When We Were Found" displays at the Aronoff Center from April 30 – May 12, coinciding with the run of "Dear Evan Hansen." Students who worked on the project will see their work on display when they attend a performance on May 9.
For more information about "Dear Evan Hansen," or to purchase tickets, visit the box office of the Aronoff Center for the Arts at https://www.cincinnatiarts.org.
For more information about "When We Were Found," visit the website at www.whenwewerefound.orgor contact Willie Caldwell at caldwewf@miamioh.edu.