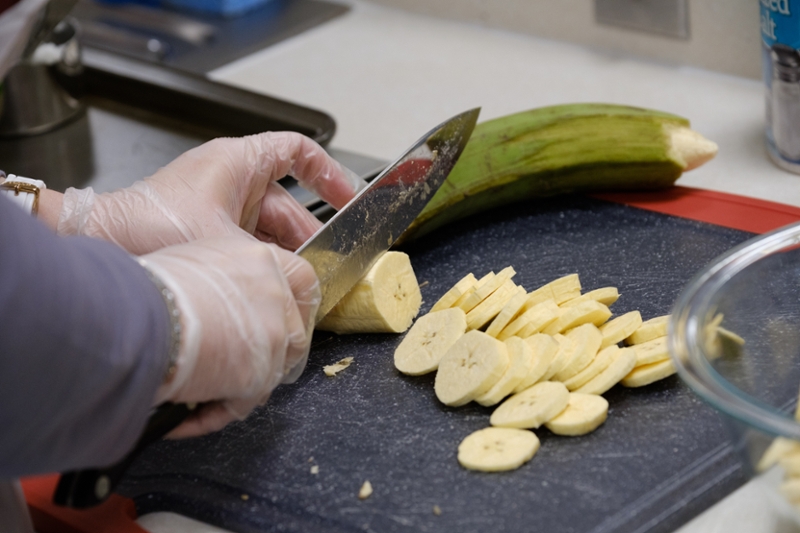 May 21, 2019
New grant expands fresh food access to Miami and Oxford communities
About Ashley Hopkins
In March of 2019, Hopkins received an Inclusive Excellence Award. The office of the president, the office of institutional diversity and intercollegiate athletics recognize members of the Miami community who work to advance diversity and inclusion.
By Shavon Anderson, university news and communications
 
Data from last year's student health survey revealed that about 20% of students experienced food insecurity at some point, and a portion of those students experienced it on a regular basis.
Food insecurity means either skipping a meal, going without food entirely or eating reduced meals to save resources for other priorities.
 
For many Miami students, those priorities include things like rent or tuition.
 
Ashley Hopkins, senior assistant director for Miami's Student Success Center, researches the issue both at Miami and across the region. Her office caters to undergraduate students while she also helps coordinate food distribution to graduate students and the Oxford community. The office works within a pantry located inside the Crossroads Church Outpost (406 E Withrow St.). Anyone in need can access the pantry by asking staff for "The Green Room."
 
Local efforts to decrease food insecurity are getting a boost through a grant from
the Oxford Community Foundation and the city of Oxford. The grant goes to purchasing and installing a refrigeration unit at the Outpost.
 
"Hopefully, we'll be able to take in things like dairy and fresh vegetables," Hopkins said. "Up until this point, we haven't been able to offer that unless we have gift cards donated."
 
The grant is significant because the Outpost helps anybody – undergraduate and graduate students, faculty, staff and Oxford community members – with no questions asked.
 
"That allows us more freedom to serve as many people as possible," Hopkins said.


What we know about the numbers

Harvested vegetables grown by the Institute for Food (photo by Jeff Sabo).
Staff sees higher food insecurity rates among fourth-year and off-campus students, but there's limited data on who experiences it and when. The center doesn't want data collection to become a deterrent, though Hopkins plans to develop a discreet way to track future need.
 
Overall, the goal isn't to simply reduce the statistics but to explore the systemic, social issues behind them.
 
One of Hopkins' concerns lies with students who hover on the margins.
 
"Those are students whose families make enough that they don't qualify for any financial resources, but whose families also put the entire excess of their income toward tuition, books and housing," she said.
 
They're also students who work part-time, low-paying jobs while supporting themselves through school. Many times, they come from families who encourage or need them to be independent.
 
To address those issues, Hopkins wants to look into a program where students can donate their meal swipes to help support other students.
 
"If there's excess food coming out of the dining halls, that's also something that we could do," she said. "There are better ways to intervene with the root issues than just trying to keep the pantry stocked. We shouldn't have students needing a pantry in the first place."
 
At some point, the Student Success Center wants to partner with the university's Institute for Food and widen the availability of fresh produce and dairy by connecting with student and community programs that produce agriculture.
 
The refrigeration unit at The Outpost will be operational before the end of the year.
***
Other ways that Miami helps Oxford campus students with food insecurities include dining scholarships and Kroger gift cards. Gift cards can be donated to the Student Success Center, 112 Campus Avenue Building, or the Outpost.