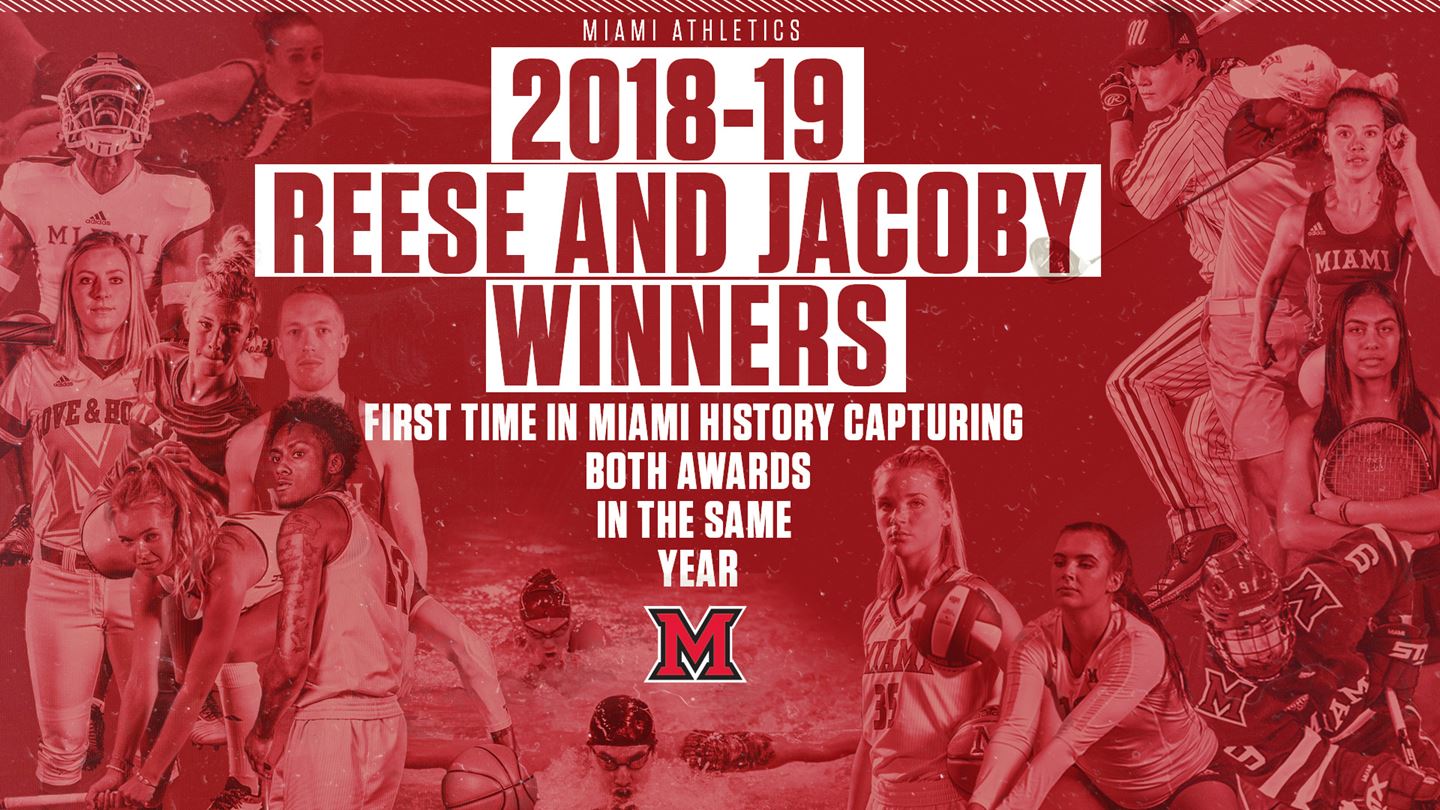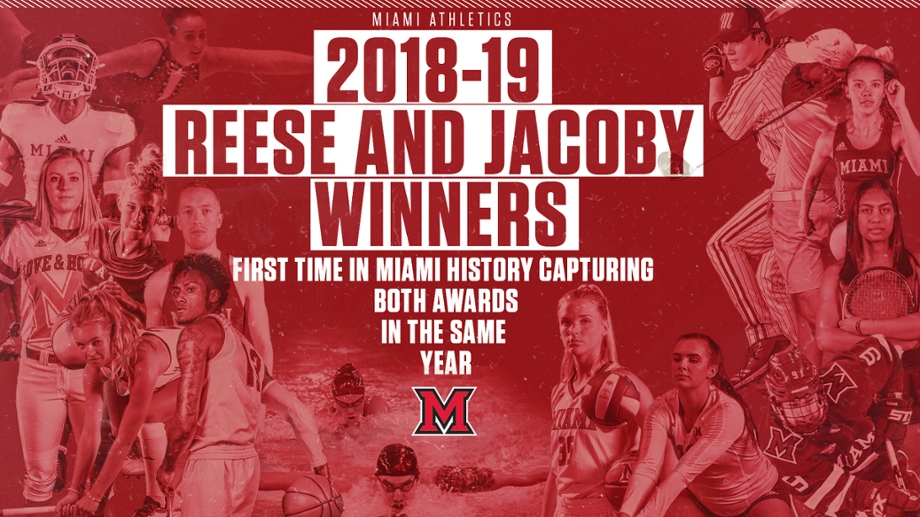 Miami U has won the top men's and women's trophies in the MAC.
May 30, 2019
RedHawks Mid-American Conference first-place win historic
Commitment and support bolster athletes' achievements
For the first time in its history, Miami University athletics have finished first in the Mid-American Conference's Reese (men's) and Jacoby (women's) standings in the same year. The Reese Trophy and Jacoby Trophy were presented to Miami May 29.
The RedHawks finished with a school-record nine championships in the 2018-2019 school year. For both trophies, points are awarded based on each school's league finish in a particular sport, with the overall total divided by the number of sports sponsored by each school.
In addition to tying the school record for most championships at nine (eight of which were in the MAC), Miami set new records with Coach of the Year (seven) and Player/Freshman of the Year (10) in one year.
"Winning these awards is a tribute to our great student-athletes, coaches and staff as everyone plays a role in success like we enjoyed in 2018-19," said Director of Athletics David Sayler. "Working at a tremendous place like Miami University allows us to expect that we can have it all here and we will never stop in our relentless pursuit of academic and athletic excellence."
Winning the Reese Trophy 24 times
The Reese Trophy has been claimed by Miami 24 times since it began in 1958. No other school has won the award more than nine times in MAC history.
Men's cross country and swimming and diving claimed MAC championships this past year, while football (second), outdoor track (third) and baseball (fourth) all had a positive impact on Miami capturing this award for the first time since 2004-05.
Winning the Jacoby Trophy 6 times
Miami claimed the Jacoby Trophy for the sixth time since the award began in 1983. Four teams won MAC championships this year: volleyball, softball, tennis and field hockey.
Cross country and women's basketball also influenced the award with third-place finishes, helping the RedHawks claim the award for the first time since 2012-13.
Achieving excellence
"Congratulations to our extraordinary student-athletes and coaches for their commitment to achieving the highest level of excellence in our conference," Miami President Greg Crawford said. "Our student-athletes, whether on the court, field, water or ice, in competition, or through their community leadership and academic achievement, embody our highest values of love and honor."

Crawford also added that "the bold and courageous vision" of David Sayler set the foundation for Miami's coaches and students to excel through the Graduating Champions strategic plan. It began with leadership and structural changes and focused on department values, including diversity and inclusion, competitive excellence and collaboration. The Graduating Champions Campaign, a first-ever athletics-only campaign, raised more than $82 million for Intercollegiate Athletics.

"David's leadership philosophy extends far beyond the sidelines or field boundaries," Crawford said. "His commitment to student success, diversity and inclusion, community volunteerism, and academic excellence is unsurpassed."
Miami student-athletes continue to perform well academically, finishing the spring semester with a 3.2 grade-point average. Miami student-athletes have finished each semester with at least a 3.0 GPA for 29 straight semesters.
Investments in facilities have yielded the addition of the Dauch Indoor Sports Center (DISC), varsity tennis courts, the Jay Hayden Baseball Center and the turfing of McKie Field at Hayden Park, the Leahy Performance Center at the Goggin Ice Center and the Athletic Performance Center.
Thanking the community
All of these additions and modifications were evident in 2018-19 as the RedHawks not only claimed victory in both the Reese and Jacoby trophies, but they also set school records in several categories and sports.
"We could not have achieved this without the support of our faculty, staff and student body," said Crawford. "From advising to attending competitions, they cheer on our teams, but they are also committed to helping our student-athletes achieve success and academic excellence."