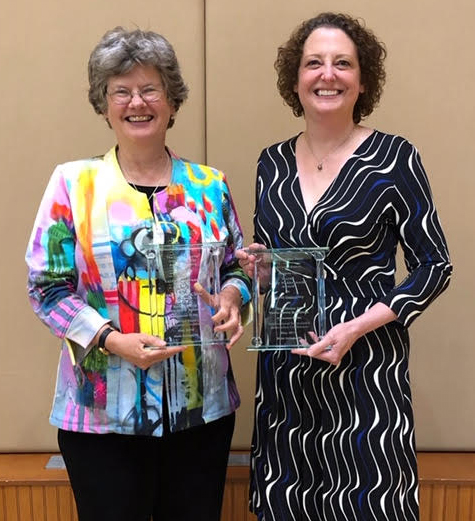 May 22, 2019
Miami and city of Oxford receive the "Town and Gown" award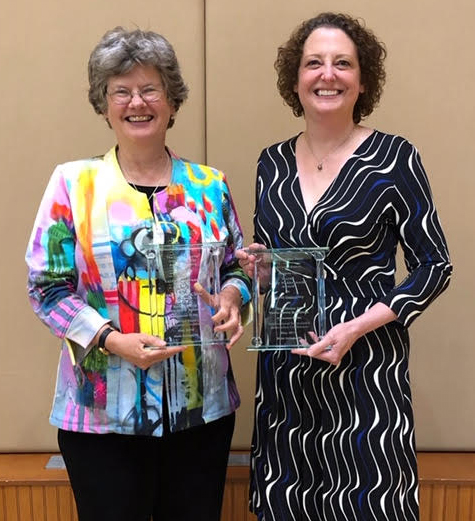 Accepting the award on behalf of Miami and Oxford are Mayor of Oxford Kate Rousmaniere and Jayne Brownell, vice president for the Division of Student Life.
Miami University and the city of Oxford have received the 2019 International Town and Gown Association's Larry Abernathy Award.
Mayor Kate Rousmaniere and Jayne Brownell, Miami's vice president for the Division of Student Life, were presented with the award at the International Town and Gown Association (ITGA) conference at Penn State on May 21.
The association exists to strengthen university and community partnerships through a network of resources and professionals sharing practices and solutions. The focus is to professionally develop opportunities for municipal and university communities working together.
Working toward a healthy college town
Miami University and the city of Oxford shared a vision to become the healthiest college town in America. They're supporting town/gown initiatives in the areas of:
public health policy and infrastructure planning.
mental and physical health.
economic and community health.
climate health.
During the past three years, Miami University and Oxford have made strides toward becoming the healthiest college town.
The collaboration draws on the social service infrastructure and various individual and institutional initiatives.
The fruits of their effort have manifested in many ways:
Students reported declines in risky drinking behavior.
600 citizens of Oxford were trained in mental health first aid.
The passage of a $10M levy for 12 miles of bike trails.
New bike lanes and city e-scooter contract decreased reliance on cars.
Ongoing community-university efforts around climate change, like pollinator gardens, food composting and increased recycling.
Pulling resources together
In spring of 2018, graduate students at Miami's Institute for Environmental Sustainability researched best practices for Oxford to adopt the Global Covenant of Mayors, which would pledge Oxford to cut greenhouse gas emissions. A greenhouse gas inventory is being conducted for Oxford. The e-scooter program began in the fall 2018, and the city is expanding the contract to include e-bicycles.
The Alcohol Coordinating Council (ACC) and the Town-Gown Initiative Team (TGIT) are town/gown inclusive entities that have been working closely to reduce high-risk alcohol consumption. They've sponsored alcohol responsibility forums, hosted town/gown conferences on alcohol misuse, and encouraged stronger Oxford-Miami police coordination and partnership, targeting day-drinking.
The winner of the ITGA Larry Abernathy Award is selected based on who "best represents the true spirit of ITGA."