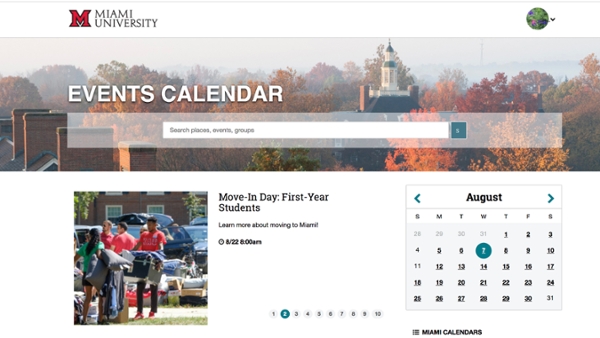 Aug 08, 2019
New university events calendar reflects the pulse of Miami
Comprehensive calendar displays events from all Miami campuses and groups
By Susan Meikle, university news and communications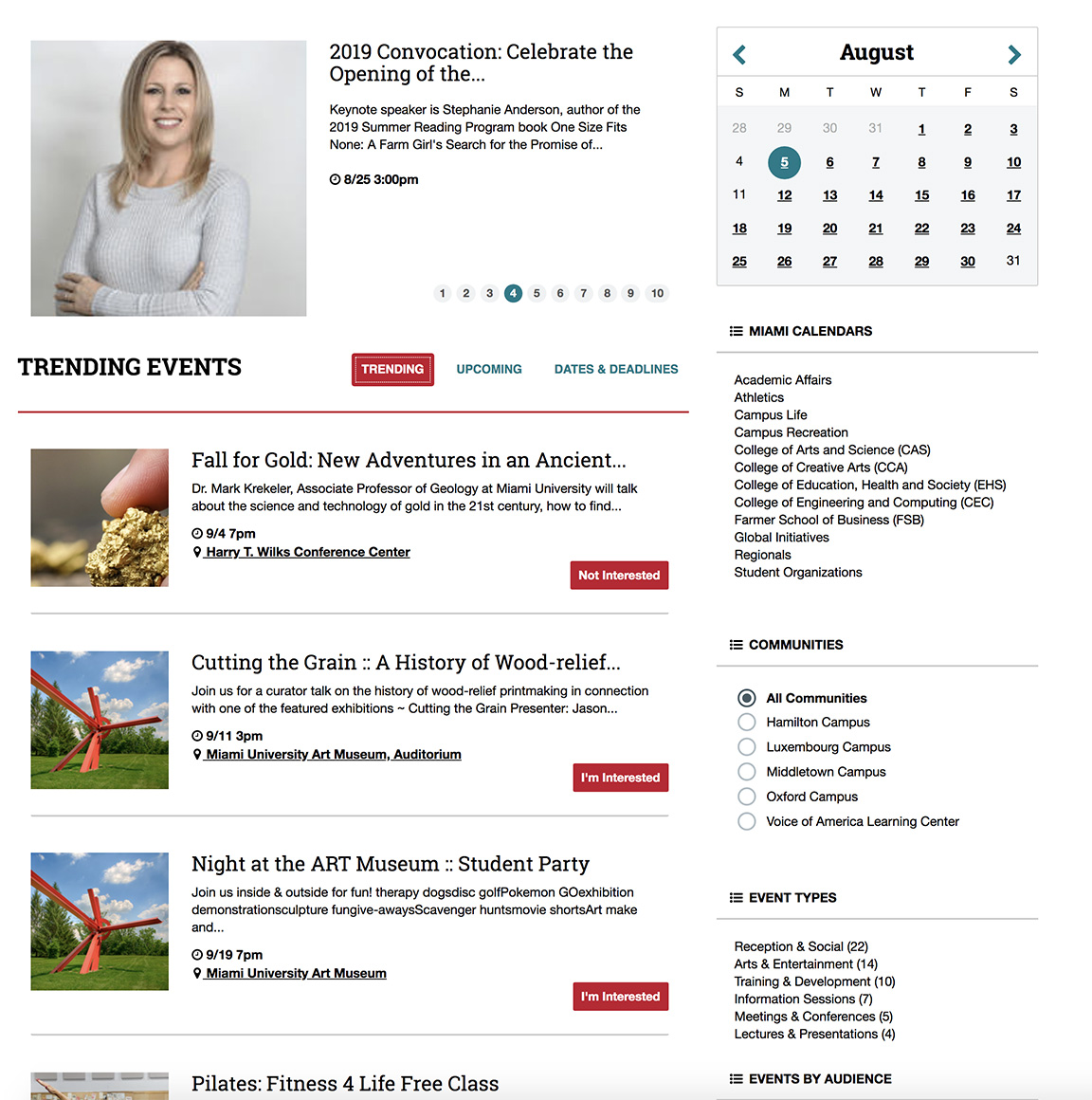 A snapshot of the new Miami University Events home page. Trending events appear first; click on the Upcoming tab for a chronological list.
Events are part of the heartbeat of campus life. Miami University Events, the new events calendar that launched this week, showcases the vibrancy of events at Miami.
Take a look at https://events.miamioh.edu.
The interactive and easy-to-use calendar displays events from all departments, groups and campuses in one comprehensive tool.
In one view, users can browse events from academics, the arts and athletics, to student organization events, deadlines, fitness workshops and more.
Why a new calendar?
The Miami Lean team calendar committee was charged with creating a comprehensive public events calendar that can pull in events from different room scheduling systems used across Miami's campuses.
The Localist events system was selected. The platform:
Separates events calendar and event promotion from space scheduling.
Communicates with multiple space scheduling systems including 25Live, EMS, Sidearm Sports, The Hub, and iModules.
Provides robust event promotion features such as social media links, website widgets, buttons to ticketing sites and event registration.
More than a calendaring tool
Miami University Events is also a social tool that allows users to create profiles, easily share events on Facebook, see who has indicated interest in your event and more.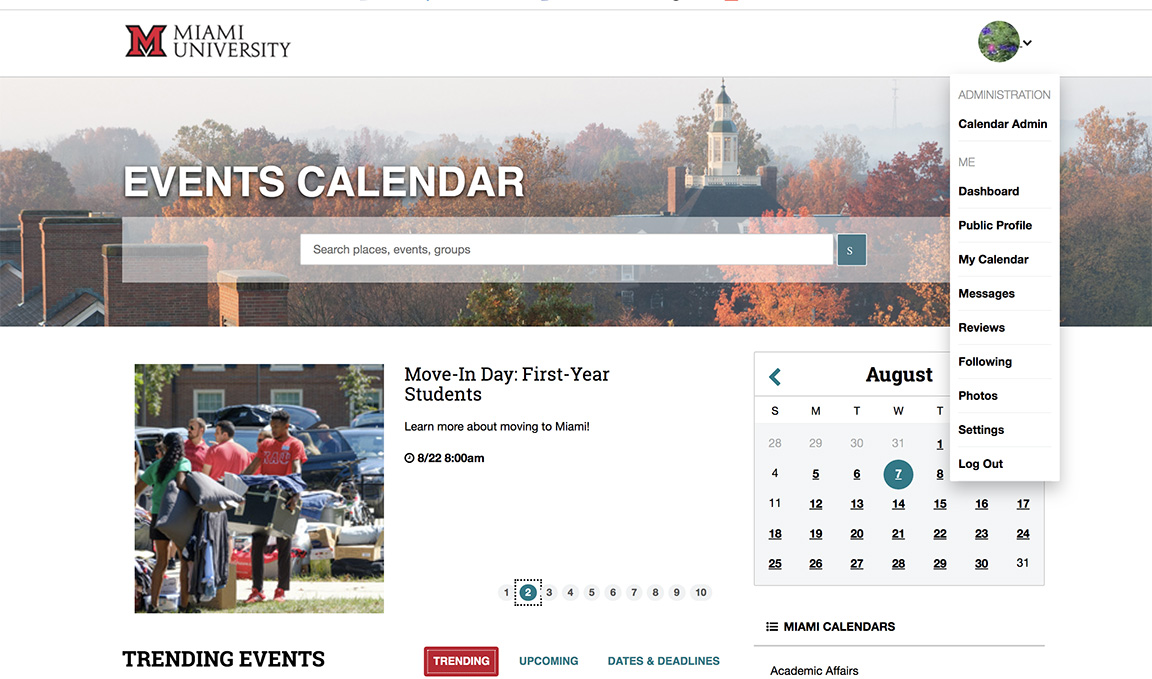 The drop-down list under your login (click on the arrow) shows features you can use to personalize the events calendar.
FAQs
Q: Is 25Live going away?
A: No. The 25Live space scheduling system is used for scheduling most academic spaces and will not go away. But the 25Live calendar display will be phased out of Miami's web pages by next month. 
Please note that during this transition process, some department websites may still display the 25Live calendar. 
 Q: Wow, Miami University Events shows a lot of events! What if I only want to see "my favorite group" events? 
A: Events can be filtered to display only those you are interested in.
You can filter by event type, interest, campus, channel, location, group and more, using the filters (descriptors) on the right side of the calendar home page. Or, you can do a direct search in the search box.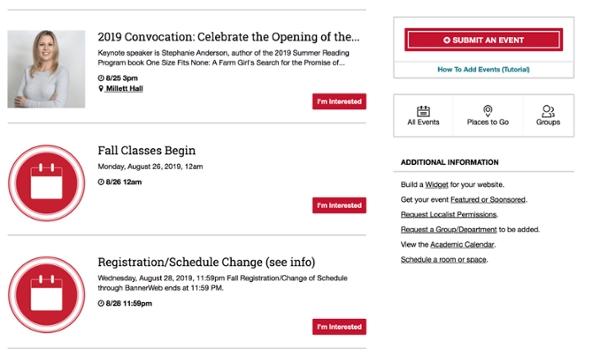 A mix of events and deadlines shows on the main page. Additional information with a link to the registrar's Academic Calendar at lower right. 
Q: What happens if I click on the "I'm Interested" button?
A: The event will be added to My Calendar in your user's dashboard. You will receive two notification emails:
Reminder: The day before the event, you will automatically receive an email reminder to attend the event.
Review: The day after the event, you will automatically receive an email prompting you to review the event.
Q: Will I find dates and deadlines and the Academic Calendar?
A: Yes, and easy to find: