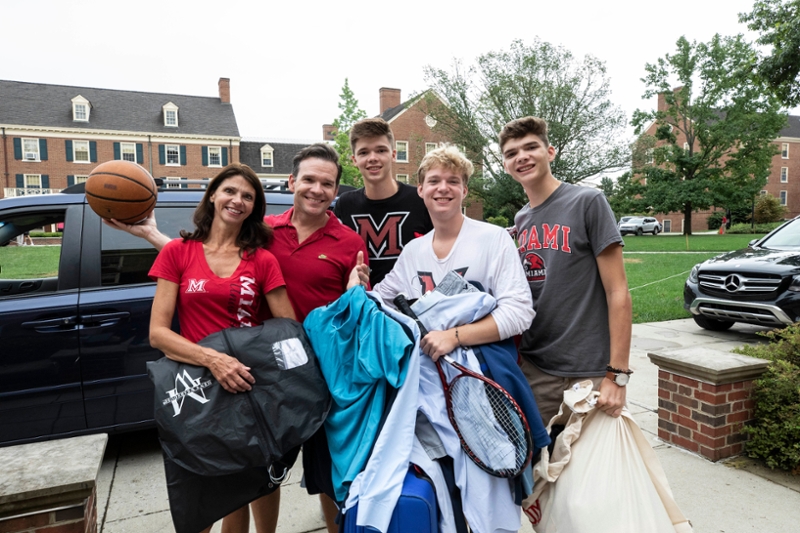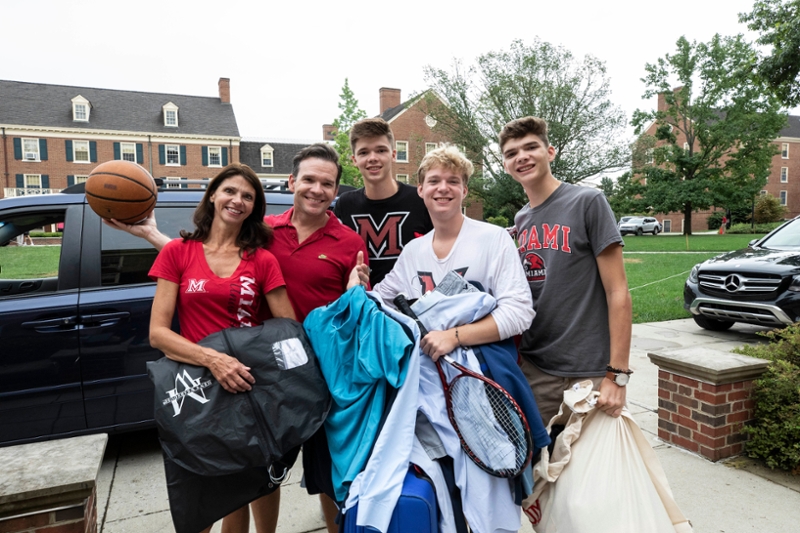 The Kellers moved in their sons, who are triplets, to Miami on move-in day for first-year students. From left, Theresa Keller (Miami '91), Dennison Keller (Miami '90), Jonas, Luke and Dominic.
Photo: Jeff Sabo
Aug 23, 2019
Cincinnati triplets aiming for different colleges select Miami, where parents met
By Margo Kissell, university news and communications
When Jonas, Dominic and Luke Keller began their college search process, they had one common goal — to go somewhere different from each other.
"That was their mindset," Dennison Keller (Miami '90) said of his sons, who are triplets. "We actually thought it was probably a good idea. You know, stop competing with one another, make your own networks, etc. But as the year wore on, they kind of coalesced at the end."
On Thursday, Keller and his wife Theresa (Miami '91) drove two vans loaded with their sons and plenty of their belongings from their home in Cincinnati up U.S Route 27 toward Miami's Oxford campus.
They started at 9 a.m. by moving in Luke to Wells Hall in about 25 minutes. Then came Dominic's turn to move into Morris Hall, where his father lived when he was a first-year student. Jonas moved into Dorsey Hall in the afternoon.
Theresa Keller said the day helping them get settled in at their new homes away from home was bittersweet.
"I'm very excited for them. They prepared well, and I know they individually and collectively are going to have a great time here," she said.
Jonas said they chose Miami for different reasons.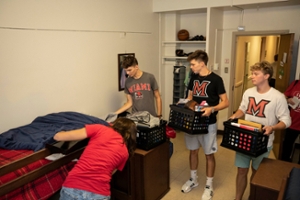 Theresa Keller helps Dominic, left, get settled into Morris Hall as Jonas and Luke assist. The brothers helped each other with their moves into three residence halls on campus (photo by Jeff Sabo).
"Luke was kind of set on Miami from the beginning. Dominic was actually looking at South Carolina for a little bit. He got into the business school (at Miami), and he thought that was an opportunity he couldn't pass up," he said.
Luke and Dominic are majoring in business-economics.
Jonas, who is majoring in biology with a premedical studies co-major, had been set on Ohio State, but then he tagged along to Miami when his brother was attending an event at the Farmer School of Business.
"My dad ended up showing me around," he said, "and I ended up liking it." They had the option of rooming together but decided against it, wanting to branch out.
Miami President Greg Crawford, who spent Thursday greeting incoming students and their parents, swung by Morris to say hello while they were unpacking Dominic's belongings. "It's great to have you guys here. Welcome aboard. We're glad you chose Miami," Crawford said. "Where's dad?"
"He's parking the car," came the response.
Theresa Keller said having all her sons at Miami "is really a bonus" because with parents' weekend and various events until graduation, they'll be able to be there "and not feel like we are going to miss something for somebody."
Dennison Keller said the trip to Miami was nostalgic.
The overnight transition from a house full of "noise, chaos, fun and busyness" to becoming empty nesters will be a jolt, he said. But knowing their sons are together at Miami takes "a great deal of the sting" out of it.
"Obviously it's a special place for Theresa and me because that's where we met," he said. "Certainly, all those years ago, we did not envision bringing our own children back here — let alone three at once."