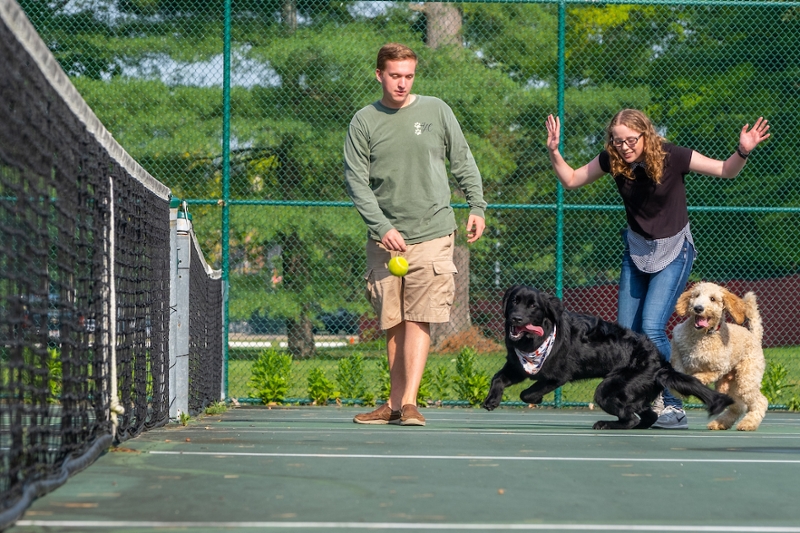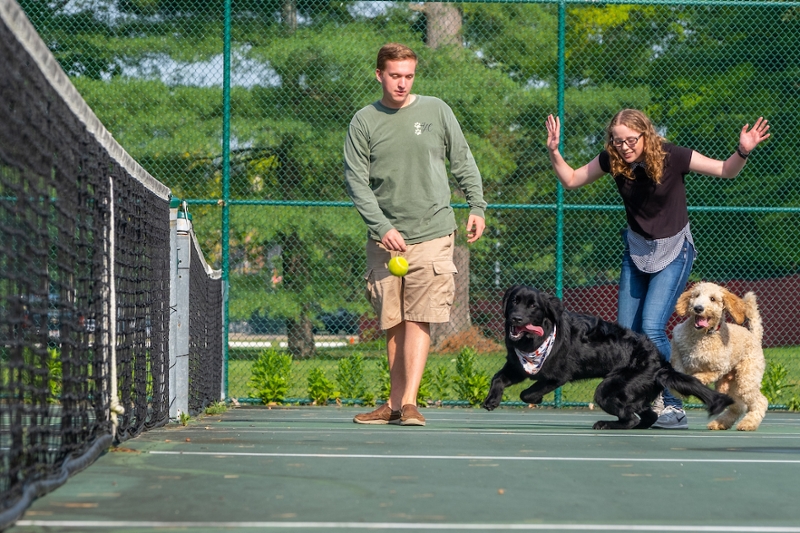 Nathan Phillips and Alexandria Tong play at the Wilson tennis courts with Bonzo and Buffett, service dogs in training.
Photo: Scott Kissell
Sep 05, 2019
Miami student group raising funds to build service dog park on campus
Paws for a Cause Miami has raised more than $33,300 toward goal
By Margo Kissell, university news and communications
Alexandria Tong is walking across Miami University's Oxford campus with her foster puppy Buffett, a service dog in training, at her side.
The 7-month-old Doodle — a golden retriever-poodle mix from a litter all named after financial experts — is named for Warren Buffett, the billionaire investor and philanthropist.
"I have every hope he will be just as successful," quips Tong, a senior human capital management and leadership major and a marketing minor.
The two are on the way to the Wilson tennis courts on Western campus. It's the only place on campus where the puppy raisers can let their canine companions off leash to release some energy.
These service dogs in training aren't allowed to go to normal dog parks for two reasons: "We don't know the personalities of the dogs that might be there and we want to keep our dogs safe," Tong said. "Even if the dog park is empty of other dogs, it's a disease risk because we don't know if those other dogs have been vaccinated."
But someday, they hope to have a dog park of their own on campus.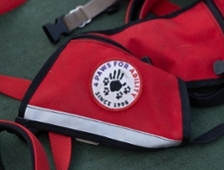 Paws for a Cause Miami, a student organization, has raised more than $33,300 for a proposed Miami University service dog park for the puppies in training and working service dogs on campus. They hope to raise $40,000 to $65,000.
"We are fundraising both for the service dog park and to help a child with disabilities raise the needed funds for a service dog," said Renee Gottliebson, assistant clinical professor of speech pathology and audiology and the group's adviser.
The timeline is unclear.
"Currently we are still in the planning stages both with our architect and with the university," said Nathan Phillips, a sophomore software engineering major and secretary for the organization. The project has to go through Miami's Campus Planning Committee before they know when and where they can break ground and how they can use the funds, he said.
The student organization works with 4 Paws for Ability, which is based in Xenia and provides service dogs to children with developmental disabilities, as well as veterans.
Lynn Agee, university program coordinator for 4 Paws for Ability, called the student group's fundraising efforts "such a wonderful thing to do." Because 4 Paws dogs are only allowed to socialize and interact with other dogs in the program, she said "having a completely confined place for them to run around off leash is great."
Making a life measurably better
Buffett is the fourth dog Tong has trained since arriving at Miami. She discovered the program as a high school senior touring the campus; her tour guide was a puppy raiser.
"I knew immediately this was something I wanted to do," said Tong, who believes in the program's mission. Miami's chapter was started in 2012 by student Kristin McNamara (Miami '13).
The goal for Tong and about 120 other Miami students registered as fosters and sitters is to get the dogs through their puppy stage and socialize and train them so they will be ready to return to the 4 Paws facility to learn their future jobs.
"We want them to be as well prepared as they can be to go onto advanced training and then graduate so that they can make some kid's life measurably better by helping them out."
When she arrives at the tennis courts, Tong notes Buffett held a perfect heel across campus.
"That's a big ask for a dog. He deserves to run around and be a dog sometimes."
Seeking a permanent solution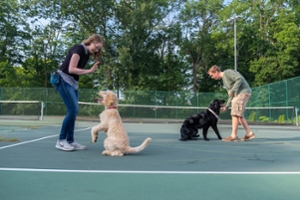 Tong said she's always thinking of the person Buffett may eventually serve.
Tong works with Buffett while Phillips works with Bonzo at the Wilson tennis courts (photo by Scott Kissell).
While the tennis courts have been a good temporary solution, they aren't ideal for dogs, Phillips said. The texture of the court's cement surface can be rough on their paw pads. On summer days, it can get too hot to let them play on it.
And because tennis players are always given priority, Tong said, the dogs are not able to run around on the courts if someone is playing tennis when they arrive or shows up to play.
On this summer morning, they're in luck. Only Phillips is there with Bonzo, a golden retriever-black lab mix who will turn a year old in October.
Phillips got involved in the program last fall after learning more about Paws for a Cause.
"I went to one of their meetings and absolutely loved the people there and getting to see all the dogs," said Phillips, who became a puppy sitter, a secondary handler position in the program.
Being a puppy sitter worked well for him because students living in residence halls are not allowed to foster the dogs. The handlers take the dogs with them just about everywhere, including to class and their on-campus jobs. But sometimes a sitter is needed.
"Most of the time fosters will have at least one class or work or something like that where they can't bring the dogs, so they'll usually need a puppy sitter," he said.
Phillips — now a co-foster handler with a senior living off campus who is able to house Bonzo — said it's a big commitment making sure the dogs are ready for advanced training so they can learn their specialization.
"I've been taking him places like the Cincinnati Zoo and Kings Island so he gets used to places like that."
People often ask the puppy raisers if they'll be sad when they have to say goodbye to the dogs. Sure they will be, but they remember why they signed up in the first place.
"When people ask, 'Oh, is he your dog?' I say I'm mom for the moment,'" Tong said. "You know it is going to make someone's life better, and they're not our dogs. That's why we call them our fosters because we know they are going to move on."
Added Phillips: "We love them, we put so much effort into them and so much energy, but in the end, they are going to go on and be assigned to a forever family."