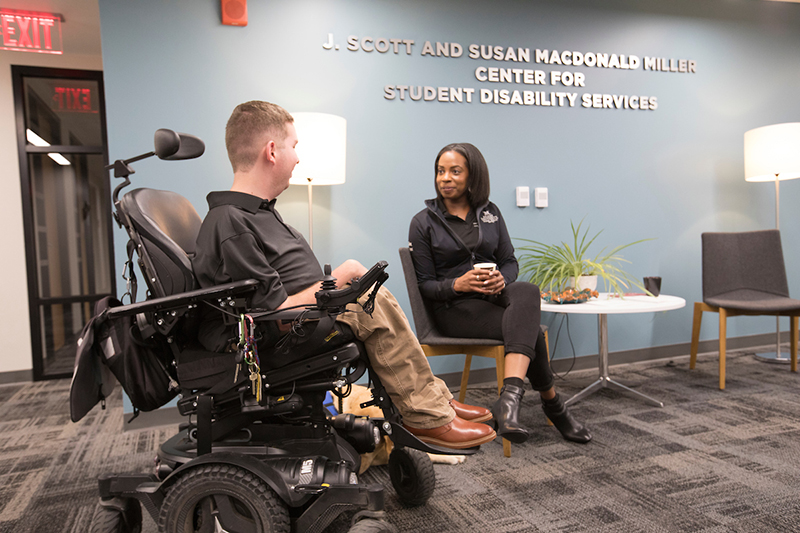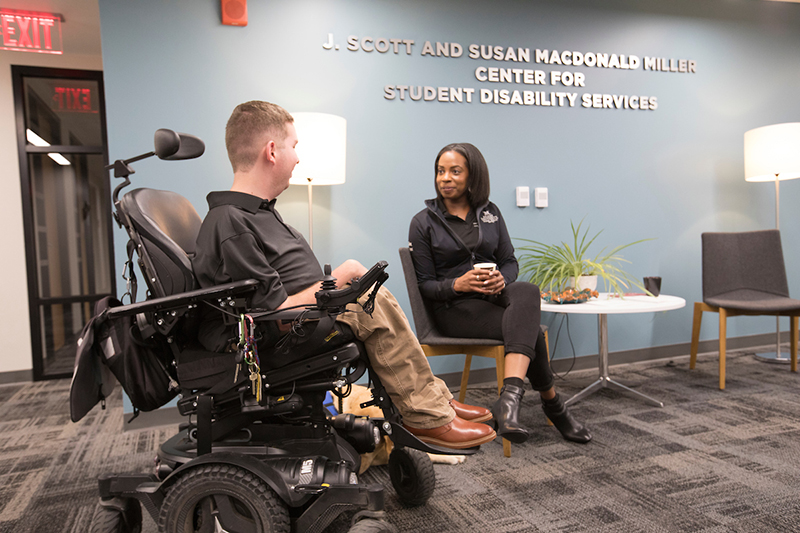 The J. Scott and Susan MacDonald Miller Center for Student Disability Services (SDS) provides services and reasonable accommodations to ensure equal access to education.
Photo: Jeff Sabo
Oct 24, 2019
State support helps Miami serve more students with disabilities
College2Careers Participants:

Bowling Green State University
Central Ohio Technical College
Columbus State Community College
Cuyahoga Community College
Kent State University
Lorain County Community College
Miami University
Ohio State University
Ohio University
Stark State College
University of Akron
University of Cincinnati
University of Toledo
Wright State University
Youngstown State University
Through a partnership called College2Careers, Miami is one of the first schools in Ohio to host a vocational rehabilitation counselor within its student disability services.

Ohio Governor Mike DeWine's budget for 2020-2021 invests in a partnership between Opportunities for Ohioans with Disabilities (OOD) and 15 of Ohio's state colleges and universities, called Ohio College2Careers, in support of his priority to invest in Ohioans with disabilities.

These funds will support an OOD vocational rehabilitation counselor (College2Careers counselor) in the colleges' disability services offices. Miami's Miller Center for Student Disability Services has already hired its College2Careers counselor, Wendy Taylor, who provides advice and counsel regarding vocational opportunities, career exploration, internships and career paths for students.

In her first two months, she has formed relationships with staff at the Center for Career Exploration & Success on the Oxford campus and the Career Services and Professional Development Office for the Regionals. She has met with student veteran offices. Taylor spends at least two days a week on the Regionals and is already also meeting with students, consulting with them to identify barriers to employment and discuss strategies to overcome them.
In the Oct. 24 announcement of the program at the Ohio statehouse, Miami President Gregory Crawford spoke on behalf of the participating four-year universities. This supports inclusion of all students, he told the audience. "It's interesting to note that as many as three-quarters of the students needing services have a disability that is not immediately obvious to another person. Among common examples are attention deficit hyperactivity disorder, anxiety and other mental health issues."

Crawford thanked the governor and OOD for the vocational rehabilitation counselors who will develop customized academic plans for students with disabilities, a boost to the services and accessible technology the universities already offer.

"This initiative not only allows us to offer additional supports to students with disabilities, but also connects participants to an expansive network of employer partners," said Kevin Miller, director of OOD.

It's anticipated 1,500 students will be served annually across Ohio.

Miami also has been recognized with the OOD's Employer Partner of Inclusion Gold Award for 2019.
The award recognizes Miami's commitment to the inclusion of individuals with disabilities in the workplace and being a leader of diversity and inclusion best practices in Ohio.