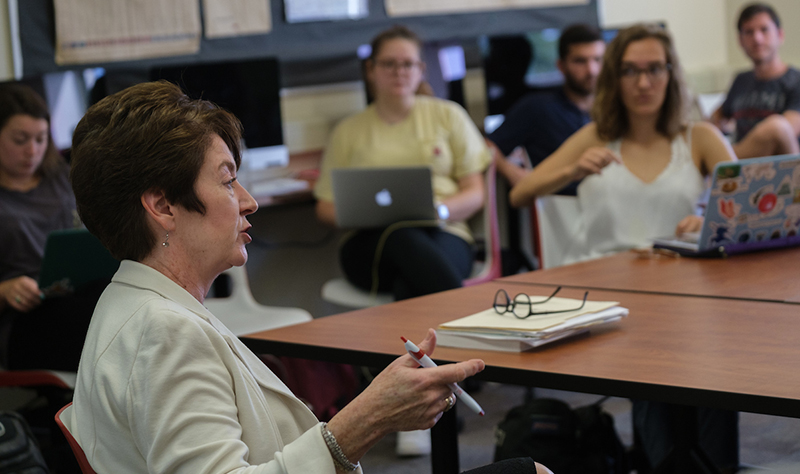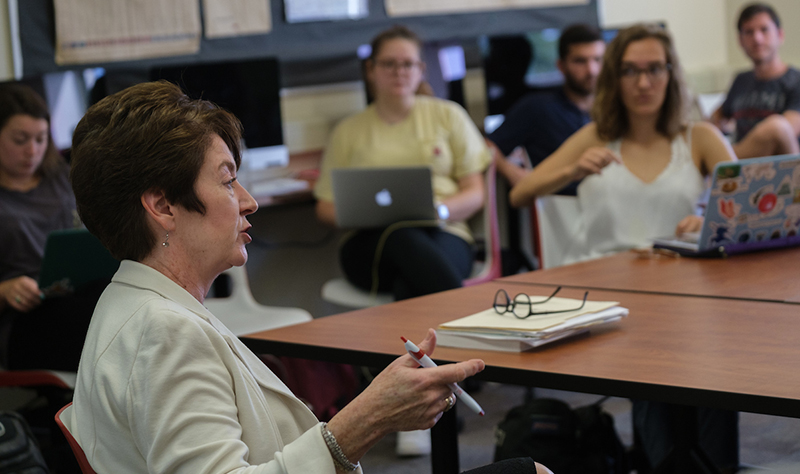 Patricia Newberry teaches students that digital technology provides new ways of reporting and storytelling.
Photo: Scott Kissell
Oct 03, 2019
Patricia Gallagher Newberry is the new president of the Society of Professional Journalists
In a Q and A, she talks about the new digital world of journalism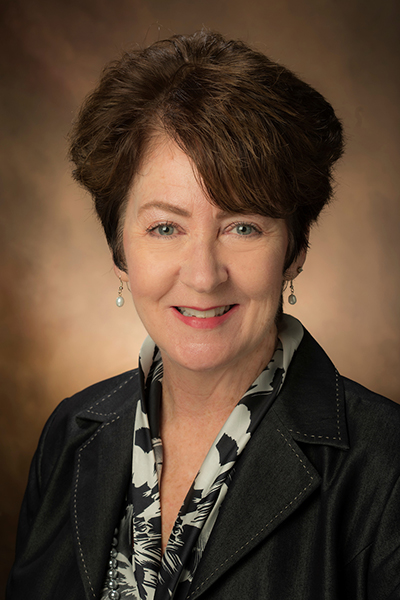 Patricia Gallagher Newberry
By Ryan McSheffrey, university news and communications intern
Miami University's Patricia Gallagher Newberry is the 103rd national president of the Society of Professional Journalists. She takes office this fall.  

The Society of Professional Journalists (SPJ), the nation's oldest and most well-known press advocacy group, covers a lot of bases. It advocates for the rights of journalists through statements, amasses and distributes legal defense funds and works to hone journalism-related skills among its members.

SPJ, which has some 6,000 active members, recently held its 2019 Excellence in Journalism conference in San Antonio, where journalists like Scott Pelley of CBS News and John Quiñones of ABC's "What Would You Do?" spoke. 

Newberry, who is the senior lecturer and coordinator of journalism in the department of media, journalism and film, is quick to say she wants a "pretty boring year." She has goals of turning the tide on membership loss, upping legal defense fund power and collaborating more with other media advocacy groups.

What's the one big issue facing journalism today?

When the internet arrived, it totally decimated the traditional business model, which was based on advertising and subscription as the two leading sources of revenue. The jobs have contracted, many newsrooms are about half what they were pre-internet, and the jobs are going to the digital world, mostly. That's a different business model which is less certain. 

How else has the internet affected journalism?

There has been an enormous change in reporting and storytelling during that same time. It's not just that newspapers and television stations lost their traditional ways of doing things, it's that there are many new ways of doing things that have been made possible by digital technology.

How have these changes affected the SPJ?

It's hurt our membership; we once were more than 10,000 members across the country, we now are just shy of 6,000. In the last 15 years or so, we have lost about 4,000 members, and that directly correlates to the industry's contraction. Once rich media companies are no longer rich, they shed jobs, and many places don't pay for SPJ memberships anymore. 

We're also competing with many new press advocacy groups from the internet age. We have something like 65 competitors, although we're still among the very largest, and we're definitely the oldest and best known. But the changes in journalism have created a challenge for us to stay vital, strong and financially viable.

How has the internet changed how stories are told?

The internet has totally opened up the possibilities for storytelling. It's no longer just words on a page: it's also more pictures, an album of pictures, video, audio, data, charts. It's allowed journalists to dig deeper and bring more entry points into a story.

How is SPJ helping journalists with these changes?

At Journalist's Toolbox, we have a long list of where to find information — for example, on how to use the U.S. Census. We also run workshops and sessions that we think will be relevant to journalists at each chapter. For example, SPJ is sponsoring the Google workshop which is coming to Miami Friday, Oct. 11.

How does SPJ advocate for press rights?

We give money, we make statements, we do some amount of lobbying, we support good legislation, we oppose bad legislation, and we work with partner press advocacy groups to try to amplify our voices.

With statements, for example, if a reporter has been subpoenaed to turn over all his records, SPJ would look at the particulars and decide whether to weigh in. If we do, we'll put out a statement on our website, Twitter and Facebook. We might sit for an interview if it's a big deal. We can't get involved with every dispute, so that's something the board of directors has to make calls on.

What else do you do to advocate for press rights?

Another thing we have is a legal defense fund. Often the kinds of people that come to us are freelance journalists who don't have a lawyer to back them up. For example, they can't afford the $1,000 a lawyer's going to charge them to help protect them. It can be small amounts, a few hundred dollars, it can be large amounts … typically we won't go beyond $5,000. 

How is SPJ involved with ethics?

We have a very strong presence. We have the most cited code of ethics in the country, and we do a lot in that regard. We have an ethics hotline. If a journalist has a question about the ethics of a particular news-gathering or news-presenting situation, he can call the ethics hotline and expect a pretty real-time response. They'll call you back, talk you through your situation. We're advocating for good ethics and good journalism, and our ethics hotline is one of the ways we do that.