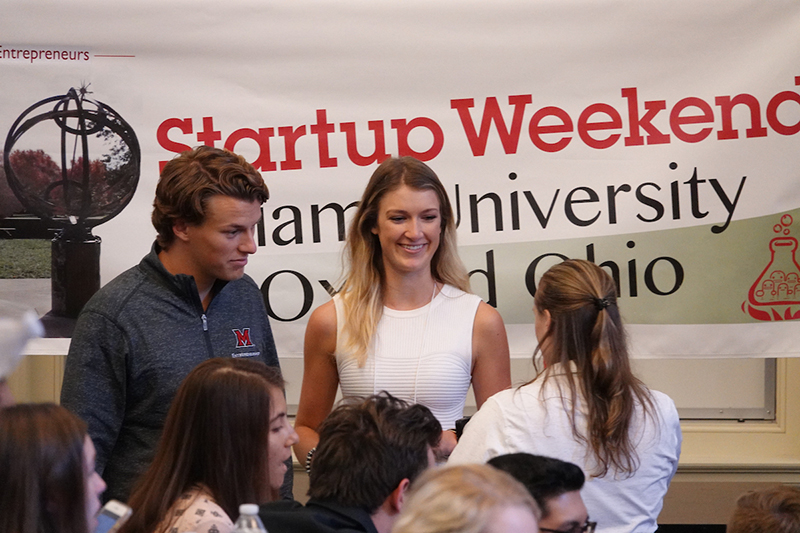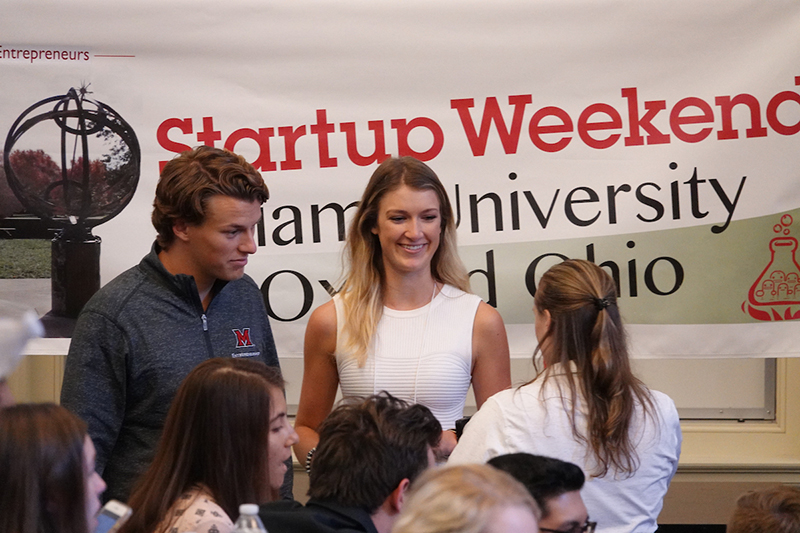 Students pitch ideas and creat plans during Miami's Startup Weekend.
Oct 04, 2019
Startup culture surrounds Miami
From a weekend of students teaming up to share ideas, network and learn from business mentors to a heavy presence in StartupCincy Week 2019, Miami University is exuding entrepreneurialism.
Oct. 4-6,
Miami's John W. Altman Institute for Entrepreneurship
is hosting students who want to solve big problems, meet with entrepreneurs, team up with other innovators (including designers), pitch ideas and leave with fresh connections and directions for their creativity.
Oct. 7-11, Miami faculty and alumni are among presenters and participants in StartupCincy Week 2019, at Union Hall in Cincinnati.
StartupCincy Week
is five days of free content showcasing the StartupCincy ecosystem - some show-and-tell, some Startup 101 and just cool content spread throughout, says Eric Weissmann, one of the week's organizers. 
Miami President Gregory Crawford is a featured speaker on "The Future of Work – How Miami University is Preparing Students for Jobs that Don't Yet Exist."
Some of the faculty, alumni, and Miami Entrepreneurs-in-Residence (EIR) leading sessions are:
Jeff Berding on "FC Cincinnati on the Rise: Entrepreneurship in Action."
Geoff Zoeckler and JL Zoeckler, both instructors in creativity and entrepreneurship, on "Design Thinking for Entrepreneurs."
Glenn Platt, director of Miami's Armstrong Center for Interactive Media Studies
David Willbrand (EIR) on "Funding Chalk Talk" and "Funding Both Sides of the Table."
Brett Smith, Cintas Chair of Marketing at Miami, on "Revenue-Based Financing."
David Eyman, lecturer in marketing, and Jim Friedman, the White Family Associate Clinical Professor of marketing, both in Miami's Institute for Entrepreneurship, on "Tips & Tricks for Improved Imagination, Creativity, and Innovation in the Entrepreneurial Process."
Daniela Tomusko-Yoder on "Solving the Valuation Riddle."
Eric Weissmann (EIR) on "StartupCincy – Lessons in Ecosystem Building."
Jack Weston, Miami '02, '03, managing partner and CFO at Hickory Wald Hospitality and co-founder of 3 Points Brewery in Over-the-Rhine.
Along with its
Boldly Creative
investments in new academic growth areas, and campuswide participation in entrepreneurship studies, Miami's focus on innovation meets the ideals of Ohio Lt. Gov. Jon Husted's
InnovateOhio
mission.