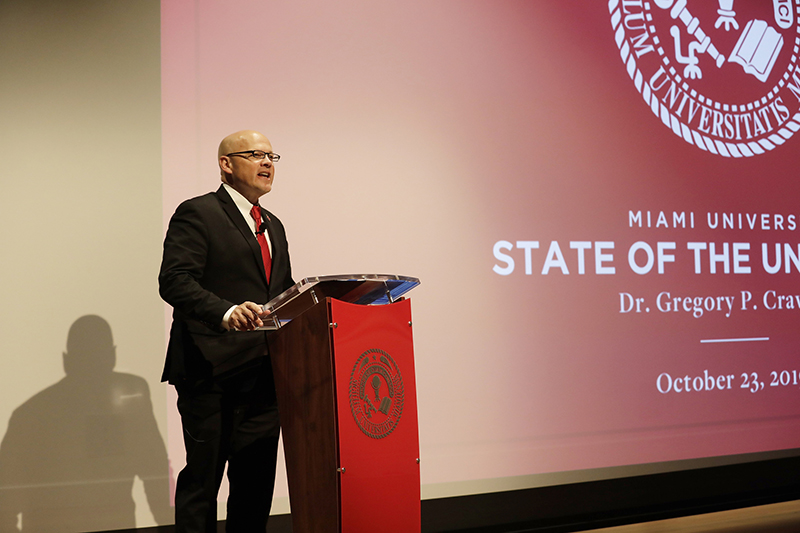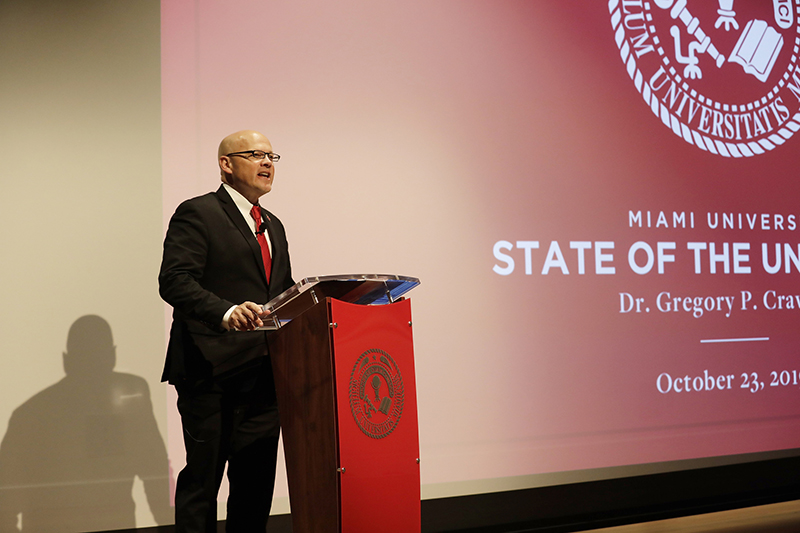 President Greg Crawford highlighted Miami's accomplishments of the past year and outlined the goals of MiamiRISE.
Photo: Jeff Sabo
Oct 24, 2019
President Greg Crawford: Miami must transform the way it delivers education
Annual Address celebrates Miami's successes
By Cliff Peale, university communications and marketing
Miami University's future lies as a "transformative university," a place where students create their own knowledge and serve as architects of their own education and future, President Greg Crawford said in his state of the university annual address.
In the Oct. 23 speech, President Crawford celebrated Miami's accomplishments of the past year while laying out a vision of the university's future. Following the address, Provost Jason Osborne helped launch the new MiamiRISE strategic plan.

Crawford said Miami can thrive in the changing world of higher education by adding graduate and professional programs, repurposing resources into growing areas and retaining a focus on the undergraduate experience.

"I remain certain of one thing," he said. "I have never seen any other university faculty and staff so committed to the student experience."

Crawford touted accomplishments spanning Miami's academic divisions and campuses, including:
Miami reached $24 million in sponsored research for the second consecutive year.
Students volunteered more than 40,000 hours of community service.
Entrepreneurship students launched several dozen companies.
The Ohio Work+ program at Miami Regionals launched to help students earn a degree without taking out loans.
Intercollegiate Athletics earned awards from the Mid-American Conference for the top men's and women's athletic programs and the top overall athletic department for athletic success, academics and citizenship.
To sustain its excellence, Crawford said, Miami must transform the way it delivers education – more experiential learning that spans traditional academic boundaries to prepare graduates for an ever-changing world.

"We must focus on creating an organization poised for dynamic change, nimble enough to invest resources where they can make the most impact," he said.

Crawford said Miami will closely examine its academic offerings and operations across all campuses. Miami will continue to invest; one example is the $50 million Boldly Creative fund, which already is supporting new initiatives in health care, data and analytics, automation and robotics. The resulting efficiency, reallocation and improved revenue will help Miami survive and thrive, he said.


Innovations arising from MiamiRISE could include a new Honors College and a reinvigorated Global Miami Plan, the president said. Future goals include pushing Miami to achieve top metrics in the country among public institutions, competing with peers in student retention, graduation rate, employment and closing the achievement gap.

He said the plan is not set in stone, because the speed of change today requires uninterrupted attention to finances, student needs, workplace trends and emerging markets.

"This is a whole new kind of strategic plan," he said.
Please share ideas on revising Miami's Global Miami Plan
MiamiRISE includes a mandate to revise the Global Miami Plan. The Liberal Education Council and the Global Miami Plan Revision Committee are organizing four listening sessions to gather comments, concerns and suggestions.
Staff, faculty and students are welcome to attend as many of the sessions as they would like:
Friday, Nov. 1
2-3:30 p.m.
200 Wilks Conference Center, Hamilton campus, with WebEx viewing at Middletown in 13 Johnson Hall
Tuesday, Nov. 5
4:30-6 p.m.
218 McGuffey Hall, Oxford campus
Friday, Nov. 8
2-3:30 p.m.
0026 FSB, Oxford campus
Thursday, Nov. 14
4:30-6 p.m.
301 Laws Hall, Oxford campus
 
To speak directly with the committee, please contact Shelly Jarrett Bromberg, jarretam@miamioh.edu or (513) 529-7136.