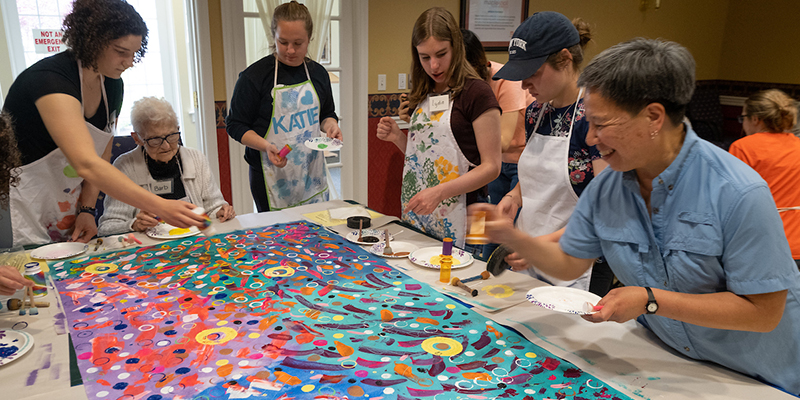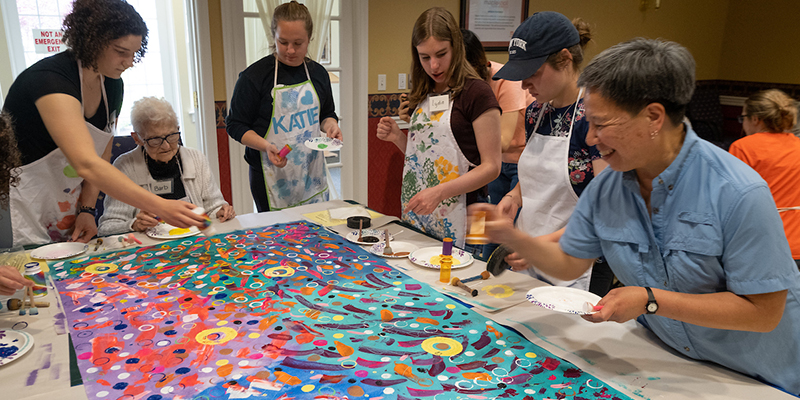 Opening Minds Through Art members work with residents at The Knolls of Oxford.
Dec 10, 2019
Opening Minds through Art initiative expands to medical schools, allied health partnerships
Contract with Ohio Medicaid links students with older Ohioans
By Cliff Peale, university communications and marketing
A new contract with the Ohio Department of Medicaid will help Miami University's Opening Minds through Art (OMA) initiative link students at the state's medical schools and schools of allied health with older Ohioans living with dementia.

OMA has signed a three-year, $872,907 contract with Ohio Medicaid committing to establish 36 such partnerships, which could include required field placements, clinical placements and capstone courses, said Elizabeth Lokon, director and founder of OMA, which is based in Miami's Scripps Gerontology Center.

"We find that it can be a challenge to find a dedicated source of volunteers," Lokon said. "These partnerships will help us address the challenge and meet the ongoing goal of providing meaningful creative experiences to people living with dementia. The long-term goal is to create social change, to build a society that is more inclusive of older adults by changing the minds and hearts of young people."

Beyond medical schools, other health care-related programs involved could include nursing, occupational therapy, speech-language pathology and social work.

"Because an increasing majority of physicians' clients are older adults, physicians of all specialties and their patients will benefit if physicians have person-centered values and skills to communicate with older adults on the entire continuum of care," Lokon said.

Previously, OMA completed a three-year, $717,852 contract with Ohio Medicaid to bring OMA to nursing homes. Nationally, it has established a training network for high school and college students to create art with nursing home residents with dementia. More than 2,000 Miami students are among those participating, and the model is replicated in more than 150 locations in the U.S. and Canada.