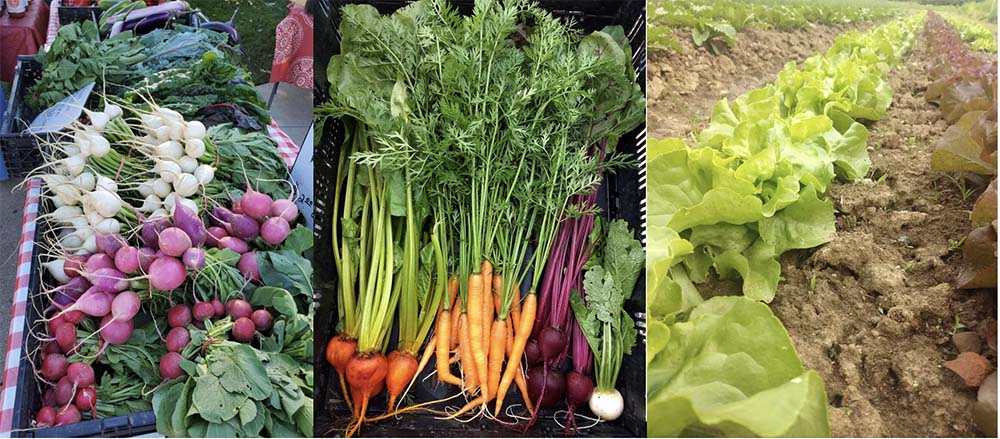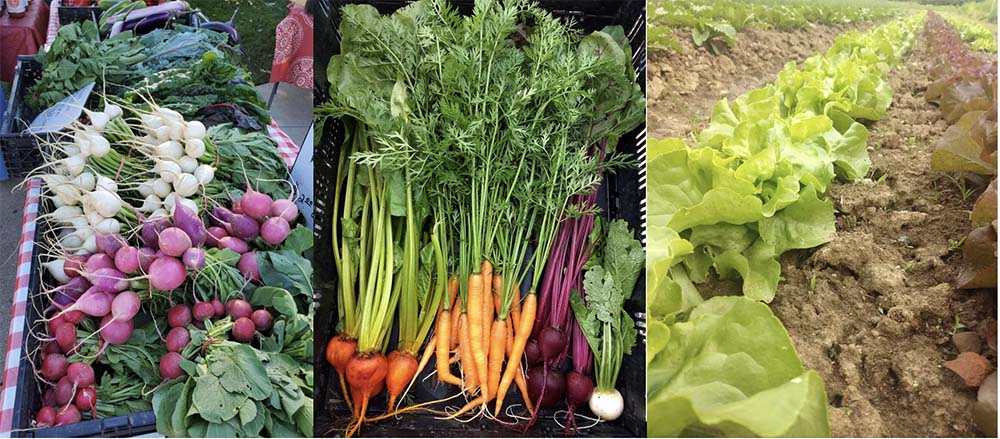 CSA members can look forward to produce such as this in spring (left), fall (center) and spring/summer.
Photo: All photos courtesy of Institute for Food
Feb 27, 2020
Join the Institute for Food farm CSA: Support your health, sustainability and innovative education
By Susan Meikle, university news and communications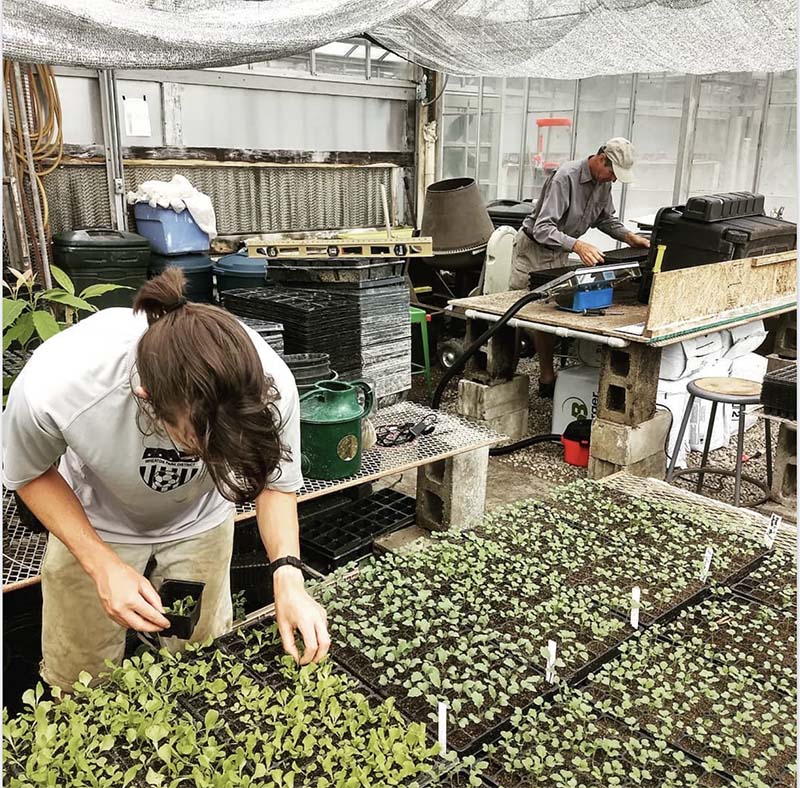 Thinning seedlings at the Institute for Food farm. CSA members share the harvest when the plants mature.  
If you want to decrease your carbon footprint, increase your dietary health and support sustainability education — and have a weekly supply of fresh organic vegetables — consider joining the Community Supported Agriculture (CSA) program offered by Miami's Institute for Food farm. 
CSA share subscriptions are available to all — students, Miami and Oxford community members — on a first-come, first-served basis.
Learn more through our Q&A:   
What is CSA?
Community Supported Agriculture is a direct farm-to-consumer market model. Members (subscribers) pay for a share of a farm's harvest in advance of the growing season. Each week during the harvest season, members receive a share of what the farmer grows. 
Produce is organic, fresh and local. Most of the produce for the Institute for Food (IF) farm CSA members will be harvested the day of or the day before pickup and will travel only several miles from the farm on Somerville Road just past Yager Stadium.   
That sounds great. But I would like a variety of vegetables. How do I know I won't receive kale every week?
The farm produces a wide range of crops. The CSA harvest begins in May with a variety of leafy greens and spring vegetables. As the days get warmer and longer, CSA shares are filled with a bounty of summer vegetables from tomatoes and peppers to eggplant, chard and corn.
In the fall, the weekly shares shift toward cold weather greens like kale and spinach, along with potatoes, winter squash and broccoli. You can expect familiar vegetables as well as a few novel items like fennel and kohlrabi.
Is the CSA right for me if I can't eat a bounty of vegetables each week, since I am not feeding a family of four?
Yes: This year — in response to similar concerns — the farm is offering new share sizes:
Single shares for individuals.
Double shares for two people.
Okay, but I don't often have time to clean and prepare lots of produce each week.
The farm staff can help. Another new offering this year is based on convenience: Produce is cleaned and prepared for you. 
Deluxe Share (for two people): Sign up for this option and you can pick up a grab-and-go, prepacked box filled with refrigerator ready produce.
I would like to invest more in healthy food, but how much does this cost?
Less than lunch for two per week. 
Depending on which share type you sign up for, the cost can be less per week than buying lunch for two at one of Miami's buffet dining centers ($10.45/lunch).
There are two 14-week periods: Summer: May 21-Aug. 20; and Fall: Aug. 27-Dec. 3.
You can sign up for one or both periods.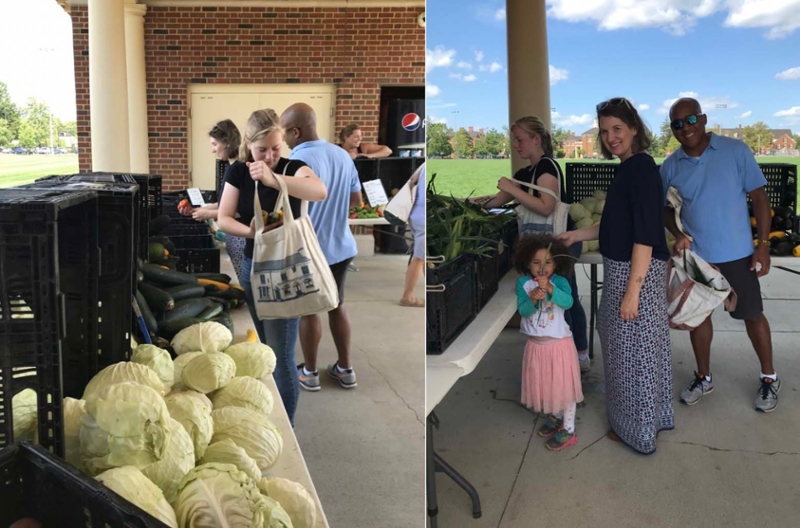 CSA members pick up weekly shares at the Cook Field Pavilion on Thursdays from 3:30-5:30 p.m.
Single Share: $180 (summer or fall); $325 (summer + fall)
Double: $280 (summer or fall); $525 (summer + fall)
Deluxe: $350 (summer or fall); $635 (summer + fall)
How convenient is the weekly pickup? 
The farm staff aims to make pickups quick and easy. No need to drive to the farm: 
Pickup is every Thursday from 3:30-5:30 p.m. at Cook Field Pavilion.
There are four designated parking spots for CSA members near the pavilion during the pickup period. No need for a parking permit.
Sign me up! How do I join?
Fill out the form and submit your payment online. 
Print out the CSA sign-up form on the Institute for Food blog and drop it off with your payment at the Institute for Food, 120 Shideler Hall. 
Still considering? Some tips:
Check out the weekly CSA blog posts from fall 2019 for photos and lists of the produce offered each week.
Bonus: sign up by March 1, receive four weeks of pre-CSA spring greens
A variety of spring greens are among crops grown at the farm.
Sign up and pay by March 1 and you will receive a pre-CSA spring greens share — a variety of lettuce, arugula, mixed greens, spinach, radish and green onions — for the last four weeks of spring semester (mid-April to mid-May.)
Another benefit: CSA members are invited to bring their food waste to the compost bins at the farm.
Support food security in the community: Option to donate shares
Want to support food security and access to healthy food in the local community? 
The farm offer an option to purchase a CSA share to donate to Talawanda Oxford Pantry and Social Services (TOPSS, formerly the Oxford Community Choice Pantry).

The Institute for Food donates fresh produce to TOPSS 

each week during the growing season. 
More questions?
Contact Peggy Shaffer, coordinator of the Institute for Food, professor of global and intercultural studies, and affiliate of the Institute for the Environment and Sustainability at ifmiami@miamioh.edu. 
Supporting more than agriculture: Sustainability and innovative education
By subscribing to the CSA and purchasing produce from the farm, members of the Miami community are making an investment in sustainability and innovative education, Shaffer said. 
The Institute for Food farm supports a model partnership. It brings together academic disciplines ranging from environmental science to supply chain management and social entrepreneurship to nutrition and dietetics. It partners with diverse units across campus including student affairs, dining services, health and wellness and physical facilities.   
A unique opportunity: Miami's is the first working farm at a university in Ohio (that does not offer a crop science degree) that provides a CSA.