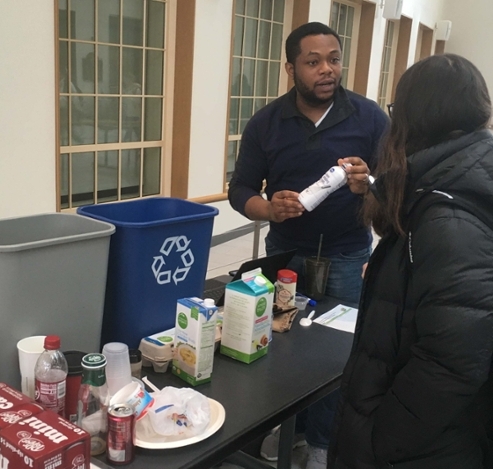 Feb 18, 2020
Refresh your recycling know-how during RecycleMania 2020
By Susan Meikle, university news and communications
Cecil Okotah, Miami University's recycling coordinator, and Olivia Herron, sustainability coordinator (both graduate students in environmental science) are helping the Miami community improve its recycling prowess during RecycleMania 2020.
The national collegiate recycling tournament — during which schools compete to recycle the most during the eight-week tournament period — celebrates its 20th year and hundreds of millions of pounds of waste recycled. Did you know it was co-founded by Miami and Ohio universities in 2001?
RecycleMania 2020 started Feb. 2 and runs through March 28.
While Miami makes it easy to recycle on campus (just place your recyclables in the single-stream blue bins) non-recyclables sometimes end up mixed in. These contaminated loads are sent to the landfill.
Conversely, items that can be recycled often end up in the waste bins and off to the landfill. How often? Miami's EcoReps conduct trash audits in residence halls each semester to find out.
EcoReps president Allison South, a junior political science major and energy co-major, reports that the EcoReps' trash audits from fall 2019 found an average of 28.9% of residence hall trash by weight could have been recycled instead. This is a slight improvement from spring 2019 at 30.7% and fall 2018 at 33.9%, she said.
Okotah answers many questions about recycling on campus and the particular items accepted by Rumpke Waste and Recycling. Rumpke collects recycled materials from the single-stream blue bins on campus and curbside for Butler County.
Can you answer Okotah's top four recycling questions?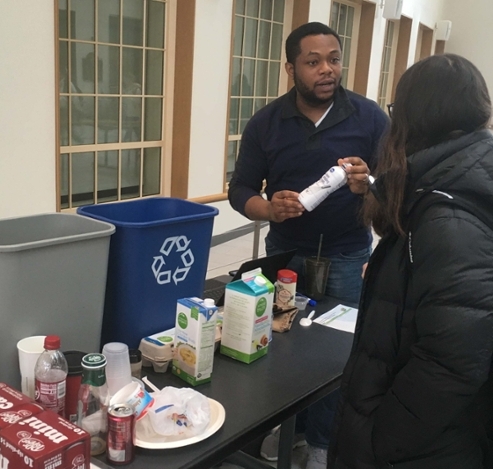 Cecil Okotah, recycling coordinator, answers questions about recycling on campus.
My plastic container (yogurt cup, clamshell container, juice bottle, etc.) has a number and recycling symbol on the bottom. Does that mean I can recycle it?
Can I recycle my pizza box?
Can I recycle my paper coffee cup since it has a paper sleeve? 
Can I recycle plastic utensils (fork, spoon, knife)?
Watch the video to learn learn the answers and more about what can be recycled or not on campus.
Go to the sustainability website for a list of currently accepted recyclables and specialty recycling on campus.