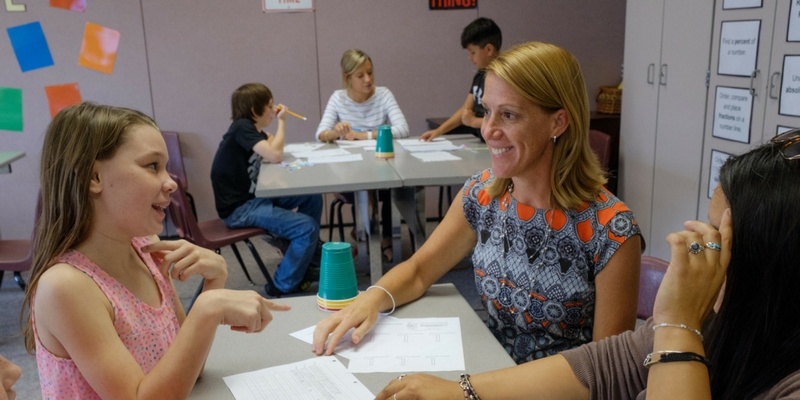 Feb 20, 2020
Sarah Watt receives Knox Distinguished Teaching Award
By Susan Meikle, university news and communications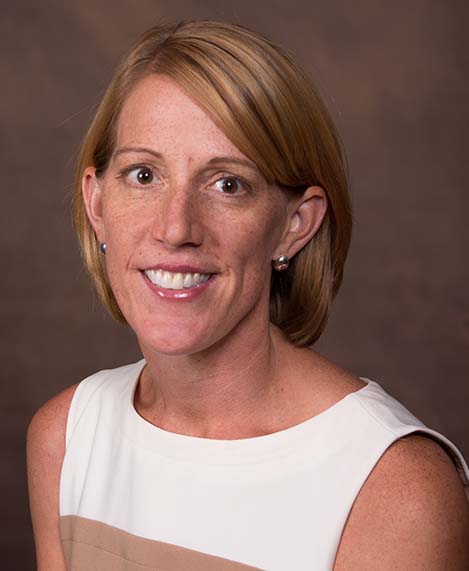 Sarah Watt
Sarah Watt, associate professor of educational psychology, is the recipient of the 2020 E. Phillip Knox Distinguished Teaching Award.
The award recognizes faculty members who demonstrate creative, innovative and engaging teaching methods at the undergraduate level.  
"It is challenging to think of a more dedicated, forward-thinking educator who is devoted to student learning," said a faculty nominator about Watt.
Watt's teaching and research focuses on math instruction for K-12 students with disabilities, providing access to the general curriculum for struggling learners, and strategies that support the development of math content knowledge in special education teacher candidates.
She will be recognized at the University Awards reception to be held from 4:30-6 p.m. Tuesday, March 17, in Armstrong Student Center.
"The students I teach have a better learning experience because of the way Dr. Watt teaches me"  
Watt's students, who are teacher candidates in special education, describe her as teaching with "passion and compassion."
She provides tangible activities that students often use in the field, sometimes the next day, according to her students. One student nominator said, "I have come to expect that when I walk into her classroom, I will be spending time sitting on the floor, working with manipulatives and constructing my own knowledge."
"The (K-12) students that I teach have a better learning experience because of the way she teaches me to teach them," another student nominator said.
Still another student said after sitting in on one of Watt's classes as a prospective student, "I realized that I wanted to be a special education teacher and come to Miami, due largely to Dr. Watt."
School partnership provides "awesome experience," lessons that "motivate even the unmotivated"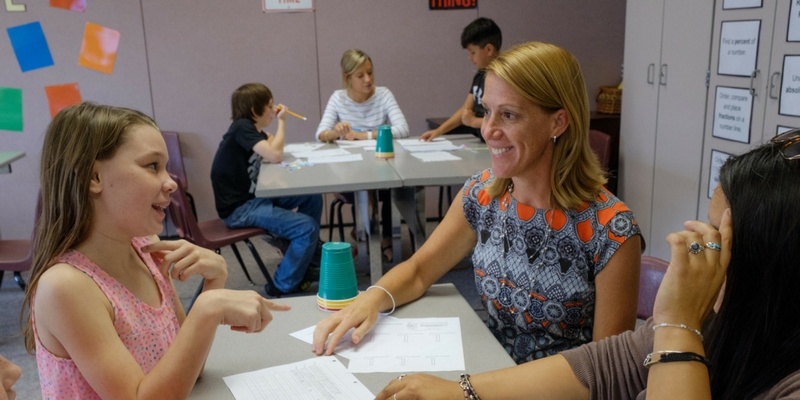 Watt with Math Club and capstone students (photo courtesy James Loy).
Watt implemented an after-school Math Club for sixth graders at Talawanda Middle School. It brings together professional teachers, struggling students and special education teacher candidates.
Last semester, Watt's capstone course students served more than 60 sixth graders who opted to attend the after-school club. "Just being able to attract this number of (middle school) students to an optional academic activity at this age is an impressive feat," a faculty nominator said.
One math teacher stated that Watt's students consistently come to Math Club tutoring sessions with "lessons that motivate even the unmotivated."
"My sixth grade students look forward to staying after school to learn math. Dr. Watt is the main reason why my students love this program so much," she said.
One of Watt's capstone students said the course "has been the best course during my time at Miami. The partnership created an awesome experience where we were able to literally demonstrate and practice the strategies learned in the course in a real-world setting with our professor and other educators to support us and learn from."
Watt has met the "gold standard" in teacher education research by showing that Miami's teacher candidates are making a difference in the achievement of K-12 students in schools, according to a faculty nominator.
Watt's research around the program shows significant increases in the self-efficacy of the special education majors who "now feel much more confident, comfortable and prepared to teach mathematics." She also found significant increases in the sixth graders' motivation and performance.
In other courses, Watt uses innovative and evidence-based practices such as embedding virtual field experiences and Lesson Study, in which she guides teacher candidates in creating and assessing videos of their own teaching.
Through these experiences, teacher candidates learn to connect content with community, appreciate diversity and hone valuable collaboration skills, according to her nominators.
---
Watt joined Miami in 2013 after receiving a doctorate from the University of Iowa. Previous to her doctoral work she was a K-8 special education teacher for nine years.
Faculty candidates for the Knox award are nominated by their peers and selected by the Committee for the Center for Teaching Excellence.
Established by Miami alumnus E. Phillips Knox ('68), the award is presented to faculty members whose achievements unequivocally merit recognition for excellence in teaching along dimensions such as learning through inquiry and experimentation; awareness and appreciation of cultural diversity; or active participation in experiential learning and community partnerships.  
Award winners receive a professional expense allocation of $3,000.