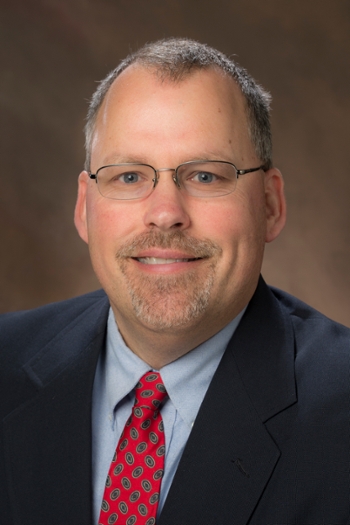 Mar 27, 2020
Michael Crowder named associate provost and dean of the Graduate School
He also will be interim vice president for research and innovation
By Margo Kissell, university news and communications
Michael Crowder, professor and chair of Miami University's department of chemistry and biochemistry, will become associate provost and dean of the Graduate School on July 1.
Crowder also will serve as interim vice president for research and innovation (VPRI).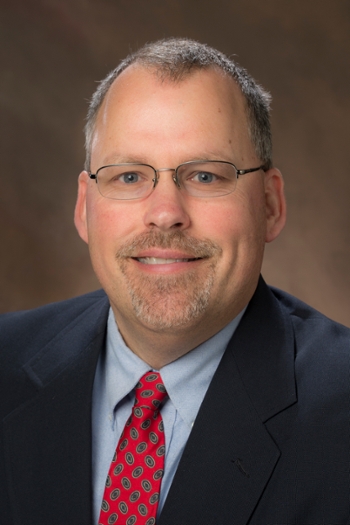 Michael Crowder
Jason Osborne, Miami's provost and executive vice president for academic affairs, said Crowder's significant success with external funding, his mentorship of graduate and undergraduate students in his lab and his leadership of a large, research-active department made him a great choice to fill this role on an interim basis.
"We face some significant financial challenges at Miami, and as such, I did not feel good about hiring a permanent VPRI right now," he said. "Yet we have much potential in research and sponsored programs, and our MiamiRISE strategic plan has goals in this area we need to honor also."
Crowder wrote in his cover letter that he's interested in the new and exciting changes in the graduate school as prompted by MiamiRISE, which aims to drive transformational change to guide Miami through unprecedented volatility in higher education.
"I am particularly excited about Miami's increased interest in graduate education and its role in cutting-edge undergraduate programs and in new revenue sources," he wrote. "I am also very interested in developing new, fee-paying graduate programs/certificates."
Last year, Crowder took the lead on a Boldly Creative proposal, which has been funded and involved the creation of graduate programs in physician assistant, nurse practitioner and doctorate in nursing areas.
He said he has enjoyed working on the development of the physician assistant program and with the design of the proposed Clinical Health Sciences Building.
"I am committed to making sure these programs are developed correctly and for long-term success," he wrote.
Osborne said he and President Greg Crawford determined Crowder was a good fit for the role of dean for several reasons, including that he's been a long-serving and successful chair.
"He presented clear ideas for graduate education while at the same time helping people feel heard as they talked about concerns or ideas," the provost said.
Crowder will work closely with Jim Oris, vice president for research and innovation, until he retires June 30.
A commitment to the teacher/scholar model
Crowder — who has been chair since 2013 — joined Miami in 1995 as an assistant professor. He served as the Ernest H. Volwiler Distinguished Research Professor in Chemistry from 2006-2009.
He earned his doctorate from the University of Virginia in 1992 and was a National Institutes of Health postdoctoral fellow at Penn State University from 1992-1995.
Miami is primarily an undergraduate institution and has many graduate programs in several areas, including a Ph.D. program in chemistry and biochemistry, he noted.
"My main attraction to Miami was its commitment to the 'teacher/scholar' model for faculty, and I have enjoyed teaching and doing federally-funded research with unbelievably talented students."
During his time at Miami, he has been awarded more than $7 million in external grants, including two National Science Foundation - Research Experiences for Undergraduates site grants, two Beckman Scholars Program Institutional Awards Scholarships and eight multi-user instrumentation grants.
He has published 110 peer-reviewed publications with 47 undergraduate and 25 graduate co-authors.