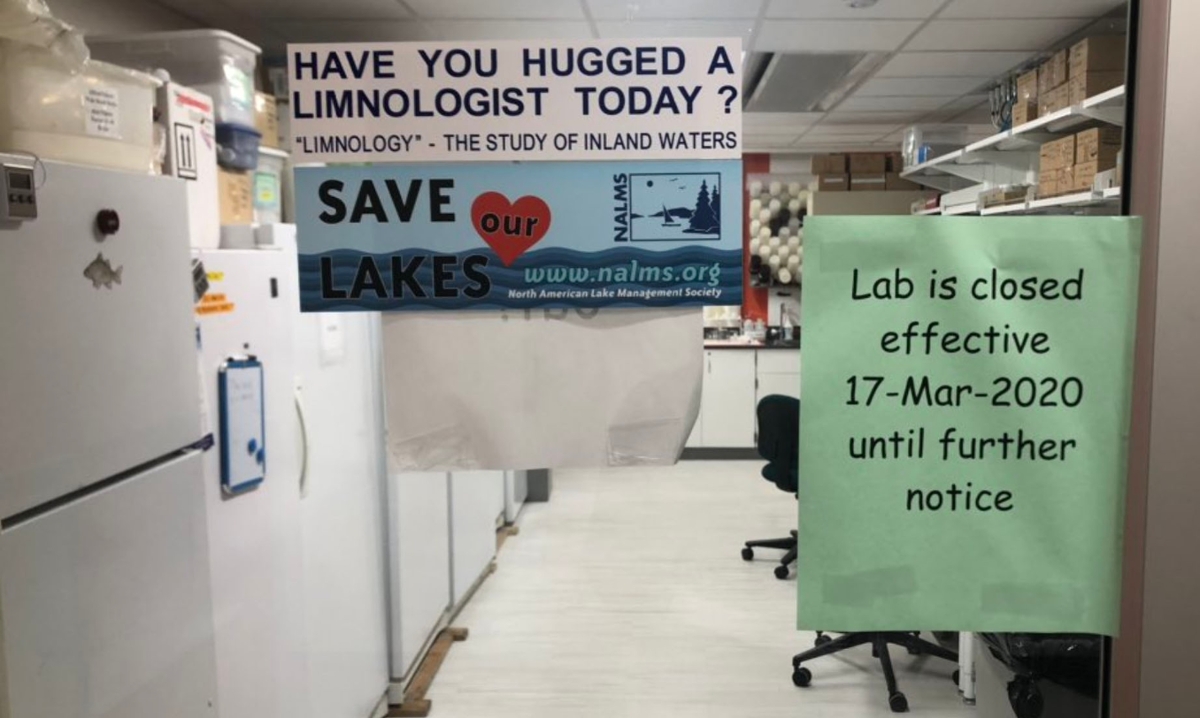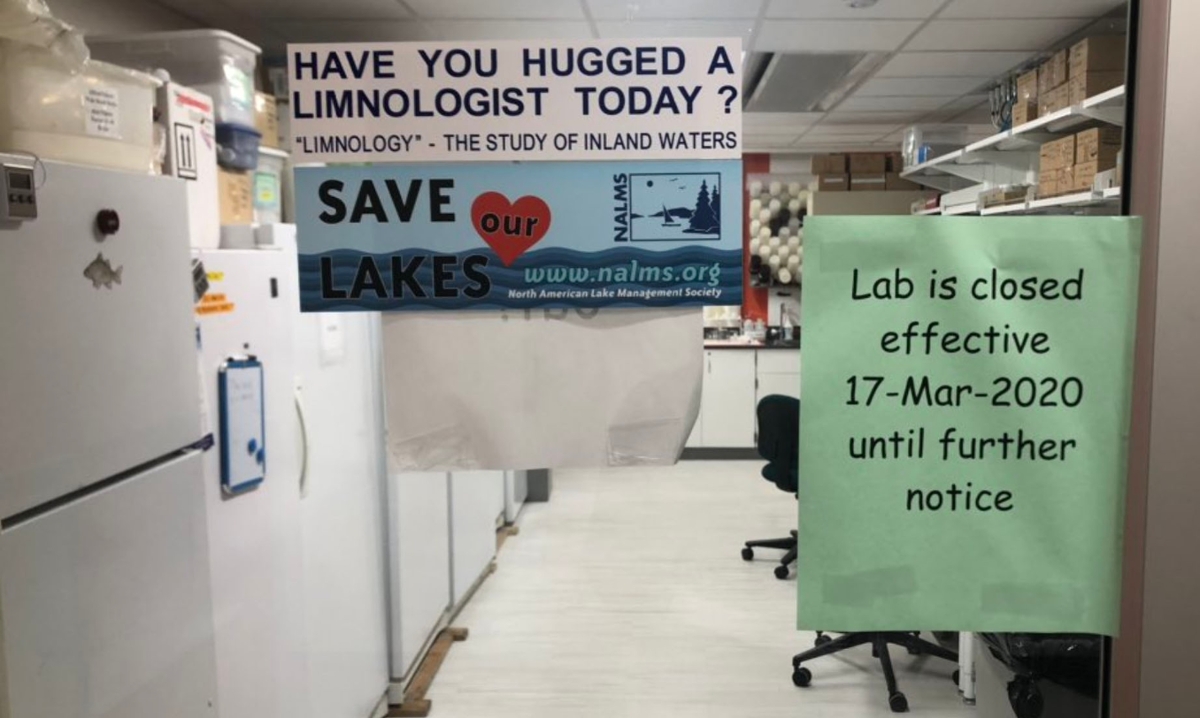 Data collection takes a break, but data analysis and writing continue at home. Mike Vanni's aquatic ecology lab, above.
Photo: Mike Vanni
Apr 13, 2020
How do campus research labs pause during #StayAtHomeOhio?
Data collection takes a break: Snapshots from several research facilities
By Susan Meikle, university news and communications 
What happens when campus research labs working with animals and plants must pause due to the coronavirus pandemic? 
While researchers continue data analysis and writing at home, some data collection takes a break. 
Here is a snapshot of how several Miami faculty and staff closed down campus research and teaching laboratory facilities in preparation for Gov. Mike DeWine's (Miami '69) stay-at-home order last month.
Spider Lab:  Spiderless for now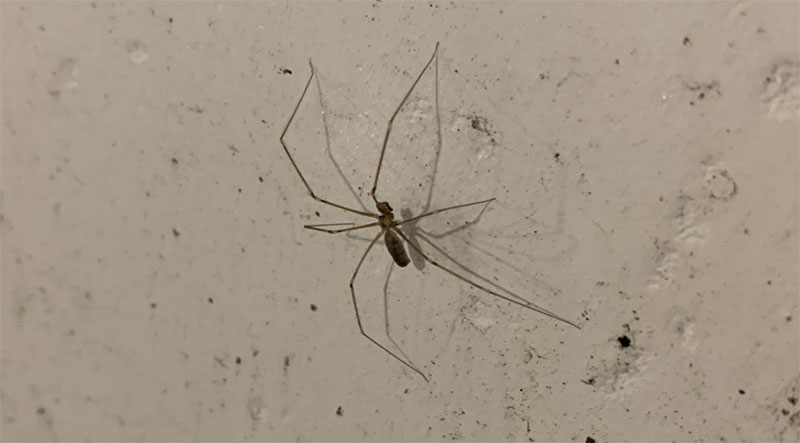 A cellar spider (collected locally) explores the North Parking Garage (photo by Ann Rypstra).
After setting more than 500 cellar spiders and wolf spiders free last month,  Ann Rypstra's Spider Lab is spiderless for the first time.
Don't worry about extra spiders on the loose, she says. The cellar spiders were collected locally in barns, basements and parking garages, and the wolf spiders were collected from Miami's Ecology Research Center, which she directs.
Rypstra, University Distinguished Professor of Biology, researches the behavior, ecology and diversity of insect predators. Spiders are the focus of most of her lab groups' studies since they are common, diverse and relatively easy to manipulate in field and lab experiments.
"All the released spiders will keep insect densities in check when the humans are not around to step on them," Rypstra said. "We are hoping that they do well and we can capture their offspring for future experiments." 
Graduate students' spiders #StayAtHomeOhio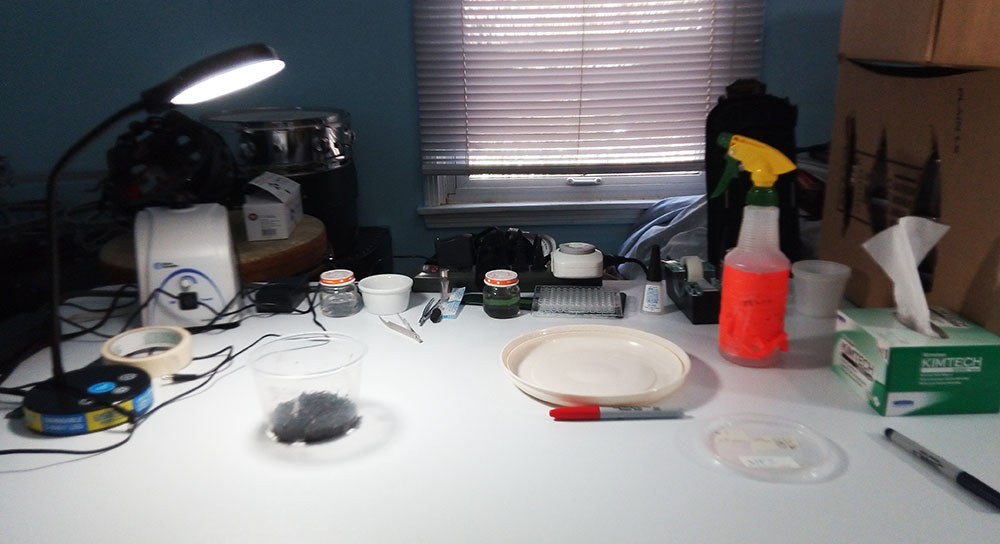 Graduate student Jake Godfrey set up a home lab for observing wolf spiders (photo by Godfrey).
Some of the spiders were in experiments underway by graduate students that started more than a year ago, Rypstra said.  "Cutting those experiments short would have potentially added two years to their Ph.D. programs, so those spiders are staying at home with their graduate investigators."
Jake Godfrey (Miami M.S.'17), a third-year doctoral student advised by Rypstra, is one of those students observing stay-at-home orders with his experimental spiders.  
His research explores how various environmental factors that occur in agricultural fields influence a species of wolf spider that is important to biological control. 
At home, he is monitoring the developmental rate, appearance, behavior and immune response in the common wolf spider.     
Automated stream samplers take a break after 26 years at Acton Lake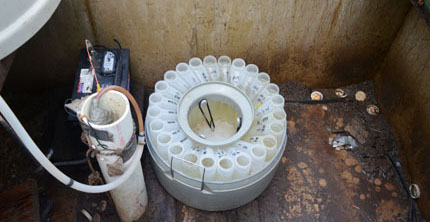 This stream sampler has been collecting water samples every 8 hours for 26 years (photo by Carrie Ann Sharitt).
Automated water sampling equipment — and undergraduate student researchers to help process water samples in the lab — are necessary for ecologist Mike Vanni's long-term environmental research.
Vanni, professor of biology, has studied Acton Lake and its watershed for more than 25 years.
But last month Vanni had to shut down the automated stream samplers.
Workhorses in the field, the samplers had been taking samples of stream water every 6-8 hours since 1994.
Vanni said that while there is little risk (due to the coronavirus) in doing the fieldwork, processing the samples in the lab afterwards is not permitted during Ohio's stay at home orders.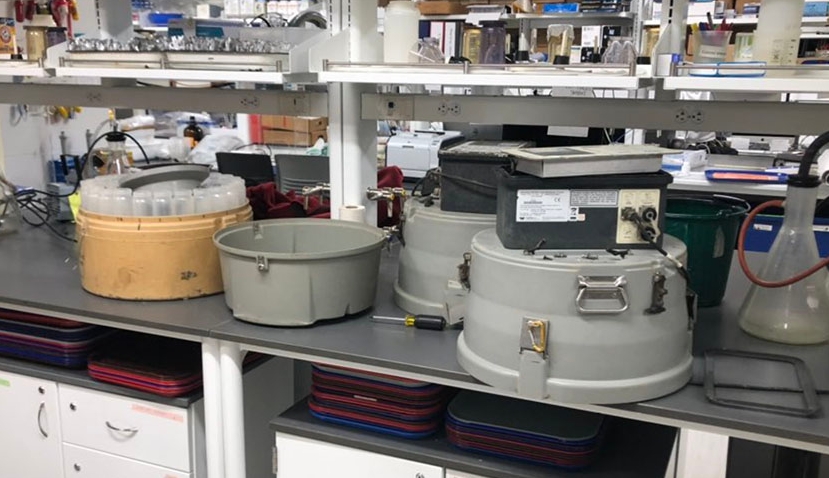 Mike Vanni's stream water samplers now wait in his lab until fieldwork can begin (photo by Vanni).
 "We will get the samplers running again as soon as possible," Vanni said.
His research on Acton Lake, a reservoir in Oxford, Ohio, has been supported continuously since 1994 by the National Science Foundation (NSF). He and his research team received their fourth NSF Long Term Research in Environmental Biology (LTREB) grant in support of this project
Maria Gonzalez, professor of biology, and Bart Grudzinski, assistant professor of geography, are co-principal investigators on the project.
It has provided research opportunities for more than 100 Miami undergraduate students over the years.
Stocking up on frozen squid helps lab crabs #StayAtHome
Dawn Blitz  associate professor of biology, researches how animals produce different versions of behaviors. 
She uses the nervous system of the Jonah crab, Cancer borealis, as her research model, and takes care of a small number of them in her lab.
"The crabs made the long journey from the northern Atlantic Ocean and could not easily be returned to their natural habitat," Blitz said, when she had to close down her lab last month due to the stay at home orders.
So she stocked up on crab food — frozen squid — and left her crabs "in the very capable hands of Miami's animal facility staff," she said.

Some of the invertebrates (crab and brittle star) under the care of Debbie Fackey at the Regionals (photos by Fackey).
Essential on campus: Animal care, plant care at Hamilton Conservatory  
During a normal semester, Debbie Fackey, laboratory coordinator for the department of biological sciences on the Hamilton campus, prepares teaching labs for biology classes each week and takes care of animals used for an invertebrate biology course.
Since the stay-at-home order, Fackey, an essential staff member, reports to work on campus to take care of plants as well as animals.
She feeds the animals — crabs, brittle stars and shrimp — and maintains the aquaria they live in.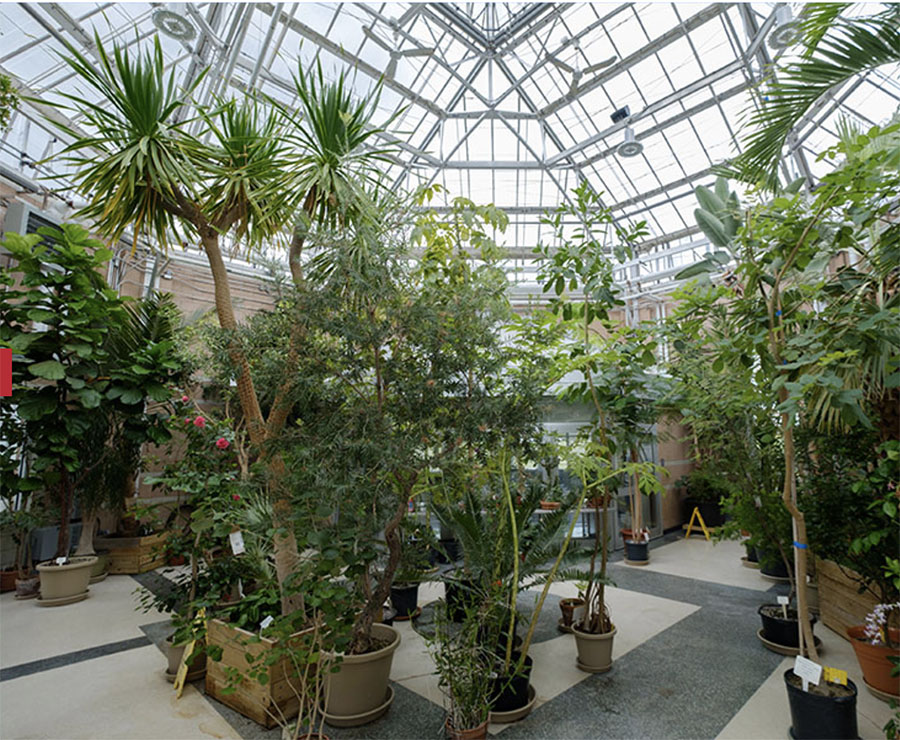 Some of the 1,100 plants in the conservatory at Miami Hamilton (closed to the public for now).
She was also called on to assist with the care and maintenance of more than 1,100 plants at the conservatory at Miami Hamilton. 
Without the usual student staff available, Fackey now works with interim conservatory manager Chelsea Obrebski. Plants there require daily watering, pruning and other maintenance.
Until Miami students are back on campus, Obrebski and Fackey will continue to work Mondays through Saturdays.
Fackey's background in botany — she is a Miami '08 graduate with a major in botany— and her previous experience as a student staff member at the Conservatory (2005-2008) make her invaluable, and essential, on Hamilton campus.