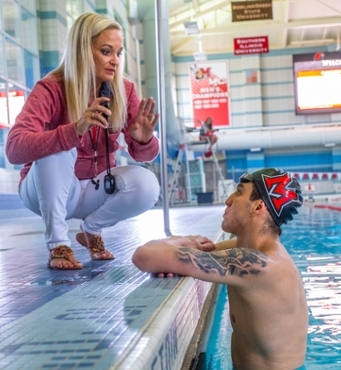 Apr 15, 2020
Q-and-A with Hollie Bonewit-Cron on staying connected with her student-athletes
Watch the video she sent to the swimmers and divers
By Margo Kissell, university news and communications
Hollie Bonewit-Cron, head coach of Miami University's men's and women's swimming and diving, has stayed connected to her student-athletes and their families during the COVID-19 crisis.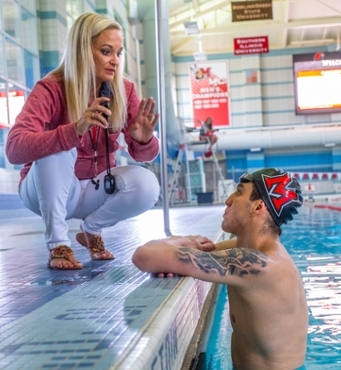 Bonewit-Cron, who is completing her fourth year as coach, became the first female head coach in Mid-American Conference (MAC) history to lead a men's team — in any sport — to a MAC championship in 2018-2019.
We checked in with her this week to learn more about how she is staying connected to her student-athletes and what life is like at home for this mother of three who is homeschooling two young daughters.
Tell me a bit about the Weekly Updates newsletter. Why did you want to do that?
I wanted to keep our student-athletes updated on the most relevant information as well as provide a more personal look into what the coaching staff is doing during this time. I have included links to schedule individual meetings for our end-of-season conversations as well as a link in order to elect our new captains for the 2020-2021 year. I have also provided them with an inside look at how we as coaches occupy our time when we are not working… It has been a joy to give our student-athletes a glimpse into our interests outside of caring for their needs.
I bet the swimmers appreciate them. What kind of reaction have you received? 
They do appreciate the newsletters. I feel it is something tangible they can go back and review if needed. The same can be said for the videos I send to them. One in particular that I sent was of the Miami pools (competition pool and diving well). I had one student-athlete message me to let me know that it brought her to tears seeing the pool. Our student-athletes really value their Miami experience and their training facility is no exception.
Tell me more about the videos.
The videos are my messages to the team that basically tell them that I am thinking about them and their families. I generally take them after I come back from my runs, so I have the baby with me and it gives some levity to the situation and hopefully something to smile about. I think about the team all the time, and the videos are a great way to share not only my thoughts, but to also show them portions of Oxford, such as my neighborhood. 
You plan to send handwritten cards to the parents of seniors? I am still working on the cards. They take time as I want to be sure I convey my sincere gratitude for their commitment both to the student-athlete and their equally supportive parents. I can only hope that they can see how truly grateful I have been for their four years with their 'buy-in' and how happy I am to see them launch into the next phase of their lives.
Are some of the swimmers from hard-hit states such as New York?
We only have a few from the hardest hit states, but they are managing well. We have some internationals that were able to get back to their respective countries before airline travel began to dramatically change. All of our student-athletes have taken a vested interest in finding new interests outside of their schoolwork while maintaining their respective social distancing measures based on their states' protocols.
Finally, what's it been like home-schooling your children while caring for an infant? 
I have three children: a 7-year-old daughter (first grade), an almost 6-year-old daughter (kindergarten), and a 6-month-old son (day care). It has been challenging as I still need to complete my own work and ensure I am meeting deadlines. In the mornings, the girls get up around 6 a.m. I have them do their morning routine (get dressed, eat breakfast, brush teeth, brush hair, etc.). I then have the girls go outside for some exercise (like riding their bikes) for about one hour before they start their schoolwork so I can have them alert. I begin their schoolwork at 9 a.m. as that is when their actual school would normally start … At first it was overwhelming, and at times it still is, but I have started figuring out my daughters' academic strengths and weaknesses and not only becoming more patient with areas that they struggle with, but pushing them on the areas they are strong in to make sure they are challenged — exactly what their amazing teachers do for them.