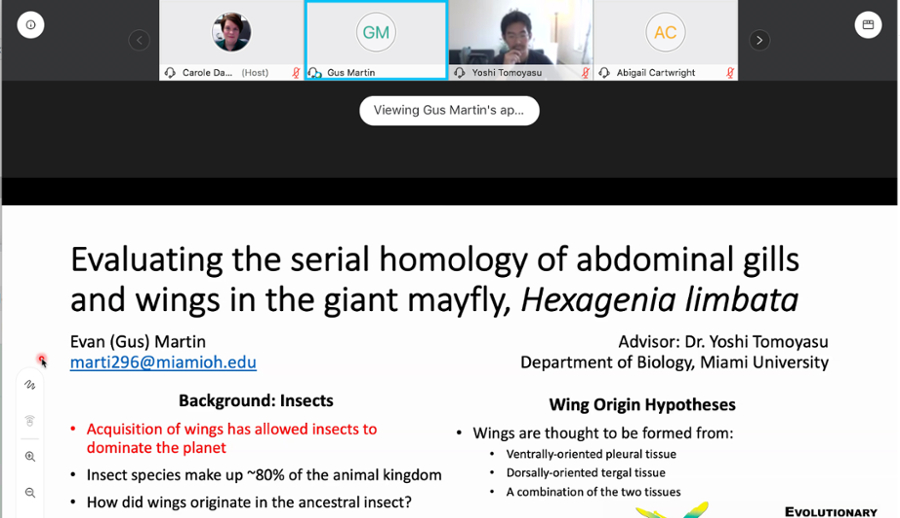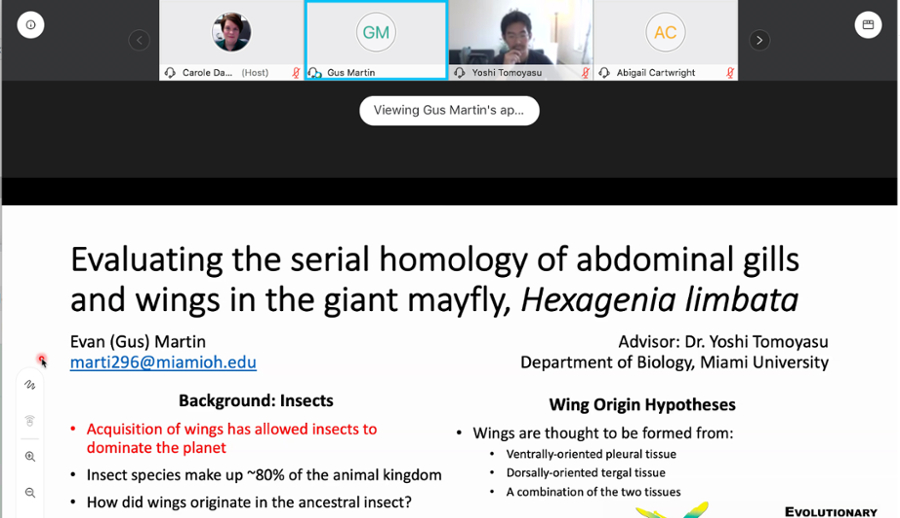 Screenshot of a poster presentation from the Webex-based undergraduate research forum. Participants appreciated the moderator feature (Carole Dabney-Smith and Yoshi Tomoyasu moderated the session above) for the online poster sessions.
May 28, 2020
First online Undergraduate Research Forum feedback: "Fantastic"
More than 380 student presenters and 1,380 attendees participated remotely
By Susan Meikle, university news and communications
Miami University's annual Undergraduate Research Forum (URF) was held April 29, in an online event format for the first time in its 26 years.
The traditional poster sessions and oral presentations were hosted on Webex, allowing for attendees join in remotely from across the country.
Students appreciated the effort to transform the forum to an online event, according to feedback collected by Joyce Fernandes, director of undergraduate research and professor of biology.
One student said "I wanted to just thank you for putting together a virtual URF and congratulate you all on a fantastic event."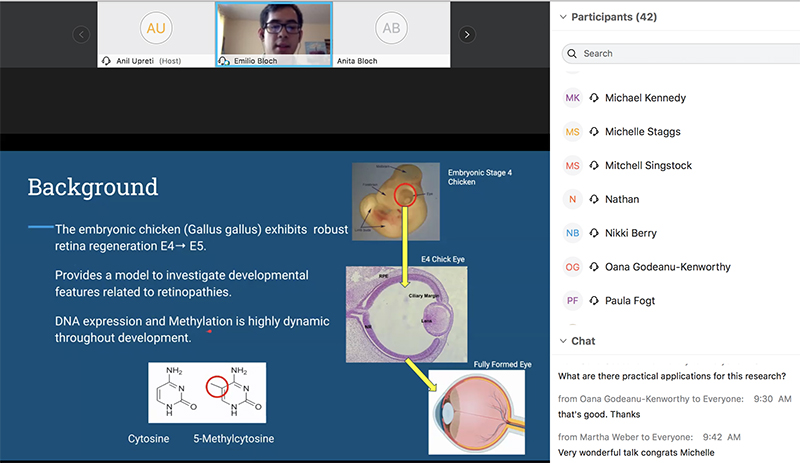 The Webex chat allowed participants to ask questions during a presentation (screenshots above and below).
"I, along with many others, appreciate the opportunity to still be able to share and celebrate our research even though we are not on campus."  
Fernandes' office surveyed participants to evaluate the event, from the training sessions and workshops to the real-time, online presentations.
IT Services and eLearning Miami worked with the Office of Research for Undergraduates to prepare for the forum's shift to online.
Fernandes was "impressed that we pulled off what is a mega-annual event" within a month's time.
Jim Oris, vice president for research and innovation, said "I'm proud of how quickly our students, faculty and staff were able to put together such an amazing event. It was truly a team effort."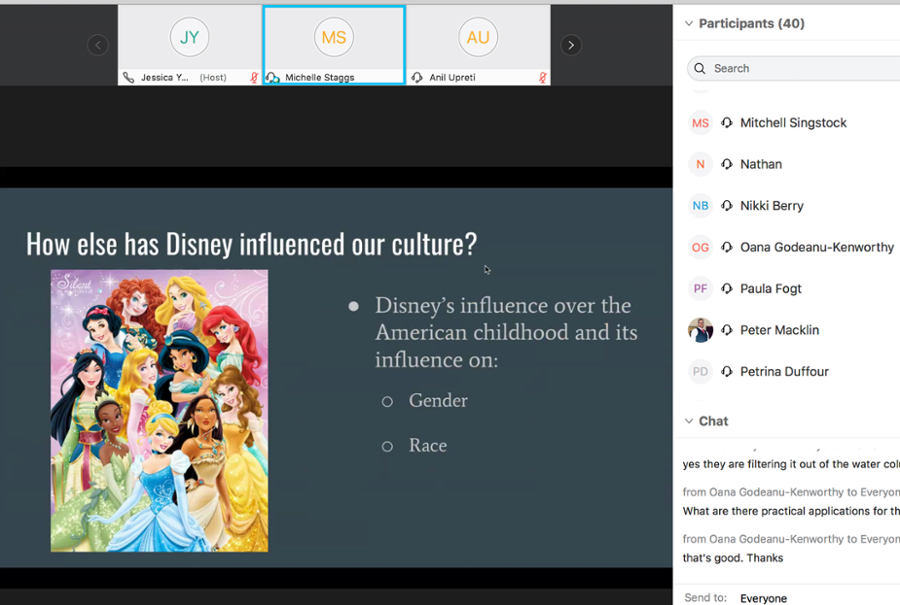 To help students prepare for the new format, a series of workshops was offered by University Libraries, the Center for Career Exploration and Success and Student Disability Services.
One student commented that instructions were well-communicated and they were provided with "ample opportunities to practice and perfect our presentations."
Elizabeth Jenike, IT services digital content specialist, said the Webex training sessions for students and moderators made a big difference to the actual execution of the forum's 23 sessions. "The Webex Teams space was super useful for monitoring and troubleshooting," she said.
Though the number of student presenters for the online forum was down from those originally registered for the face-to-face forum, overall there were more than 380 student presenters.
The number of attendees for the 23 sessions was unexpectedly high, with 1,389 attendees joining the sessions by Webex.
Advantages of the online format
Students comments included:
"I really liked hearing all the interesting topics people had to offer, some of which I may not have even considered looking into if we were not online."
"Being online allowed my out-of-town relatives to tune in and watch." 
"I liked getting to see everyone else's presentations. I wouldn't have been able to do that if I was having to stand next to my poster during the session."
Other advantages of the online format included the Webex chat feature which allowed students and attendees to ask questions during the presentations, and having moderators during the poster sessions, which Fernandes said students appreciated.
Oris,who attended nearly all of the sessions, said "they were all well-attended and the students were exciting and creative in their delivery of presentations. It was an uplifting experience during these difficult times."