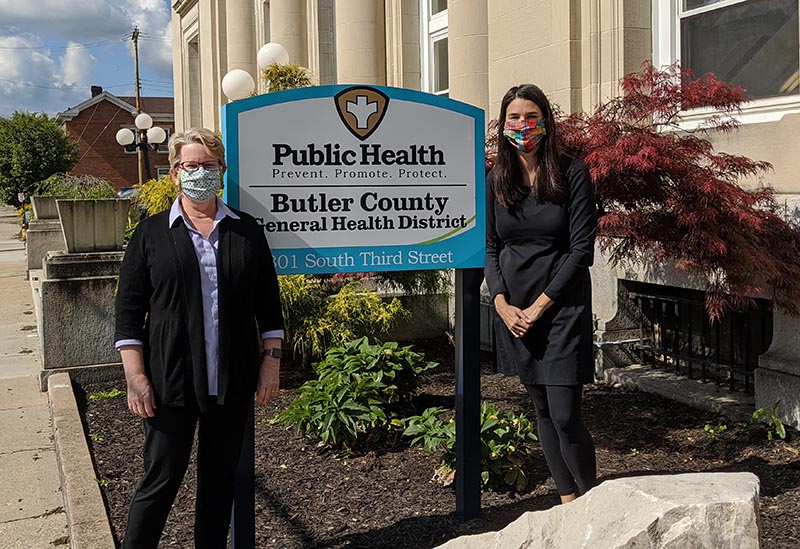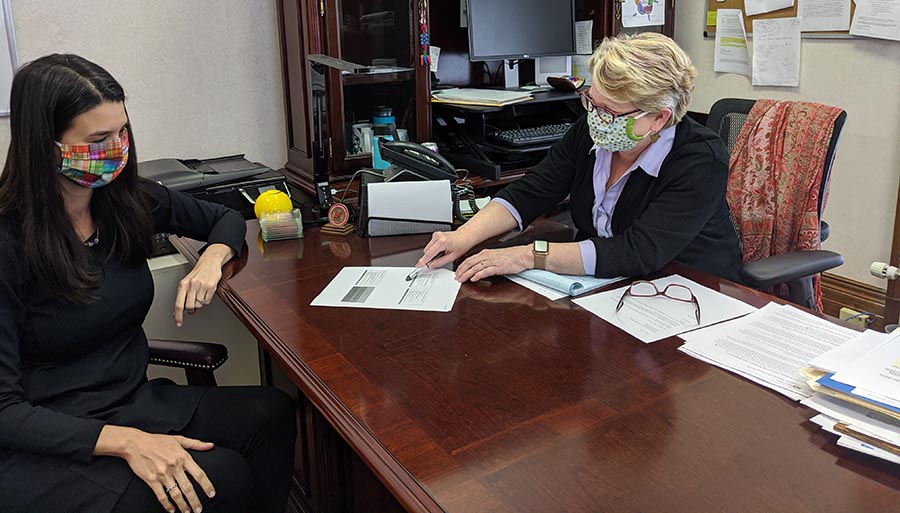 Kendall Leser (left), director of Miami's public health program, works with Jennifer Bailer (Miami '81), Butler County health commissioner.
Photo: Contributed photos
May 14, 2020
Students, staff from Miami University's public health program help Butler County during pandemic
Teams develop surveys and conduct contact tracing
By Cliff Peale, university communications and marketing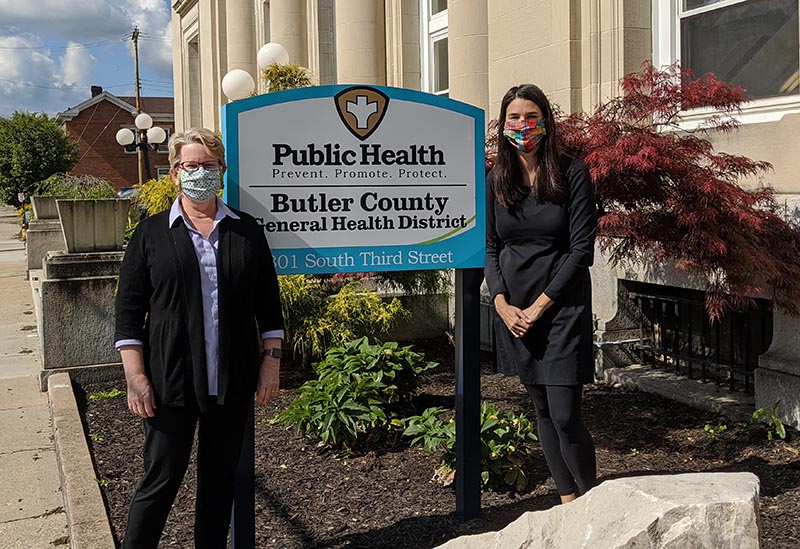 Butler County Health Commissioner Jennifer Bailer (Miami '81), left, and Kendall Leser.
Students and staff in Miami University's public health program are helping Butler County during the COVID-19 pandemic.
They are developing alternative housing plans for vulnerable populations affected by the outbreak and conducting contact tracing. Kendall Leser, director of the public health program, donated nearly 100 hours to the Butler County General Health District for the project from late March through late April.
The work included coordinating a team of student contact tracers, developing a survey, finding space in local hotels and compiling a database of potential housing options for the county's Emergency Management Agency.
"I went to school for all those years and read all those public health books, but this is real public health in action," Leser said.
Leser serves as the primary contact between the county and Miami's interdisciplinary public health program, which spans across the College of Arts and Science and the College of Education, Health and Society. The program includes about 305 undergraduates.
Paula Green, associate director of conferences at Miami, supported these efforts by calling numerous hotel sites for possible quarantine housing.
In addition, Miami students also are part of the county's current contact tracing team. Starting the week of May 18, Deirdre Sperry, a junior public health major from Minnesota, will be calling people who have been in contact with someone who tested positive for coronavirus. She will ask them about their symptoms and provide details about self-isolation.
 "I've always been interested in these epidemics. It's why I got interested in public health in the first place," Sperry said. "I've never wished for one to happen, but there's no better real-life experience to study public health."
The connections between the health district and Miami don't end there. The Butler County General Health District is led by Health Commissioner Jennifer Bailer (Miami '81), who also is a member of the public health program's advisory board.