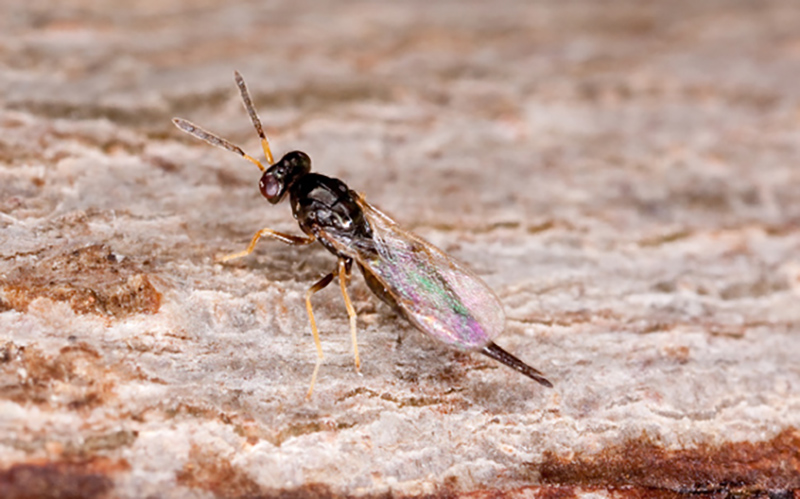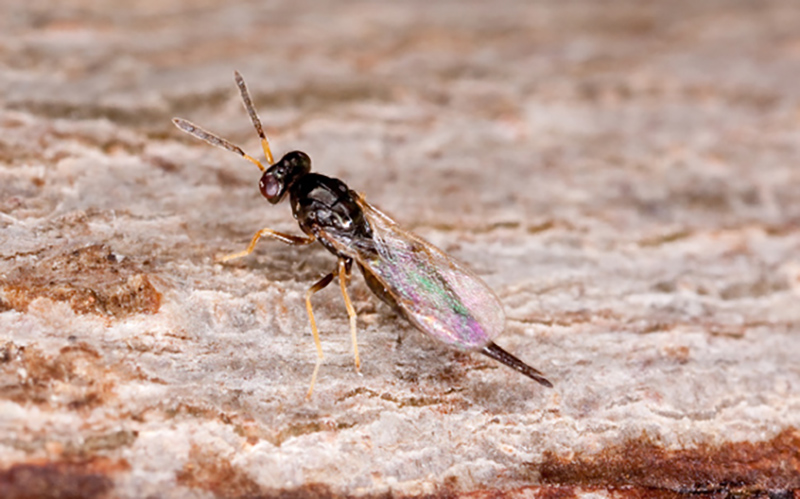 The parasitic wasp Tetrastichus planipennisi is one of three species released to attack the emerald ash borer. Miamians were involved in recent releases on the property of a local landowner.
Photo: Photo courtesy of USDA Agricultural Research Service
Jun 25, 2020
Miamians help local landowner in the fight against emerald ash borer
They are working with a program that uses Asian wasps
By Kristal Humphrey, university news and communications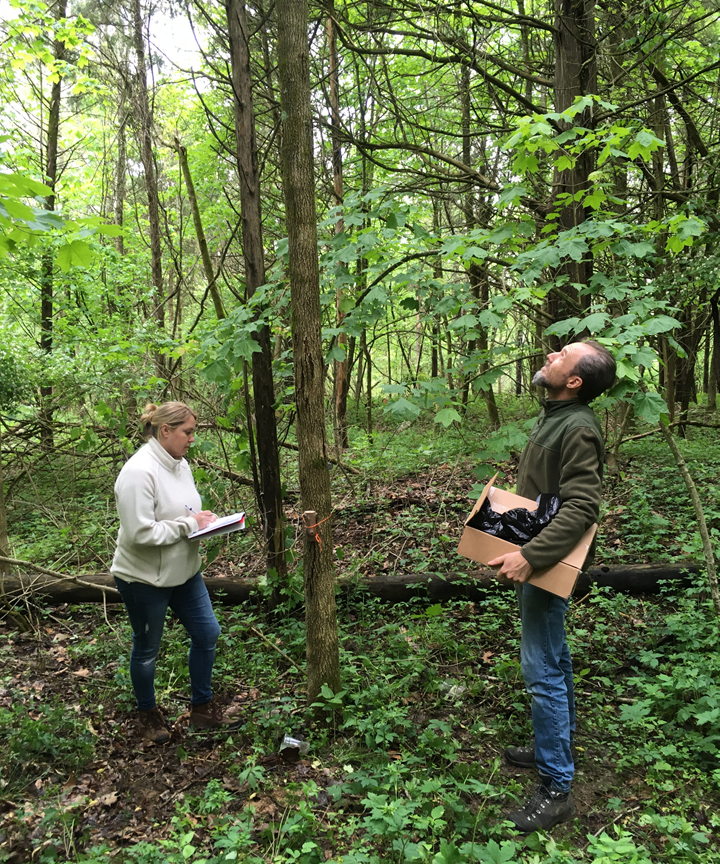 Alisha Singleton, master's student in Project Dragonfly, and Steve Sullivan, director of the Hefner Museum, help with a USDA parasitoid release program. (Photo courtesy of Steve Sullivan)
Miamians are helping with a program that hopes to greatly reduce the number of emerald ash borer beetles, which have killed hundreds of millions of ash trees in North America since its detection in 2002.
The biological control program involves releasing Asian wasps — parasitoids — on ash trees.
The most recent release was at the tree farm that John (Miami '75, master's '77) and Bobbi (Miami '81) Kinne own in Oxford Township. Steve Sullivan, director of the Hefner Museum of Natural History at Miami University, was in charge of the wasp release. He had help from Alisha Singleton (Miami '03), a graduate student in Project Dragonfly which is an education reform initiative housed at Miami.
Stingless wasps
Because people are hearing about murder hornets in the news, Sullivan wants to make sure they know these wasps are not of any danger to humans or pets.
"Most wasps, especially parasitoid wasps, are tiny, microscopic invertebrates that have stingers but almost invariably cannot sting humans," he said. "This is because the stinger is modified into an ovipositor, a tube for laying eggs within other invertebrate— in this case in the larvae of the emerald ash borer."
The parasitoid wasps being released— the largest one being about the size of a typical mosquito — are produced and supplied by the U.S. Department of Agriculture (USDA) Emerald Ash Borer Parasitoid Rearing Facility in Brighton, Michigan.
In order for the Animal and Plant Health Inspection Service (APHIS) — an agency of the USDA — to approve the Kinne property for the program, there had to be an active emerald ash borer invasion in progress and a substantial number of healthy ash trees.
"I wanted to participate because ash trees are an important part of Ohio's ecology," Kinne said. "They're important for crop value; the wood is great for furniture, flooring, cabinets and baseball bats; and they are beautiful trees."
Using biological control to fight the emerald ash borer
Biological control is a way to reduce pest populations that uses natural enemies of the pest without the need for toxic chemicals. Two USDA agencies — the APHIS and the Forest Service — started a biological control effort shortly after the emerald ash borer was detected.
In northern Asia, the beetle's native range, three parasitoid wasps were identified as important natural enemies: Spathius agrili, Tetrastichus planipennisi and Oobius agrili. One targets the eggs and two attack the larvae.
Kinne, who retired from Miami in 2009, has had four releases of wasps on his land. Last year, 200 Oobius agrili, which attack the eggs, and 200 Spathius agrili were released. In May and June of this year, a few thousand Tetrastichus planipennisi were released.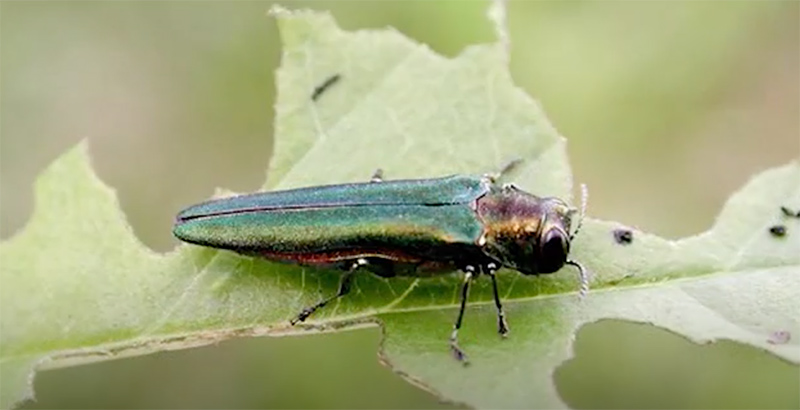 Watch this video to learn more about the wasp release and see how the emerald ash borer (shown above) damages ash trees.
Sullivan was involved with the last three releases.
"Because of the reputation the museum has promoting STEAM (Science, Technology, Engineering, Art, Math) projects involving students and science, we were contacted," Sullivan said. "We are pleased to be partners in this project — to involve students and to get the work done."
That work includes receiving the wasp shipments, distributing them in a timely manner (so the wasps would survive) and collecting data.
Singleton, whose master's plan involves working with her local community to reduce species loss and maintain biodiversity, assisted in surveying the ash trees on Kinne's property last spring. That included tagging and data collection on the health of the trees and the presence of the emerald ash borer. She also assisted with the release of the wasps this year and is inputting the release data.
How it works
The three species were tested extensively by the USDA and found that they specifically hunted the emerald ash borer and would not impact the native borer beetles or parasitoid wasps since they are only attracted to the emerald ash borer eggs and larvae.
Each wasp species is active at different temperatures and weather patterns, so it's necessary to release them in different seasons. A large number of releases will increase the chances of the wasps getting established.
Sullivan said biological studies take a long time. In this case, the wasps will need time to establish themselves and then have an impact on the beetles. It then takes time for the ash trees to respond.
"The data we collect will help us to understand if the releases did any good," he said. "We want to know if the wasps are actually killing off beetles in a way that's going to save our forests."
In future years, the USDA will trap for wasps to see if they're established and will take measurements on the trees and make health assessments.
Singleton said the emerald ash borer invasion has been devastating to the local ash tree population and, in turn, the species that depend on them. Establishing a population of wasps could help to alleviate some of the ash tree and biodiversity loss.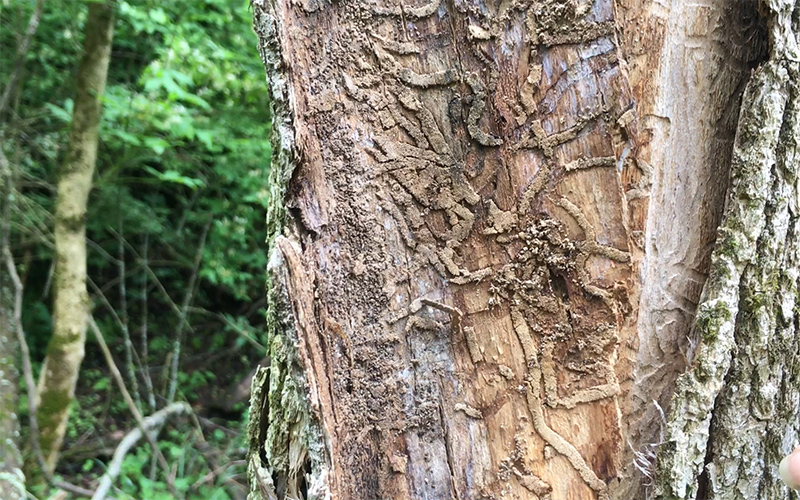 Emerald ash borer larvae under the bark damage the tunnels that are essentially the plant's circulatory system. (Photo courtesy of Steve Sullivan)
Ironically, ash borer larvae and dying trees are good for woodpeckers, whose hammering is a clue that a tree may be heavily infested.
Singleton hopes to analyze data collected last year during tagging and over the next few years to get a sense of the health changes the property is going through. She also has other questions such as why the Kinne property is still somewhat healthy while others show greater ash loss.
"I think it's important to spread awareness of the impact humans have on biodiversity and to work with your local community to find conservation solutions and positive outcomes," Singleton said. "Being part of the biocontrol release program gives me an opportunity to work toward these goals and do my part for the community and the environment."
More Miami students to be involved
Sullivan plans for additional Miami students to be involved in the project since everything they do at the museum is student-driven. He said part of the reason he took on this project is because they want to provide interesting, relevant opportunities for students to be involved in research. He points out that in a project like this, some students can completely take over certain parts of it and other students who just want to see what the field is like can also be involved.
"When we are able to offer practical experiences to students in a way that adapts to their specific field of interest and specific skill and let them approach real-world problems as a team of diverse people with diverse ideas . . . then we are getting a fulfilling and real educational experience," Sullivan said. "That's what Miami is all about."