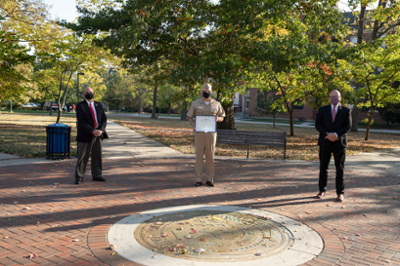 Oct 07, 2020
Miami's NROTC Unit receives top excellence award from Department of Defense
Naval Reserve Officers' Training Corps (NROTC) Unit, Miami University has been awarded a prestigious Department of Defense ROTC and Educational Institution Partnership Excellence Award.
Defense Secretary Mark Esper said in a letter to Miami President Greg Crawford that the award makes its debut this year, recognizing the outstanding ROTC unit and host educational institution for each military department. The military departments determined winners based on accomplishments in three broad categories: performance, educational institution support and other noteworthy achievements.
Miami's NROTC Unit was recognized for exceptional performance during the 2018-2019 academic year. Noteworthy training and civic duty gained the unit, the Navy, the Marine Corps "and the military community as a whole, great public notoriety and make it truly deserving of this recognition," Esper wrote.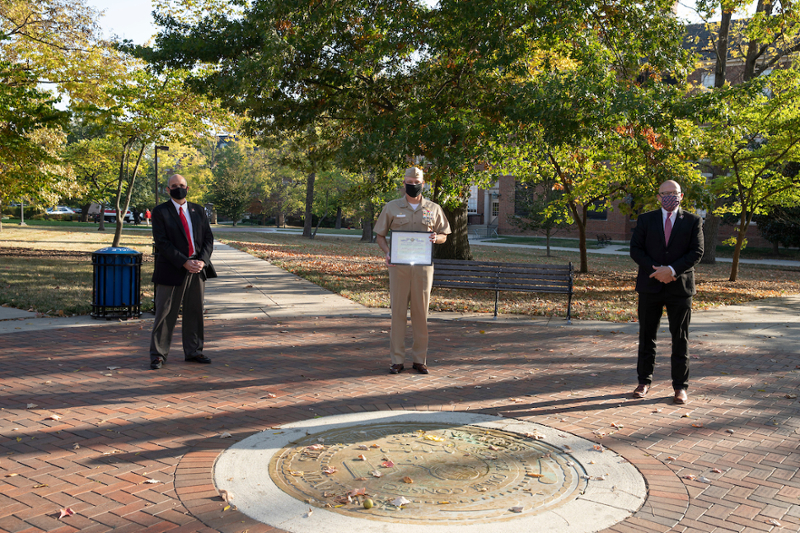 Capt. Todd Bahlau, professor of naval science, NROTC Unit, Miami University, on Wednesday presented the award to Miami President Greg Crawford, right, and Ted Pickerill, left, secretary to the board of trustees (photo by Jeff Sabo).
Capt. Todd Bahlau, professor of naval science, NROTC Unit, Miami University, on Wednesday presented the certificate to Crawford and Ted Pickerill, secretary to the board of trustees and a proud Navy veteran.
Esper said the Department of Defense wanted to honor the unit with a formal presentation in person, but the ongoing COVID-19 pandemic prohibited it this year.
"Let it not diminish the prestige of this award within the Department and the gratitude we have for your midshipmen, your university, your faculty, and the students who make our partnership so strong," Esper wrote. "Your outstanding support is crucial to the education and training of the finest military leaders in the world ..."
The personnel of NROTC Unit, Miami University consistently demonstrated unparalleled success in partnering with its host institution, said the letter, which was cc'd to U.S. Senators Sherrod Brown and Rob Portman, as well as U.S. Rep. Warren Davidson and Jamie Sands, commanding officer, Naval Service Training Command.
"During this time, the NROTC Unit, Miami University provided outstanding development to the midshipmen charged to their care, enriched the Miami University campus life and served local communities," Esper wrote. The letter noted participation in numerous cross-cultural events, such as national drill competitions, veterans' conferences, military leadership symposiums and Navy community familiarization events.
Notable achievements included 100 percent fill for the nuclear power service assignment quota, a 100 percent Marine option Officer Candidate School graduation rate, a 100 percent pass rate for both the physical readiness and fitness tests, and 55 national and local awards earned by midshipmen.
The unit enhanced the university partnership in other ways, including conducting a two-day leadership development course for Miami's basketball team, providing marshal and Color Guard support to commencement ceremonies and participating in the unveiling of Miami's Alumni Veterans Tribute dedicated on Veterans Day in 2018.
Miami has nearly 8,000 alumni who have served and 279 killed in action or missing in action.