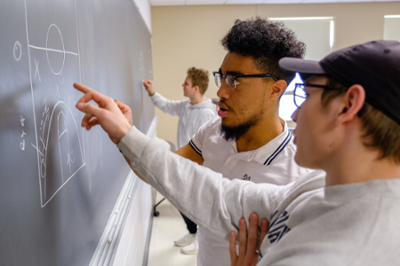 Dec 09, 2020
SLAM becomes a department: a Q-and-A with new chair Melissa Chase
Laws Hall will house offices for new department of sport leadership and management
Interview by Margo Kissell, university news and communications
Work started last week to prepare Laws Hall for the new department of sport leadership & management (SLAM). SLAM is now the third largest department in the College of Education, Health and Society, serving over 700 majors and minors.
We checked in with professor and chair Melissa Chase for this Q-and-A:
How did the SLAM major grow into this new department?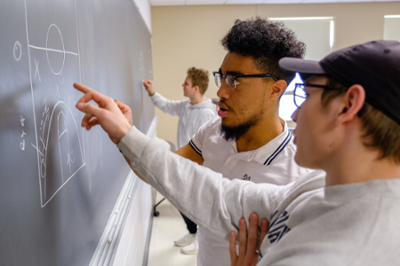 Sport leadership and management students work together in a coaching pedagogy class last spring before the pandemic moved classes online (photo by Scott Kissell.) 
There have been many name changes for this department over the years that reflect changes in the focus of academic programs. For example, the department of physical education, health and sport studies changed to kinesiology and health when the department discontinued physical education and health education teacher education programs.
In 2012, the sport studies major changed the name and curriculum to sport leadership and management (SLAM), with four concentrations in sport management, coaching, sport journalism and sport media. The SLAM major focused more on the business of sport and specific aspects of the sport industry and less on subdisciplines in the kinesiology field.
Following this change, the popularity of the SLAM major and minors in sport management and coaching have steadily increased every year. With this growth, it became apparent that the SLAM academic program should become an academic department.
Tell us more about the work at Laws Hall.
SLAM will have its department office and an advising office on the south side of the first floor. Faculty and graduate student offices will be on the south side of the second floor. The work includes painting, cleaning, minor repairs to lighting and ceilings and adding a SLAM department office storefront. We are hoping to be in the new offices in Laws Hall early in the spring 2021 semester.
SLAM classes will be held in Laws Hall and other classrooms across campus. We will make a shift from primarily using classrooms in Phillips Hall to other academic buildings. We are looking forward to being closer to several departments and colleagues we collaborate with for current and new programs. Laws Hall is a wonderful location for SLAM in the heart of the campus. 
SLAM will be collaborating with a number of programs such as the Center for Analytics and Data Science (CADS) and esports. Tell us about other collaborations.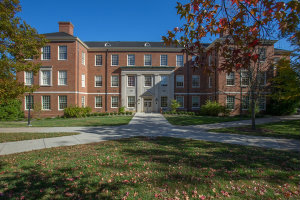 Laws Hall is just north of Upham Hall.
SLAM will offer new programing in sport analytics with colleagues in the departments of information systems and analytics and statistics, and the Center for Analytics and Data Science.
New sport analytics programs at the undergraduate level have already started with a minor in sport analytics, a sport analytics concentration in the new BA in Data Analytics, and the Sport Analytics Summer Academy 2021. Programming for sport analytics at the graduate level is under review.
The department of emerging technology in business and design (ETBD) and SLAM have a new Master of Esports Management degree currently under review. SLAM and ETBD are also working together to provide undergraduate students opportunities to learn and apply expertise in digital technology to the sport media and communication field.
SLAM has always been fortunate to have a great partnership with the Farmer School of Busines (FSB). Most of our SLAM majors have a minor in business and many of our sport management minors have some type of business major. We anticipate that SLAM students will enjoy being closer to FSB classes and will spend time in Laws Hall in between classes. And, many of our SLAM students are involved with Miami Athletics as interns or student-athletes, so I'm sure being closer to the athletic facilities will be appreciated.
This must be an exciting time for you as the new chair. What are your hopes or goals for the department?
Because of COVID-19 these have been tough times for our faculty, staff and students. Despite the challenges of the pandemic, SLAM is off to a great start as a new department. We had our largest incoming class of new students this fall and we continued to add students to our SLAM majors and minors. I love serving as department chair for an outstanding group of faculty and staff. The goal for the department is to provide our undergraduate and graduate students with the best education we can in class, with research and practical experiences, and prepare them for successful careers after they leave Miami. Overall, the SLAM faculty, staff and students are excited for the future as a new department, in a new office space in Laws Hall, with several new academic programs.